Food
5 Boston restaurants and bars where you can order a mocktail right now
Have fun while staying sober.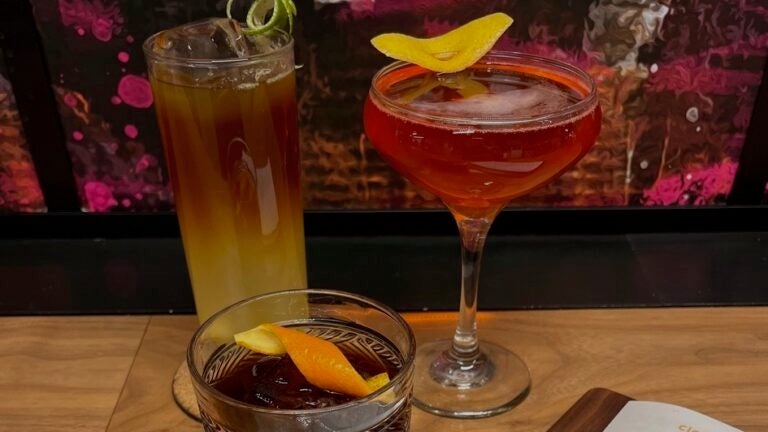 Just because it's Dry January doesn't mean you can't have fun. There are some health benefits to forgoing drinks with alcohol, and this winter, you may be interested in abstaining for a month, or maybe longer. If you still want to have a good time while staying sober, restaurants and bars around Boston are offering creative beverages that do not contain any alcohol.
We've rounded up a list of places in the Boston area where you can enjoy a celebratory and festive mocktail, what to order, and dishes you might like to try with them. Cheers to the start of a new year.
The drinks: Try the Cornucopia ($9), which combines spiced apple shrub, lemon, ginger, and honey. You might also consider the Spa Day ($9), made with cucumber, basil, lime, and tonic. Or settle on a Raspberry Lime Ricky ($9), a mixture of raspberry, lime, and club soda.
What it's like: This subterranean spot beneath the Brattle Theatre in Harvard Square is known for its New American food and craft cocktails. At these modern digs, dine on smoked chicken raviolo and Ora King salmon.
40 Brattle St., Cambridge
The drinks: Request the Fruity Pebble Iced Tea ($7) and enjoy the flavors of J'enwey herbal tea, agave, and lemon. Or sip on a Strawberry Pina Colada ($7), composed of coconut cream, strawberry, pineapple, and toasted coconut.
What it's like: Enter a Baja-inspired restaurant from celebrity chef Jason Santos, featuring coastal cuisine from Southern California and Mexico. Order beer battered fish tacos or sofrito steamed mussels, or share a plate of chilaquiles nachos.
142 Berkeley St., Boston
The drinks: Order a Coffee Old Fashioned ($9), which blends together Gracenote cold brew concentrate, Lyre's American malt, five-spice powder, and molasses. You might also be interested in the Nitro Strawberry ($9), made with strawberry, lemon, verbena, elderflower, and champagne acid. Lastly, there's the Nah Eastah ($9), mixing house dark cane sugar, chai, ginger, and lime.
What it's like: At the downtown High Street Place food hall, you'll find this modern cocktail bar from Daren Swisher and Joseph Cammarata who helped develop the bar programs at Backbar, jm Curley, and Hojoko. Enjoy your drink with a slice of pizza from Tenderoni's or sushi from Fuji at HSP.
100 High St., Boston
The drinks: Get a glass of the Atta Boy! ($12), made with Guava Reàl, Red Bull Energy Drink, Red Bull Yellow Edition, pineapple juice, and a splash of grenadine. For something crisp and clean, think of ordering the Rio Perdido Faux 'Rita ($12), featuring Liber & Co. Orgeat, fresh lime juice, orange juice, and blue spirulina powder. You could also try the Pitaya Faux Tai ($12), concocted from Coco Reàl, Barmalade Blood Orange Guava, fresh lime, and pink pitaya powder.
What it's like: On the fifth floor of The Omni Boston Hotel at the Seaport, you'll find Lifted, an "urban oasis" with beautiful skyline views and contemporary food and cocktails. While you're pampering yourself, you might also indulge in a salted caramel lobster roll or a spicy tuna poke bowl.
450 Summer St., Boston
The drinks: The mocktail options are eclectic here, and you might want to order the Mango Sticky Rice (a beverage, not a dessert, $8), which integrates mango, coconut water, pu'er sticky rice tea, and soda. You could also try the Hunan Mule ($8), a delicious medley of mandarin, Earl Grey, lime, and ginger beer. Another great option is the Coconut Matchatte ($8), made from soy milk, coconut cream, and matcha.
What it's like: In Kendall Square, you'll find Sumiao Hunan Kitchen, an upscale Chinese restaurant featuring plates meant for the adventurous. If you're ordering a meal with your Asian-inspired drink, think of feasting on the Hunan street noodles or steamed whole tilapia.
270 Third St., Cambridge
Sign up for The Dish
Stay up to date on the latest food news from Boston.com.