Food
Roust Deli opens in former Darwin's space
The cafe and grocery took over the Mount Auburn Street location.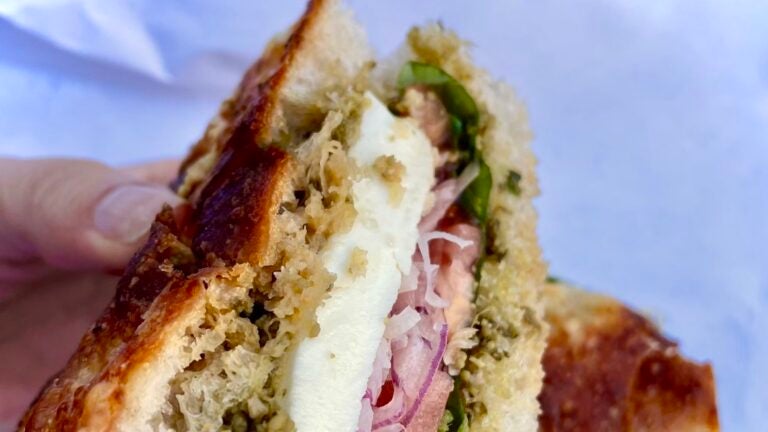 Former patrons of Darwin's Ltd. might be happy to hear that a new cafe has opened in one of the former Cambridge locations — and notice several similarities to the old chain.
Roust Deli debuted on Feb. 5 at 148 Mount Auburn St. The location was previously occupied by Darwin's coffee shop, which announced its plans in November to close all four locations after 30 years in business. Roust is run by Valentin Terteliu Hefco, who also owns Tokava Coffee in Jamaica Plain. The cafe and deli has kept a similar format to Darwin's, and even operates under the same manager, Michael Spires.
"We didn't want to fix what wasn't broken," Spires told Boston.com. He added that the spot has no connection to Darwin's, aside from the fact that he and one former Darwin's employee now work there. "[Hefco and I] talked about it, and I told him there was no real reason to change anything that Darwin's was doing."
On one side of the shop, Roust operates a cafe, which seats about 20 people. They serve sandwiches, seasonal drinks, and pastries and cookies. On the other side of the space is a deli or grocery section, where customers can pick up dry goods, clam chowder, chips, drinks, and more. They will soon also sell beer and wine.
Spires said that he is hoping to attract a similar customer base to Darwin's. Many of the people who visit Roust now are from the neighborhood, but he would like to reach Harvard and Lesley students, who might come to the cafe to study. One reason that Spires decided to stay on as manager is that he is familiar with this community.
"I know everybody in the neighborhood," he said. "Half of the customers I know; I know all their names." People come by, he said, because, "they love their routine."
Darwin's owners Steven and Isabel Darwin closed last year citing "workload and personal health" concerns. In response to the Mount Auburn closure announcement, unionized employees picketed at Cambridge City Hall and outside the home of the Darwins, demanding "guaranteed employment to those who would otherwise be laid off, and $24-per-hour wages, and improvements in healthcare and paid-time-off for the rest," according to the Boston Globe. Shortly after, the Darwins announced the closing of the remaining three shops. Spires said that he was not part of the union, Darwin's United, and that he tried to remain "neutral." As manager of Roust, he said that he does hope to keep staff satisfied.
"We're trying to keep pay above minimum wage," Spires said. "[At Darwin's], even though the tips were really high … it's more of a psychological thing. People want to feel like they're worth more than minimum wage."
---
Share with us: Do you have a favorite restaurant in Harvard Square? Let us know all about it. Fill out the survey below or e-mail us at [email protected], and your response may be used in an upcoming Boston.com article and/or its social media channels.
Tell us: What's your favorite restaurant in Harvard Square?
Sign up for The Dish
Stay up to date on the latest food news from Boston.com.