Food
'I made some comments I regret': Celebrity chef Ming Tsai apologizes for 'roofie,' 'Me Too' remarks
Chef Ming Tsai made controversial comments during a WBUR interview last month.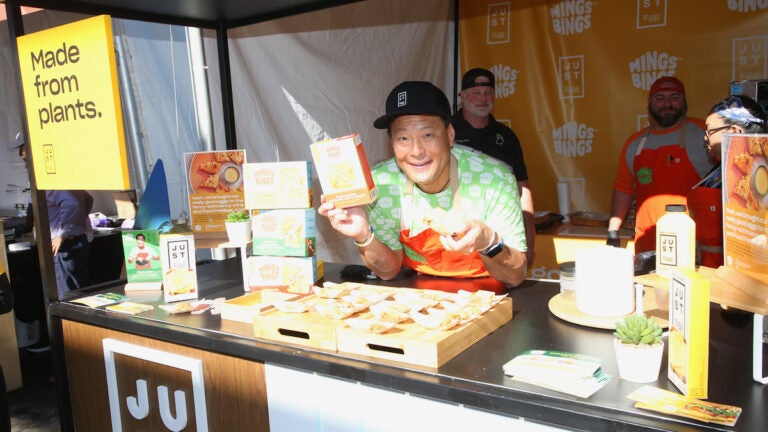 After online blowback, celebrity chef Ming Tsai has offered an apology for comments he made, including a joke about spiked drinks and remarks about the "Me Too" movement, during a WBUR event last month.
Tsai, host of the PBS cooking show "Simply Ming" and a force behind the Boston restaurants "Blue Ginger" and "Blue Dragon," was interviewed at WBUR'S CitySpace last month by fellow chef Irene Li, the James Beard Award-winning co-founder of Mei Mei Dumplings.
Several of Tsai's comments from the interview have now put him at the center of public controversy, including after Li shared a few of "the standout moments" in a video montage posted to Instagram.
At one point during the conversation, Tsai, as he sipped a glass of water, asked Li, "Did you roofie me?" — slang for drugging a drink.
"You should have," he added. "I roofied you."
Later, when Li asks Tsai if he thinks Boston will have a "Me Too moment" in its restaurant industry, Tsai said, "Have we not? Have we not been talking about it enough?"
"I could probably say all my chef buddies around the country — I was just on the phone with Daniel Boulud, and Thomas Keller … none of us are like that," he added. "It's like social media, the bad boys get the press. It's not [that] the whole industry is a bunch of SOBs. It's not."
Tsai's remarks were scrutinized on social media, including from Chris Ward, Li's husband, who commented on her Instagram post: "Nothing like watching a grown man who is old enough to be my dad make a joke about slipping my wife a roofy during a public interview."
Biplaw Rai, the Boston restaurateur who most recently opened Comfort Kitchen in Dorchester, also commented.
"A lot of insane stuff was said in this interview: fat phobia, Islamophobia , defending big names in the industry because they are my friends (one will never know the extent of abuse until we hear from the victims)," Rai wrote. "I hate to believe this is generational thing. This happens when celebrities get away with everything and anything and no one checks it."
On Monday, Tsai posted an apology on Instagram, though it did not contain a direct apology to Li.
Read Tsai's full apology:
I was recently interviewed locally here in Boston about my career as a chef.

I made some comments I regret, including those about the Me Too movement. It was not my intention to be insensitive or dismissive of the experiences of those who have been affected by sexual misconduct.

I've always built my teams with women. The best chefs in the country today are women. My Executive Chef and Chief Marketing Officer at MingsBings are women. In every restaurant or business I've run, I've always had a zero tolerance policy on any type of harassment. I recognize that we all have a responsibility to create a safe and inclusive environment where everyone feels heard and respected.

Moving forward, I commit to being more mindful and respectful of the topics that are important to others, and to approach all conversations more empathetically.

Once again, I am truly sorry for my words, and I will strive to do better in the future.
Newsletter Signup
Stay up to date on all the latest news from Boston.com