Food
'Dog Friendly Spaces' will be coming to restaurant patios and beer gardens
Outdoor dining areas and beer gardens can apply starting June 1.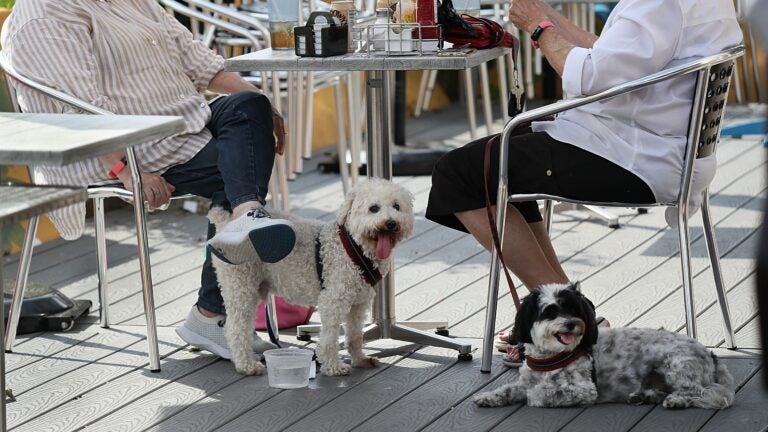 Boston is taking a step toward becoming a city more welcoming towards pets — you'll soon be able to bring your dog to certain establishments with outdoor spaces.
Mayor Michelle Wu announced Thursday that a new policy from the Inspectional Services Department's Health Division will allow for "Dog Friendly Spaces" at restaurants with patios, as well as beer gardens. Businesses can now apply for a variance that would let them host dogs and their owners starting June 1. The city responded to Boston residents who said that they wanted to be accompanied by their canine friends, according to a press release.
"We're committed to making Boston a vibrant, family-friendly City, and that means rethinking our outdoor spaces to better build community," said Wu in a press release. "Residents and small business owners have been eager for four-legged family members to be able to enjoy our outdoor spaces too, so we're happy to make this regulatory change allowing dogs on outdoor patios and beer gardens."
The patio or beer garden must be entirely outdoors to qualify. Employees must not touch dogs while working, and food prep must not happen in the "dog friendly zone." For customers, their dogs must be kept on a leash or in a pet carrier at all times. Dogs must not eat off plates, and they cannot be on tables or chairs. Before the new policy, only service dogs were legally able to be brought to beer gardens and outdoor patios in Boston, a representative from the city confirmed.
"In recent years it has been disappointing to have to turn away customers who showed up with their dogs," Ronn Friedlander, co-founder of Aeronaut Brewing Co., said in a press release. "This summer, thanks to this new policy, we're excited to welcome dogs and their owners for live music, craft beer, food trucks, and the return of the much-loved Wall of Woof doggy photo display!"
The city also launched a new beer garden and performance venue in Boston Common Thursday, in an effort to revitalize Boston and its gathering spaces.
Businesses can fill out an application here, if they would like to apply for a "Dog Friendly Spaces" variance.
Tell us: What Boston restaurant or beer garden would you want to bring your dog?
Newsletter Signup
Stay up to date on all the latest news from Boston.com