Food
MIDA opens on East Boston's waterfront
This is the third location for the Italian restaurant.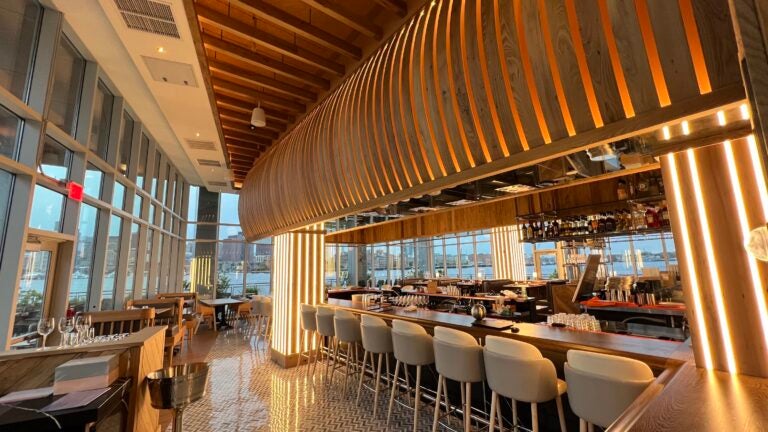 A restaurant from a celebrated chef just opened a new location in East Boston, bringing flavorful Italian fare to the neighborhood.
MIDA East Boston began welcoming guests on August 6. The waterfront eatery on Lewis Street is the third MIDA location from chef-owner Douglass Williams, joining the original South End spot, which launched in 2016, and a Newton restaurant, following in 2021. Serving Italian cuisine, Williams was inspired to open the new destination partially because of the visual perspective that East Boston has on Boston itself.
"It's almost like when you're in Brooklyn, looking at Manhattan," Williams, who is originally from New Jersey, said. "To be completely outside of it, but to still belong to it, it feels kind of embracing."
The name MIDA comes from the Italian phrase "he gives me," evoking a spirit of generosity that guests will find in the culture of the restaurant, according to Williams . On the menu at the East Boston spot, they will discover similar pasta and pizza dishes as those served at the other locations. There is one exception: the clam pizza ($20), made with white sauce, marinated clams, peppers, parsley, and grana padano, is a new offering. All of the pizzas will be New Haven style, meaning that they have a crispy, crunchy, chewy crust, Williams said. Other dishes include the bucatini all'amatriciana ($26), served with San Marzano tomatoes, guanciale, and pecorino romano, as well as the gnocchi cacio e pepe ($25).
Williams is passionate about Italian cuisine, which he believes all can appreciate.
"There's no other cuisine that anybody, whether they be from South East Asia, Russia, Alaska, or Mexico — any continent, [for that matter] — where they can sit down to any food and not have any context for what is in front of [them], other than a bowl of pasta, and intrinsically, inherently know what to do with it," he said.
The beverage program includes cocktails like the Amalfi Coast ($14), which is composed of vodka, grapefruit, passionfruit, and Italicus. Sip on the MIDA Classic Negroni ($14) or the Tropicale ($14), made from pineapple rum, Amaro Montenegro, lime, and orgeat syrup. Every week, there will be a new featured cocktail.
The space features open windows on multiple sides that allow guests waterfront views. Mirrors throughout the restaurant indirectly let guests catch sight of the outdoor scene. The eatery seats 25 people at regular tables, 25 at banquettes, and 25 at a large bar that feels dominant but not overwhelming, Williams said. The lighting offers a "soft amber glow," according to a press release, and a canopy inspired by woven Italian baskets hangs above the bar. Outside, there is a 68 seat patio.
Williams is a celebrated chef who, in addition to operating three MIDA locations, opened Apizza in Hub Hall in 2021, serving New Haven and Roman style pies. He has been a James Beard Award semi-finalist multiple times, and he was also named one of Food & Wine's "Best New Chefs 2020." In 2018, he competed on Food Network's "Iron Chef America."
In 2019, the Boston Globe called Williams "the only Black chef-owner in Boston fine dining." While this distinction isn't just what he wants to be known for, he acknowledged that as a successful restaurateur, he has a responsibility to represent the several cultures from which he belongs. Williams, who is of Syrian, Lebanese, and African American heritage, said that he also believes hospitality can serve as a force for change.
"If someone sits down and has a life changing food experience… I think that smashes all feelings of hate or anger," Williams said. "We all have that. That is my advocacy."
MIDA East Boston, 65 Lewis St., East Boston
Sign up for The Dish
Stay up to date on the latest food news from Boston.com.