Food
Dave Portnoy feud brought increased business, Dragon Pizza owner says
The Somerville pizza shop reopened Wednesday.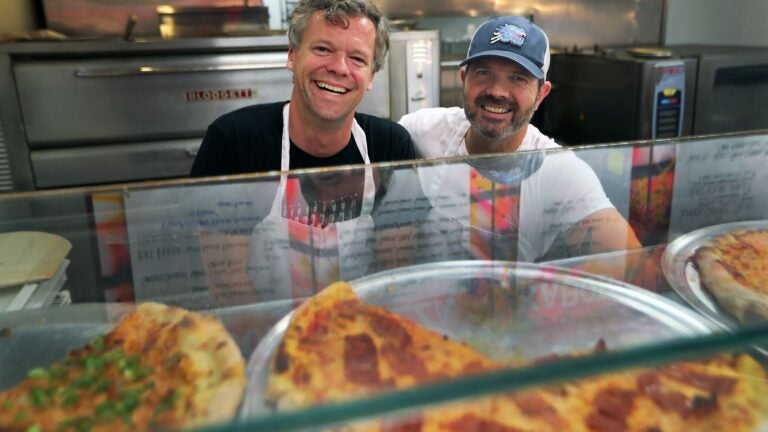 There may be something of a silver lining to the dispute that broke out between Somerville's Dragon Pizza and Barstool Sports' Dave Portnoy.
Last Thursday, Portnoy, who is known to rate pizzerias across the country on his YouTube channel, "One Bite Pizza Reviews," posted a video where he called Dragon Pizza "the worst pizza place in America." When owner Charlie Redd confronted him, they erupted into a spat, exchanging expletives on camera. But things might be looking up for the Davis Square shop. In the aftermath of the feud, customers have been turning out in droves to buy pizza and show support. Business has been so successful that Dragon Pizza had to close on Tuesday — they had run out of ingredients over the long weekend.
"We ran out of dough. We ran out of sauce. We ran out of cheese," said Redd. "There's not much you can do with a pizza shop without dough, sauce, and cheese."
Before closing, Dragon Pizza had been seeing lines outside of the door, Redd said. Because they were serving so many patrons, they had to boost production and make more pizzas, which they continue to do, he added. When the restaurant opened up again on Wednesday, they felt more prepared to handle the crowds, and today, customers can get a table more easily. Many have had kind words to say, Redd said, and some even brought in gifts.
After Portnoy's video went viral, Redd began receiving death threats. He is still getting negative phone calls, and has continued to keep comments closed on Dragon Pizza's Instagram. They continue to filter emails and screen calls.
"Unfortunately, yes, we are receiving threats, but no, we don't feel unsafe," Redd said. "Our community is safe, [and] our police department has been very supportive. We haven't had any dangerous incidents. It's just all words."
During Portnoy's review of Dragon Pizza, recorded outside of the restaurant, the media mogul asserted that he did not like the taste and structure of the pizza calling it, "a floppy mess. Strong parmesan. Like the parmesan is coming right through… If you get this, know you're going to be hit with a left, right in the face with parmesan." He gave the pizza a rating of 6.4 out of 10.
Reflecting back on the dispute and the public attention that it's gotten, Redd said that he is glad that he engaged the way that he did.
"When you're faced with a bully, you have to stand up to them," he said. "… I have no regrets. This is really as simple as a playground bully. Everybody knows and feels that they would stand up in this situation, and I feel that I did."
Sign up for The Dish
Stay up to date on the latest food news from Boston.com.