Food
Dunkin' releases the Ice Spice Munchkins Drink
Ben Affleck and rapper Ice Spice collaborated to create the fall beverage.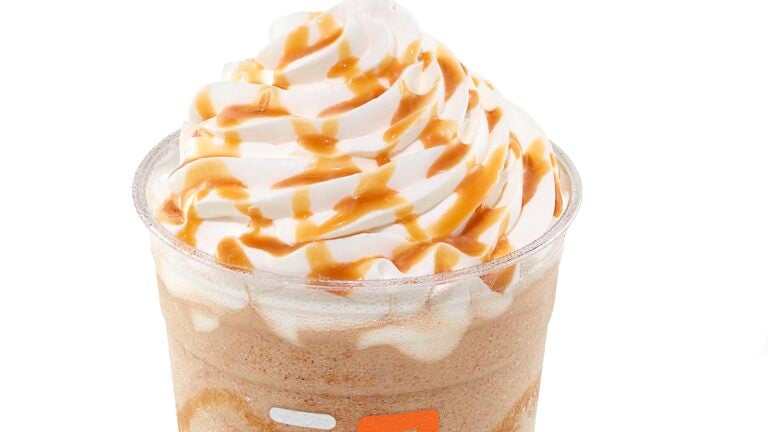 The pumpkin spice latte may have some competition in the category of seasonal drinks this fall.
On Wednesday, Dunkin' released a new beverage, the Ice Spice Munchkins Drink, a treat that combines some of your favorite ingredients. It blends together Dunkin's frozen coffee with pumpkin flavored Munchkin doughnut holes, topped with whipped cream and caramel drizzle. The drink was created through a collaboration between actor Ben Affleck and rapper Ice Spice, whose fans are called "munchkins." The commercial for the drink first aired during the 2023 MTV Video Music Awards.
The commercial joins the ranks of other spots conceived, directed, and produced by Affleck and production company Artists Equity. Affleck is known to have a love for the Dunkin' brand.
Jill McVicar Nelson, chief marketing officer at Dunkin', described the inspiration for the beverage in a press release. "Pumpkin spice season has gotten a bit predictable lately, so we sought help from our friends Ben Affleck and Ice Spice to create a new pumpkin obsession that only Dunkin' can offer," she said. "The result? The collaboration you never knew you needed… It's fun, it's delicious, and it's not your ordinary pumpkin drink!"
The press release revealed that this is the first time a Dunkin' treat has officially been combined in a signature drink. The texture of the beverage is something like a cookies and cream shake, the release said. Earlier in August, Dunkin' also unveiled its fall menu, which includes items like the Pumpkin Spice Signature Latte, the Nutty Pumpkin Coffee, and the Pumpkin Swirl flavor.
---
Vote: Would you try the Ice Spice Munchkins Drink?
Sign up for The Dish
Stay up to date on the latest food news from Boston.com.