Guides
21 must-try Boston clam chowders
From tourist-beloved classics to modern reimaginings.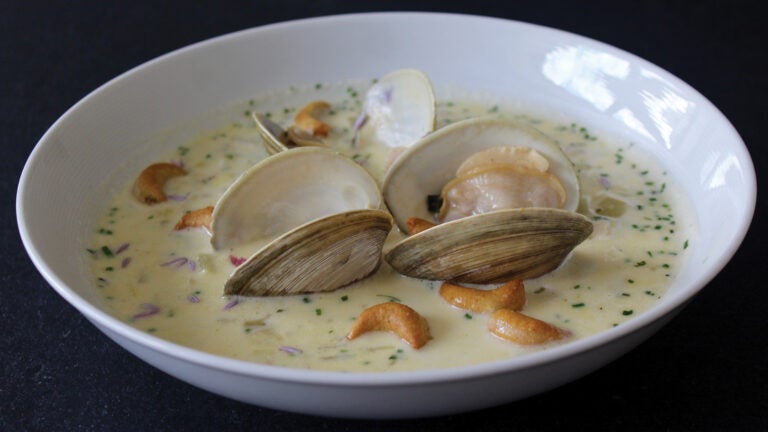 Clam chowder can sometimes feel more like a regional stereotype than an actual food consumed by locals, so there's no shortage of disappointing swill aimed at Freedom Trail trekkers. But anyone tempted to turn their back on clam-based broth for good does so at their own peril: Boston is filled with tempting cups and bowls of the classic soup — if you know where to look. 
From creamy, traditional recipes flavored by salt pork to boundary-pushers incorporating smoked butter and seaweed, here are 21 Boston-area chowders that can make even the most cynical New Englander proud. And no, none of them are Manhattan-style.
1. Alive & Kicking Lobsters
While this humble seafood outpost in Cambridgeport is best known for its lobster sandwiches served on toasted bread, New England's other iconic dish hasn't been forgotten. Leave the lobsters alive and kicking and opt for one of five styles: clam, fish, lobster, seafood, or roasted corn and shrimp. (269 Putnam Ave., Cambridge)
2. Atlantic Fish Co.
The clam chowder served at Atlantic Fish Co. in the Back Bay is every bit as traditional as its wood-paneled interior. The recipe is more than four decades old and uses salt pork in place of bacon. And while it's typically served in a cup, you can upgrade your chowder to a less traditional but deeply satisfying vessel in the form of a bread bowl. (761 Boylston St., Boston)
3. B&G Oysters
The take on clam chowder at Barbara Lynch's South End seafood bastion is traditional but only to a point. Topneck clams and bacon lardons give the chowder here a meaty, slightly smoky quality, and white wine and clam juice counterbalance its richness. A spicy crouton garnish adds a satisfying crunch. (550 Tremont St., Boston)
4. The Barking Crab
A paper cup, a milkshake-like thickness, and a smattering of oyster crackers on top: The clam chowder served at this tented waterfront spot is every bit as unpretentious and old-school New England as its surroundings. (88 Sleeper St., Boston)

5. Boston Chowda Co.
With a Boston-accent vanity spelling and a space carved out in Quincy Market (North Andover hosts a second location), no one who comes to this family-owned chowder dispensary is seeking subtlety. What they will find is clam chowder in sizes ranging from an eight-ounce cup up to a full gallon to-go, plus one of the heartiest bread bowls in town. (1 Faneuil Hall Marketplace, Boston; 109 Main St., North Andover)

6. Boston Sail Loft
Boston Sail Loft has been something of a seafood sleeper pick since 1984. However, the harborside restaurant has garnered notice for its unique chowder, which stands out from the pack with a recipe that omits pork in favor of dill. The thick, creamy chowder can also be carried out by the quart or pint. (80 Atlantic Ave., Boston)
7. Eventide Fenway
The casual, counter-service equivalent to Portland's Eventide Oyster serves a chowder that's almost identical to its big-brother restaurant in Maine. A traditional base of clams, onions, potatoes, black pepper, and cream is shaken up by the addition of smoked butter and kombu (dried seaweed), but Eventide Fenway's dish forgoes the nori that garnishes the original. (1321 Boylston St., Boston)

8. Il Molo
This North End seafood restaurant gives clam chowder a decidedly Italianate spin, subbing out bacon in favor of pancetta or guanciale. Its other twist is not so Italian in nature, but just as welcome: a garnish of crunchy fried clams. (326 Commercial St., Boston)

9. Island Creek Oyster Bar
When it comes to making clam chowder, this Kenmore Square favorite spares no effort. Island Creek Oyster Bar makes its own bacon, which is cooked directly in the broth. While the non-clam portion of the recipe skews traditional — bacon, potato, celery — it's lighter and brighter than most, getting an herbal kick from the addition of bay leaves. The buttermilk biscuit garnish is a flavorful alternative to the classic oyster cracker. (500 Commonwealth Ave., Boston)
10. James Hook + Co.
Think of this family-owned business as the downtown, urban version of a bare-bones seafood shack. A smattering of picnic tables outside of the harbor-adjacent trailer provides the opportunity to consume the classic, whole belly clam chowder on the premises. Half-gallons to-go ensure that you'll be set for weeks. (440 Atlantic Ave., Boston)
11. Legal Harborside
Could a list of Boston's top clam chowder offerings omit Legal Sea Foods? The answer, of course, is no. While the company's chowder is the same at all of its locations, we'd argue that the chain's take is best enjoyed at its multi-floored spot in the Seaport with a water view. (270 Northern Ave., Boston; multiple locations)
12. Mooncusser Fish House
Mooncusser Fish House breaks with chowder orthodoxy to serve an elevated version of the beloved soup. White wine and fish stock are added to a broth made with quahog clams, skate wing, Yukon gold potatoes, leeks, and fennel. Poached white fish and diced smoked scallops enter the fray alongside a finisher of creme fraiche, parsley, tarragon, chives, and house-made oyster crackers cut into moon shapes, garnished by a trio of steamed-to-order countneck clams. (304 Stuart St., Boston)
13. Ned Devine's
In the eyes of many, Irish pub Ned Devine's may be more associated with crowded dance floors and pints of Guinness, but its clam chowder has racked up no shortage of local accolades. It omits pork, but uses clams and cockles to create a slightly sweeter taste. (1 Faneuil Hall Marketplace, Boston)
14. Neptune Oyster
Sure, the lobster roll here deserves top billing, but if you can find room for both, then this tiny North End spot's clam chowder is definitely worth a swirl. The made-to-order dish featuring Wellfleet cherrystone clams is on the thinner side and served in a wide-brimmed bowl without the distraction of oyster crackers or other garnishes. (63 Salem St. #1, Boston)
15. North Square Oyster Bar
Remodeled in June 2019 as a 10-seat oyster and natural wine bar inside Ciao Bella, North Square Oyster's emphasis remains squarely on classic New England fare. Its stripped-down approach to clam chowder features bacon, black pepper, and a small fleet of oyster crackers. (5 N. Square, Boston)
16. Row 34
The base of Row 34's clam chowder is similar to the chowder served by sister restaurant Island Creek Oyster Bar, enhanced with house-made bacon. The difference comes down to garnish: where Island Creek employs a dill biscuit, Row 34 opts for an in-house saltine cracker. (383 Congress St., Boston)
17. Saltie Girl
While Saltie Girl may be most readily identified by its tinned menu, the restaurant's inventive approach to classic New England seafood is not to be missed. The clam chowder is prepared by rendering house-cured bacon and salsify root for greater complexity before adding skin-on marble potatoes and cooked-to-order topneck clams, littleneck clams, and cockles. In place of oyster crackers, the chowder is accompanied by bread and house-made butter. (281 Dartmouth St., Boston)
18. Sonsie
The well-established Sonsie on Newbury Street may be best known for two things: People-watching and clam chowder. Largely traditional and featuring homemade bacon, Sonsie's chowder also includes thyme, bay leaf, a few shakes of Tabasco, and sea salt crackers. (327 Newbury St., Boston)
19. Summer Shack
The two Summer Shack locations situated in Back Bay and Cambridge serve a clam chowder that's thinner than most, but doesn't skimp on ingredients. The lighter broth is loaded with chopped quahog clams, salt pork, onions, celery, and generously sized pieces of Yukon gold potatoes. (50 Dalton St., Boston; 149 Alewife Brook Parkway, Cambridge)
20. Warren Tavern
Charlestown's Warren Tavern hits the trifecta of peak New England: It dates back to the Revolution (the tavern was built in 1780), was visited by George Washington, and serves clam chowder. The historic venue uses salt pork and chopped clams, and spices things up with Tabasco, Worcestershire sauce, and black pepper. (2 Pleasant St., Charlestown)

21. Yankee Lobster Co.
The Seaport's Yankee Lobster Co. has a classic clam chowder to match its namesake lobster offerings and harborside location. The simple chowder is made with potatoes, celery, heavy cream, rendered bacon, and Ipswich clams. (300 Northern Ave., Boston)
Didn't see your favorite clam chowder listed above? Chime in on where to find excellent bowls of the creamy soup around Boston — plus which style of clam chowder reigns supreme.