Health
10 work snacks for when you're trying to be healthy
Think: berries, ricotta, and crackers with honey drizzle.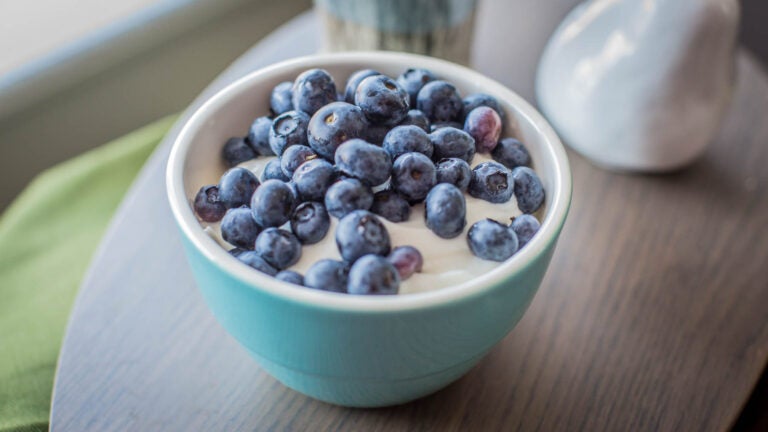 No, diligent laborers of society, you are absolutely not alone here: Snacking at work can be the worst. Between the regularly stocked vending machines, colleague Colleen's baked goods, and the less-than-ideal cafeteria options, not-so-nutritious snacks and meals can be difficult to dodge. By the same token, healthy options that keep you full and satisfied can be hard to find.
So, to save you the headache (and maybe a bit of Pinteresting), registered dietitians in the Boston area provided 10 snacking ideas that are all tasty, creative, and don't take forever to put together.
1. Homemade trail mix
"The best snacks provide protein and complex carbohydrates," said Elizabeth Ward, R.D., a local dietitian and blogger. "That combination helps you feel fuller for longer and doesn't keep you running to the vending machine or coffee shop because you're starving."
Trail mix, Ward said, is one of those. It has endless combos, but Ward suggests the following: ¼ cup of whole grain cereal (like Chex), ¼ cup of California raisins, ¼ cup of nuts, and 1 tablespoon of mini chocolate chips. Double or triple your measurements to make batches that'll last a few days and will help you stay energized at your desk.
2. Berries, ricotta, and crackers with honey drizzle
"Protein, carbs, and fat together help keep blood sugar stable and promote satiety," said Laura Hartung, R.D., a dietitian based in Boston. "Fresh seasonal fruit is … chock-full of antioxidants that promote good health."
Hartung suggested combining raspberries, blueberries, and blackberries. Then, she said, take ricotta and spread it over a cracker or crostini. Top that with the berries, and drizzle on some honey. If ricotta doesn't suit your fancy, try cottage cheese.
"[Use] 1 or 2 percent fat," she said. "Don't use fat-free! A little fat is good."
3. Raw almonds drizzled with dark chocolate
"Dark chocolate is delicious, satiating, and helps to ease stress," said Dr. Caroline Apovian, M.D., director of the Nutrition and Weight Management Center at Boston Medical Center. "It also keeps blood sugar steady, which will help to prevent energy crashes and cravings later, as long as it doesn't contain added sugar."
Apovian also noted that raw almonds are packed with protein, fiber, vitamins, and minerals, and can reduce risks of type 2 diabetes and heart disease if worked into a regular diet.
Try melting a teaspoon of sugar-free dark chocolate nibs in the microwave and drizzle over an ounce of raw almonds.
"Just watch the calories here, and skip any salted or sweetened varieties," Apovian added.
4. Cottage cheese with whole grain crackers
A snack of cottage cheese and whole grain crackers is nutritious and, because it only involves two ingredients, keeps preparation (and mess) to a minimum, Ward said.
Other duos she suggested: "Partner peanut butter and baby carrots. Have a low-fat microwave popcorn — popcorn is a whole grain — with a reduced-fat cheese stick."
5. Siggi's yogurt
Yogurt is a go-to snack for many considering its grab-and-go factor and portable size. Kate Scarlata, R.D., a dietitian out of Boston and Medway, recommended seeking out the Siggi's brand specifically because it's a tasty and low-sugar option.
"Siggi's is a strained yogurt, so lactose is reduced," she said. "It's higher protein because when you're draining out the sugars, it concentrates the proteins a little bit more. It's a good source of calcium. Six grams is a nice, low-sugar alternative."
6. Unsweetened nonfat Greek yogurt with blueberries
"One serving of Greek yogurt contains an excellent amount of satiating protein, in addition to being high in calcium," Apovian said. "Thanks to its probiotic content, Greek yogurt helps to keep your digestive immune systems healthy."
She suggested storing a tub of unsweetened, nonfat Greek yogurt in the office fridge, and mixing in your choice of fresh fruits when you need a fix. Apovian said blueberries contain more antioxidants than any other fruit, and can protect against cardiovascular disease, cancer, skin damage, and memory loss.
7. Garbanzo nuts
Garbanzo nuts are a better alternative to pretzels, chips, and processed, high-sodium foods, Apovian said. The catch is that they're best to prepare at home. But! You can prepare more than a week's worth of the snack all at once.
Start by preheating your oven to 425 degrees. Drain two cans of garbanzo beans, and spread them on a paper towel to absorb the moisture. After spraying a baking sheet with nonstick spray, spread the beans onto it. Bake for 10 minutes. Let the beans cool before drizzling with a teaspoon of olive oil and a teaspoon of chili powder. Bake for 10 more minutes until brown. Sprinkle with just a touch of sea salt. Divide up the nuts into eight little baggies, and you have yourself a snack good for more than a week, each serving only 68 calories, according to Apovian.
8. Tomatoes, hummus, and wheat bread
This is another light snack that you might want to prepare at home to bring in to work.
"[It's] so simple and fresh," Hartung said. "It's good to get good fat with your veggies to increase absorption of fat-soluble vitamins."
She recommended using fresh, local tomatoes and slicing them up. Then, she said, slather a tablespoon of hummus and homemade or store-bought pesto (optional) on top of crispy or crusty wheat bread.
9. Layered salad in a mason jar
Maybe you've seen this on Pinterest or Instagram. This snack takes a little more prep time than what's been previously suggested, but that's not a bad thing.
"Healthy snacks do mean you have to sit there and say, 'What am I going to have tomorrow?'" said Dr. Helen Rasmussen, Ph.D., a senior research dietitian at Tufts University's Human Nutrition Research Center on Aging. "Treat yourself like a fine car, and make sure what you're going to eat is not something you wish you hadn't."
Rasmussen proposed keeping it simple: chopping up egg whites, little chunks of already-cooked lunch meats, and lettuce, and pairing with your choice of dressing.
10. Watermelon, basil, and feta salad
Just cut up two cups of watermelon, add ½ cup of feta cheese, fresh chopped basil, and drizzle with balsamic vinegar.
"All these snacks [I'm suggesting] contain carbs, protein, and fat," Hartung said. "Very little-to-no processed sugar."
In other words: Tastes like summer, no popsicle required.