Health
These are the best juice bars in Greater Boston, according to Yelp data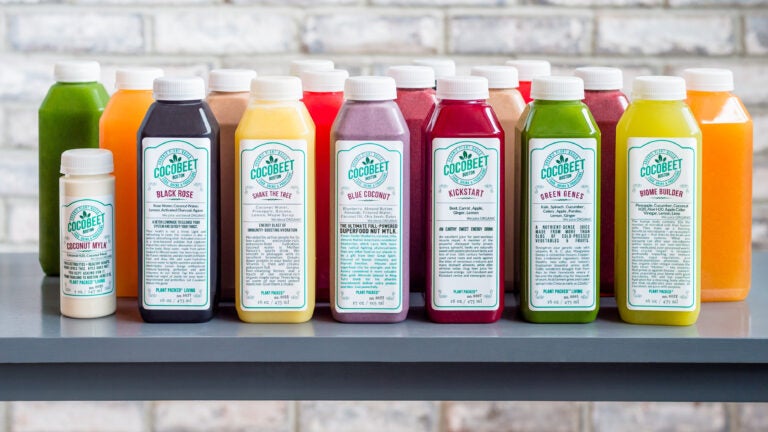 As the temperatures start to heat up in the city, few things can be more refreshing than a cold glass of juice—or, perhaps better yet, a cold-pressed juice made from fresh, locally-sourced produce.
And so, with help from Yelp, we rounded up the top-rated juice bars in Greater Boston using the review platform's data between January and May 2017.
Life Alive
765 Massachusetts Ave., Cambridge
Life Alive is on a mission to "feed the vitality of the world," and the cafe promises to serve its customers only foods that are organic and natural. Their thick smoothies are made with either rice or homemade almond milk. Per assistant manager Dan Antonaccio, the shop's best-seller is the "Love Alive." Served in a mason jar, the smoothie is made from just six ingredients: blueberries, strawberries, bananas, dates, chia, and almond milk.
According to Antonaccio, customers frequently pair their juices with "The Adventurer," one of the 12 grain-based meals on the menu. This summer, customers can look forward to a new menu addition: "The Thinker," which will be made with baby kale, tahini dressing, mushrooms, olives, radishes, pistachios, and sesame seeds, and likely available to order starting next week.
Additional locations: 194 Middle St., Lowell; 281 Essex St., Salem
Jugos
145 Dartmouth St., Back Bay
Owner Ron Marco established Jugos in 2012, and he is constantly experimenting with and evolving the Boston juice bar. Marco's latest creation is "Leche Rosa," which is strawberry cashew milk. While you won't find it listed on the menu, he said you can order a glass of it plain or add it to one of the many "batidos," or bowls.
The shop has nine permanent "jugos," while the "de temporada" section rotates seasonal specials. Marco said the best-selling juice is the first item on the menu, #1, which consists of kale, cucumber, green apple, lemon, and ginger. He said his personal favorite is another green juice, #4, which has kale, spinach, cucumber, celery, green apple, and parsley.
Also on the menu are acai and pitaya bowls, which are loaded with all-natural ingredients and toppings—and popular amongst Instagrammers. 
Monkey King Tea
249 Highland Ave., Malden
If you aren't too distracted by the ice cream served in puffle cones, you can order one of the smoothies from Monkey Tea King's array of beverage offerings. Co-owner Christina Huang said that customers love the "Blue Coconut," which consists of blueberries, banana, coconut, acai juice, and almond milk, as well as the "Green Monster," which has kale, spinach, mangoes, and apple juice.
"They're loaded with fruits and veggies, and all the nutrients that come with that, but it doesn't feel you are eating fruits and veggies," Huang said.
All smoothies come in one size, 16 ounces, and are $6.
Mother Juice
291 Newbury St., Back Bay
After starting as a food truck, Mother Juice opened up a relaxed, modern storefront on Newbury Street in fall 2016.
According to co-owner Ellen Fitzgerald, the shop's best-selling juice is the "Kale Yea."
"The kale is high for antioxidants, the cucumber is hydrating, the celery is great for de-bloating, and the ginger helps build my immune system," she said. 
If you're hoping for a sweet treat, look forward to Mother Juice's summer menu additions, including fruit-based "ice cream" and peanut butter "amazeballs," the shop's homemade vegan-dessert concoction.
Additional locations: 625 West Kendall St., Cambridge; 100 Hanover St., Boston Public Market
Nu Cafe & Juice Bar
195 Washington St., Somerville
Inspired by the hopping juice bar scene in Southern California, Josh Van Dyke decided to open a place of his own in Worcester. Eight years later, Van Dyke and wife, Erjona, opened a second location in Somerville's Union Square.
According to Van Dyke, Nu Cafe's best-selling juice is "Mighty Beets," which consists of beets, lemon, ginger, carrots, and cucumber. However, he said his personal favorite is "Sweet Beach," which is made with pineapple, apple, cucumber, and mint. He said he loves it because the juice is both sweet and refreshing, just like the beach.
The shop is also known for its Hawaiian beach bowls, which are made with either an acai or dragon fruit base and topped with more fresh fruit, granola, toasted coconut, and local honey. 
Additional location: 355 Chandler St., Worcester
Revolution Juice
150 Huntington Ave., Back Bay
Founded by the husband-and-wife team of Dominic and Heather Costa, Revolution Juice is not just a business for the couple; it's a lifestyle. According to Heather, the pair is extremely passionate about all aspects of health—physical, mental, and spiritual wellbeing—and Revolution Juice allows them to share this passion with the people of Boston.
While you'll find an ingredients list under all the menu items on the store's chalkboard, you can also grab a supplementary printed menu for short blurbs summarizing the benefits of each juice, allowing customers to cater their choices to their individual needs. For example, the "D'Boom," which consists of mangoes, banana, spinach, dates, kale, and mint, is supposed to aid digestion and supply the body with energy and minerals.
Pressed
120 Charles St., Beacon Hill
If you prefer to have your juice frozen on a stick, then you'll want to stop by Pressed for one of their house-made paletas. A South American popsicle, this healthier treat is served all summer long in creative flavors like avocado tangerine, cucumber chili lime, and roasted plum with cardamom and vanilla.
The menu features traditional juices, as well. According to owner Ashley Gleeson, the best-seller is Iron, a green juice with cold-pressed spinach, cucumber, apple, ginger, lemon, and lucuma, which is a Peruvian fruit that tastes somewhat like sweet potato. Gleeson said her personal favorite is the Selenium, which is made with beets, strawberries, oranges, shiso, and fennel.
Gleeson said she designed Pressed's menu to cater to on-the-go Bostonians, so the shop also offers a broad array of vegan food items. She said she especially loves the root vegetable pad thai made with spicy peanut sauce, as well as the heirloom tomato lasagne with cashew ricotta and broccoli walnut pesto.
Additional location: 643 Tremont St., South End
Cocobeet
57 Central St., Wellesley
Kyle Rusconi said he and co-owner Onur Ozkoc started Cocobeet with one goal in mind: to serve high-quality, organic products without taking any shortcuts. In order to keep their ingredients as fresh as possible, everything on the menu is made on-site from scratch the morning of operation. According to Rusconi, Cocobeet doesn't use a commercial kitchen, nor does it try to extend the shelf life of its juices through pasteurization. That doesn't stop the shop from producing more than 40 varieties of juices and smoothies.
Rusconi said all of the green juices are among the shop's best-sellers and that "Blue Mist" is also extremely popular in the spring and summer. Considered to be Cocobeet's version of a sports drink, it's packed with electrolytes from Thai coconut water and blue algae plant-protein. Rusconi said customers love it for both pre-exercise hydration and post-workout recovery. 
At the moment, he said his very favorite juice on the menu is the "Green Magic" because the cucumber, kale, spinach, and romaine all combine to provide him with a caffeine-free boost of energy, along with a healthy dose of daily nutrients.
Additional location: 100 City Hall Plaza, Boston