Lifestyle
At the b.good farm in the Boston Harbor, at-risk kids learn about growing food (and a business)
How a restaurant chain paired with a local camp to feed, teach, and instill healthy habits.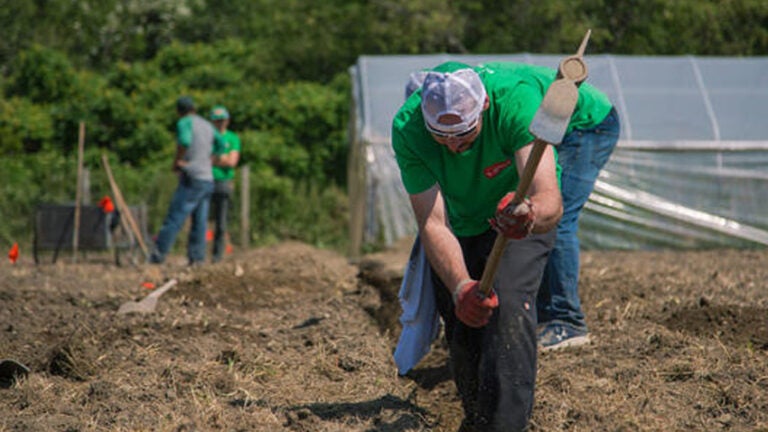 Throughout this summer, kids from Boston neighborhoods will spend their free days on a farm out on Boston Harbor's Long Island. Even on days like last Tuesday, when the temperature was climbing toward 90 degrees by 1 p.m., there were still 12 kids—all between 11 and 14 years old—excitedly huddled over the hot soil, pushing dirt over the roots of their freshly-planted pepper plants.
The kids attend Camp Harbor View, a day camp on the island for children from at-risk neighborhoods, started by the late Boston Mayor Tom Menino and businessman Jack Connors in 2007. The farm, called Hannah Farm, is part of a two-year pilot program by b.good, a Boston-based eatery that aims to make "real food" through relationships with local farms, in collaboration with the Connors Family Foundation (which owns the camp) and the Boston Public Health Commission. The kids participate in the project through a "farm club" at the camp, and a few b.good employees have moved from the restaurants to the island to cultivate the produce.
When those peppers are ready to be harvested, the same campers who planted them will get to eat them—out of the 80,000 pounds of produce the farm is expected to yield, 75 percent will be donated to the camp and other community partners. The rest will go straight to b.good restaurants.
Aside from hands-on farm work, farm director Catherine Haut will help teach the campers about healthy eating by bringing samples of produce, such as dates and bok choy, for them to try—many for the first time.
For this first harvest, planted in late June and expected to be harvested in August, b.good cultivated a one-acre plot. The farm is about three acres total; greenhouses and farm equipment were already on the island for the homeless shelter that shut down in 2014, which helped the b.good team get a head start.
This isn't the first hands-on experience b.good has participated in when it comes to growing their own produce; they have a rooftop farm in Brookline, a mini farm in a shipping container under the Southeast Expressway in downtown Boston, and they grow herbs at some of their restaurants throughout the city.  
Starting a farm on an island proved to be a challenge, but Jon Olinto, cofounder of b.good, is invested in taking care of the land. He himself is out on the farm at least once a week—he said he wishes he could be out there more, but he still has to run the business.
"We didn't know anything; we're learning about this firsthand," Olinto said. "Our job as caretakers of the land for the next couple of years is to restore it, bring it back to life, and use it as a way to inspire community engagement and also to give back a lot to people who need it in the city."
The farm embodies what Olinto has always wanted b.good to stand for—"real food" from local farmers—and it practically fell into his lap: b.good caters the Camp Harbor View's holiday parties, and this past December, Connors, of the camp, mentioned the farm space to Olinto.
"He said, 'I think you guys would be the team that could do something really great with it," Olinto said.
It was "a dream" to get the land, Olinto added, and he has embraced the idea of using it as an educational tool.
"We try to teach kids—and our customers, and ourselves—about local agriculture, about nutrition and healthy eating and the importance of that, and in indirect ways, about entrepreneurship and starting a business," Olinto said.
Watch the video below to learn more about Hannah Farm. Story continues after video:
The farm and the camp are an ideal pair, but what about a farm and an island? Turns out, Long Island is actually a pretty ideal location. Chris Grallert helped set up Hannah Farm through Green City Growers, a company that assists both residential and commercial customers in establishing their own urban farms.
"Logistics were the first thing we faced—having all the correct materials and supplies on the island—but aside from that, it's a fantastic site," said Grallert, Green City Growers' project manager. "The soil has a balanced pH, and it's an ideal site for vegetable production [because] we'll have a more stable climate due to the ocean air."

Grallert explained that, by being on an island, the farm stays a little cooler during the day and retains heat for longer during the nights, so the growing season gets a bit extended. The island already had a water source through the city, so Grallert was able to easily install an irrigation system.
Along with the fun that comes with getting his hands dirty for this project, Grallet is excited about what this farm will mean to the kids of Camp Harbor View. He grew up on a farm himself and said, while he may not have been as appreciative back then, he feels fortunate for the experience now.
"I would imagine," Grallet said, "at the age group that these children are, that this is going to have a lifelong impact on how they consider their food and what they eat, both while out and at home."