Lifestyle
Your ultimate guide to apple picking in Massachusetts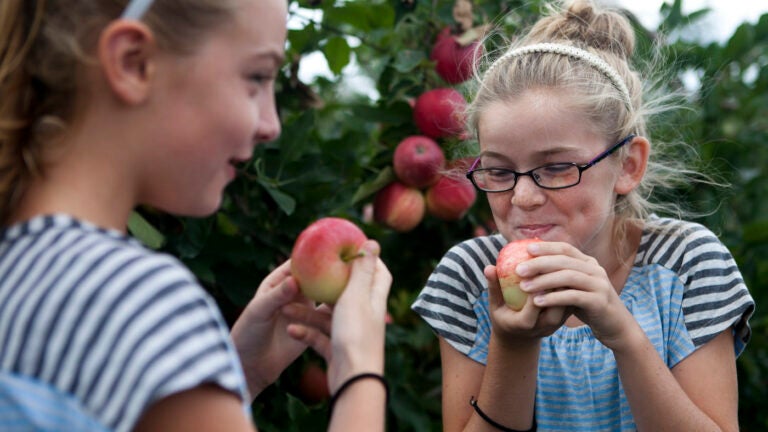 Apple picking is a quintessential fall activity in Massachusetts; more than 80 pick-your-own spots across the state grow the fruit that proverbially keeps the doctor away. With temperatures ever-so-slowly starting to drop, outdoorsy types will soon throw on their flannel, grab their family and friends, and make a day trip to an apple picking spot.
But with so many options and so few weekends, it's hard to know how to optimize your apple picking experience. Here are a few questions — and answers — about apple picking that should help you plan your very best outing.
When is apple picking season?
Apple picking is unquestionably a fall pastime, but most orchards have been open since well before the autumnal equinox. Chelcie Martin, a member of the family that owns the very popular Honey Pot Hill Orchards in Stow, said that they typically open for apple picking in the middle of August and remain open through Veterans Day weekend.
August is usually a bit hot for apple picking, and most varieties aren't quite ripe yet, but some farms offer other fruits to pick, as well. In the case of Honey Pot, there are peaches, pears, and blueberries, though blueberry season ends this weekend.
If you decide to hold out until November, aim for a farm with plenty of hot cider.
When is the best time to go apple picking?
Picking the perfect apple picking weekend can be a difficult exercise, with factors like weather, crowd size, and apple selection all playing a factor. Martin said that the crowds at Honey Pot tend to be busiest the last two weekends of September and the first two weekends of October. So if waiting in a line hundreds of people deep for cider doughnuts sounds like a nightmare, try to avoid those weekends.
That said, if you wait until late October or early November, you risk missing out on peak ripeness for some varieties of apples. In the case of smaller orchards, you might even find yourself piecing through barren trees, where low-hanging fruit has already been snatched by eager hands.
According to Martin, some apples tend to have longer seasons than others. Despite their reputation for turning brown and mushy, Martin said that McIntosh apples, or "Macs," have a long peak, usually from mid-September until the end of October.
"Macs, Cortlands, and Empires have good staying power," Martin said. "They don't go soft — they ripen gradually over time, so we tend to have them available for awhile."
Others, like the popular Honeycrisp apple, should be picked during their peak in the month of September.
"Honeycrisp don't keep super well," Martin said. "So they're best to get when they're in season."
What types of apples should I get?
Some people go apple picking for the the hayrides, the cider doughnuts, the farm animals, and the general camaraderie and are happy to pick whichever apples are around. Others have specific preferences for their apples, and seek out orchards that specialize. We wouldn't dare attempt to legislate anyone's personal tastes, whether they run sweet (Honeycrisp) or tart (Granny Smith). Instead, we'll offer a few suggestions for the best apples to use for cooking, according to an article by Serious Eats Chief Culinary Advisor and James Beard Award-nominated writer J. Kenji Lopez-Alt.
Lopez-Alt picked Golden Delicious and Braeburn as the top pie-making varieties, both for staying somewhat firm when cooked (as opposed to McIntosh and Red Delicious, which he said can turn dark brown and mushy in a pie) and for retaining a strong apple flavor (unlike Granny Smith and Fuji, which he found lacking in taste). Lopez-Alt tabbed other varieties, like Rome and Cortland, as good candidates for applesauce, and said some varieties, like Red Delicious, are only suitable for eating out of hand.
What else is there to do along with apple picking?
For the aforementioned orchard-goers whose interests lie beyond collecting the tasty orbs, many places feature diversions like hayrides, farm animals, cider, and cider doughnuts. If you want a few that offer slightly more unconventional experiences, try these three on for size.
For the wine lover: Nashoba Valley Winery, Bolton
After you're done picking your apples, you can enjoy a bottle of vino atop the winery's sprawling hilltop, stop by the winery's restaurant, or buy your own gourmet picnic supplies at the gift shop.
For the most outrageous activities per acre: Connors Farm, Danvers
It's safe to say that apple picking is not the main attraction at Connors Farm. That's not a bad thing when said farm has enough activities to resemble an amusement park. There's pumpkin tetherball, a zip line, a mechanical bull, pedal carts, and an area where you can shoot apple cannons at targets.
For those not quite ready for summer to end: Russell Orchards, Ipswich
Yes, apple picking is a fall activity through and through, but if you catch a particularly warm day, wouldn't it be nice to enjoy your apples with your toes in the sand as you look out on the Atlantic? Russell Orchards is one of the most popular orchards in the state, with the added bonus of being a 5-minute drive away from Crane Beach, one of the nicest beaches on the North Shore.