Lifestyle
A local James Beard Award nominee discusses motherhood and success
Sarma's Chef Cassie Piuma strives to lead her restaurant with families in mind.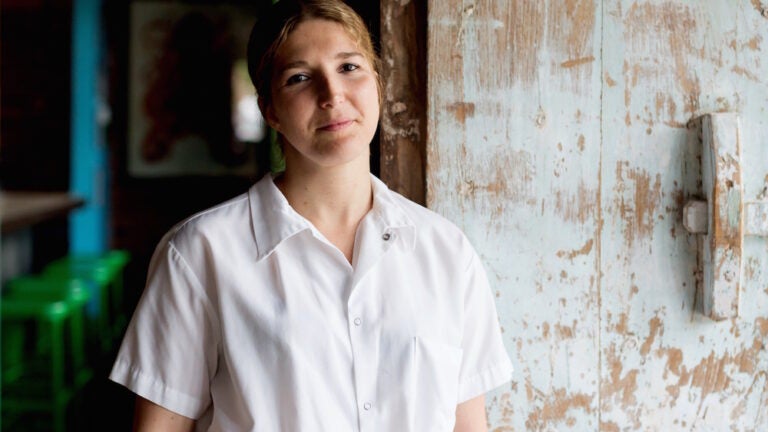 For an essential guide to the city, sign up for How to Boston, Boston.com's weekly culture and lifestyle newsletter.
For Chef Cassie Piuma, balancing the rigors of owning an award-winning restaurant with those of raising two young daughters comes down to two things: determination and "unconscionable amounts of coffee."
The Boston-area native is the chef and owner of Sarma, a vibrant Somerville restaurant specializing in creative interpretations of Eastern Mediterranean fare. She recently earned her third James Beard Award nomination (and fourth semifinalist nod) for the title of Best Chef: Northeast.
Piuma isn't shy about discussing the impacts of motherhood on the already demanding life of a successful restaurant professional.
"It's the hours that are probably the biggest hurdle," she said. "Time is a precious commodity, and you need to focus your energy on the people and projects you're passionate about that really make a difference in your life and your career. I used to take on 100 things at once, say yes to everything, suffer, and figure it out. Now [that I have kids] I take on, like, 50, say yes to the things that matter, suffer less, and figure it out. It's striking the balance between pushing boundaries and recognizing limitations."
Finding that balance isn't just a personal challenge for Piuma; she runs a kitchen that is led predominantly by female cooks, several of whom have experienced their own pregnancies while working at Sarma. As a result, Piuma sees fostering an environment that's supportive of working mothers as a key to her restaurant's continued success.
"I really believe you shouldn't have to sacrifice your career — something you've worked so, so hard for — just for having a joy for kids," she said.
Piuma said maintaining an open dialogue with parents-to-be about their plans and expectations is crucial to managing the needs of her employees and the needs of the business. She also said she offers extended maternity leave, private facilities for nursing mothers, part-time hours, and "a supportive, empathic work environment."
When asked whether she's tired of questions about being a mother while running a restaurant, Piuma said she does think it's an important subject, but at the end of the day, she just wants to be thought of as a talented chef.
"I don't want to be good because I'm a woman, or a mom," she said. "I want to be good because people like my food, and because it makes them happy."
Below, read about the Boston-area family-forward restaurants that Piuma admires.
State Park, Mamaleh's, and Café du Pays
Rachel and Alon Munzer own and operate this Kendall Square restaurant group. Piuma said she appreciates the couple, who have kids of their own, as much for their cuisine as their inclusivity.
"Rachel and Alon always make us feel welcome at all of their establishments and literally whisk away my children so I can have a quiet moment to eat my breakfast," Piuma said. "With all their own responsibilities, they've offered to babysit."
The three concepts vary widely: State Park is a Southern-inspired bar with arcade games and fried chicken, Mamaleh's is a take on a Jewish deli, and Café du Pays nods toward traditional Québecois cuisine.
Commonwealth
Commonwealth's website describes this concept near the Longfellow Bridge in Kendall Square as an "American style family restaurant built on good food." The wide open space features both a restaurant and a market, which highlights local goods and produce.
Piuma admires owner Steven "Nookie" Postal for his support over the years.
"My dear old friend, [he] helped me find our babysitter…, who previously watched Nookie's children for seven years," she said. "He's a stand-up guy and iconic dad of three, and he's gotten me out of more trouble than I care to admit."
Commonwealth serves lunch and dinner seven days per week, and breakfast is available on weekdays.
3 Little Figs
This cozy Somerville cafe whips up toasts, sandwiches, and baked goods on Highland Avenue between Union and Davis Squares, and it's one of Piuma's favorite spots for a coffee fix.
"[Owners] Katie and Andy Rooney operate in our neighborhood," Piuma said. "They supply me with caffeine, kid conversation, and a general sense of relief that I'm not the only one losing my mind."
3 Little Figs' coffee bar hosts a rotating selection of guest coffee roasters from all over the country; currently, the spot is serving Tandem Coffee from Portland, Maine, and Slate Coffee from Seattle, Washington.
Bagelsaurus
This little bagel shop opened on Mass. Ave. between Harvard and Porter Squares in 2013. It serves an array of handmade bagels, bialys, and bagel sandwiches seven days per week until 3 p.m. (or until the bagels sell out).
"[Owner] Mary [Ting Hyatt] is a new mom and the best bagel maker in town," Piuma said. "She has been so kind as to let my children handpick their mixed [bagel] bags and always gives them a special little treat, even when she's working a line 100 deep."
Highland Kitchen
Piuma places this Somerville neighborhood mainstay high on her list, and not just because of the craft cocktails, jukebox tunes, and famous buffalo-fried Brussels sprouts. She appreciates that the restaurant offers both kid-friendly plastic cups and menu items like macaroni and cheese. She also likes the service.
"Highland Kitchen is incredible," she said. "The staff is super patient and really embodies what a neighborhood restaurant should be."
Highland Kitchen is open for dinner seven days per week and has brunch service on Sunday.