COVID
Trying to avoid the grocery store? What to know about buying groceries online.
Social distancing may require us to change the way we shop for the foreseeable future.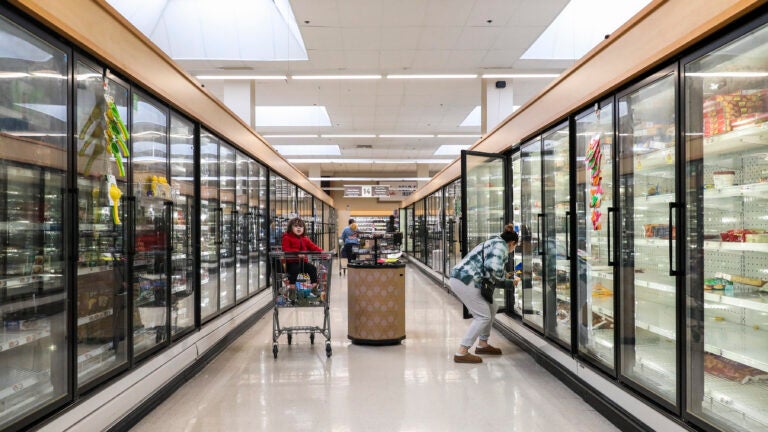 Empty shelves. Long lines. Crowded parking lots.
Grocery stores have been inundated with shoppers hoping to stock up on canned food, produce, and, yes, toilet paper, even as Gov. Baker urged residents to ease up on the stockpiling.
"I ask everyone to please use their heads," Baker said during a press conference Saturday. "Get a few extra items when you go out — perfectly appropriate. But filling your basement with two years of canned soup just means your neighbor will have to go without."
Some grocery stores have taken measures to ensure that those who are most at-risk can shop safely; beginning March 19, Stop & Shop will open from 6 a.m. to 7:30 a.m. daily only to customers who are 60 years of age and older.
But if you want to avoid going to the supermarket altogether, try grocery shopping online instead — just remember to tip your personal shopper or delivery person.
Here are a few options for stocking up on groceries without leaving your home.
Be sure to check with each retailer about new protocols and updates regarding COVID-19, which may result in delivery delays or service suspensions.
Amazon Fresh / Amazon Prime Now
Amazon offers a couple of options for grocery shopping online if you don't want to step foot into an actual Whole Foods. There's Amazon Fresh, which offers grocery delivery and pick-up service for Amazon Prime members, and has an expanded offering beyond Whole Foods. There's Amazon Prime Now, a more instant option for Prime members with free two-hour delivery. And if you're not a Prime member, you can always order a selection of groceries through Amazon — though with longer delivery times, you'll want to focus on non-perishable items.
This delivery service encourages shoppers to buy in bulk (it even stocks Costco's private-label items) and offers free delivery for orders over $49. But it also has a Boxed Express option for groceries, sourced from local grocery stores and delivered by a personal shopper. Once your cart is ready, you can select a delivery date and time slot up to five days in advance.
If you're 21+ and looking to place an order for beer, wine, or liquor, Drizly offers all of those in spades. The delivery service works with local stores to provide a wide variety of alcohol (hard seltzer included), plus snacks, sodas, mixers, and ice. There are a handful of local distilleries featured on Drizly's site if you want to support local businesses, including Bully Boy Distillers, Short Path Distillery, and Privateer Rum Distillery. The delivery fee is $5, and orders usually arrive in under an hour.
Instacart allows shoppers to select items from a range of stores, including Star Market, CVS, Market Basket, Costco, and others. Once you check out, it connects your shopping list with a personal shopper, who will then deliver your haul. Delivery fees are typically $3.99 to $7.99, unless you're an Express member, which offers reduced service fees, no delivery fee for orders of $35 or more, and other benefits.
Peapod is powered by Stop & Shop, and allows you to peruse aisles online alongside new arrivals, specials, or past purchases. You can filter through categories by nutrition (a few options include fat-free, gluten-free, and non-GMO), brands, and categories. The delivery fee is $9.95, though you can also opt for same-day pickup if you don't mind going to the store.
For shoppers with food allergies or dietary restrictions, Thrive Market sells over 6,000 organic and non-GMO products at wholesale prices, filtered by categories like vegan, vegetarian, paleo, gluten-free, keto, and more. Shoppers will need to sign up for a membership in order to use this service — $5 per month for a year's subscription, or $9.95 per month for a month's subscription — but you can get a full refund if you cancel after 30 days.
<hr>
<h2>Your 60-second guide to social distancing during the coronavirus outbreak</h2>
---
Get Boston.com's e-mail alerts:
Sign up and receive coronavirus news and breaking updates, from our newsroom to your inbox.