Bartenders
Local distilleries have started using their production facilities to make hand sanitizer
"In difficult times, people either do good things or they do bad things," said Bully Boy Distillers co-founder Dave Willis.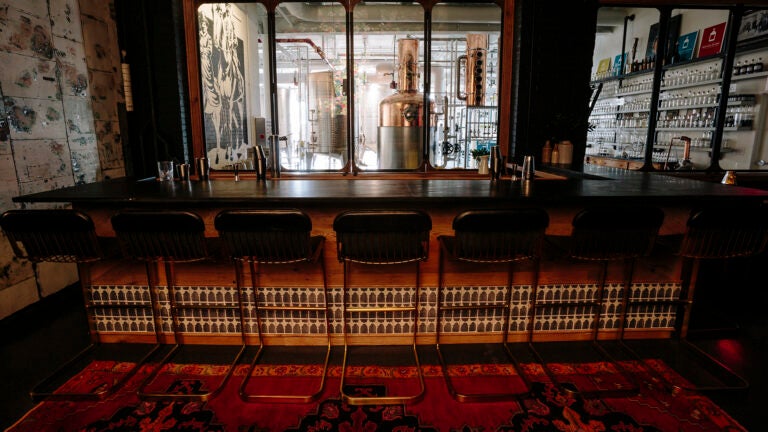 "If you were looking for a barometer of how bad the problem is, all you would need to do is check our voicemail."
Dave Willis, co-founder and head distiller at Bully Boy Distillers, has been fielding calls from hospitals, fire stations, and other organizations on the front lines of the coronavirus pandemic, after the Boston-based distillery began veering from its usual production of spirits to a far greater necessity during this time: hand sanitizer.
"Hand sanitizer is 97 percent alcohol, so it made perfect sense that this is something we can do, because obviously we have no shortage of alcohol," Willis said. "If you're looking for a way to help out, it sort of dovetails beautifully with what we're doing."
The coveted commodity has been one of the most hoarded items since news of the coronavirus pandemic emerged, as evidenced by the Tennessee man who hoarded more than 17,000 bottles and is now being investigated for price gauging after donating his stash.
At Bully Boy, the hand sanitizer, which can be made using alcohol, glycerol, and peroxide, won't even be up for sale. Instead, Willis said they will be donating it to those who are most in need, including hospitals, homeless shelters, fire stations, and others who are on the front lines. The distillery's first batch was made on Friday, and they hope to start distributing it next week, with Boston Health Care for the Homeless already confirmed as a recipient. The sanitizer will be distributed in four-ounce bottles and, Willis said, they'll be making as much of the product as they can.
Bully Boy isn't the only one to tackle this project. The business is on an e-mail chain with other local distilleries, including Dirty Water Distillery, GrandTen Distilling, and Short Path Distillery, to coordinate efforts, provide support, and source materials for making hand sanitizer.
Everett-based Short Path wrapped up its first batch of hand sanitizer on Friday and plans on selling it in two-ounce bottles at the distillery, as well as distributing it in gallons to municipalities, fire departments, and hospitals, most of which are in the Greater Boston Area.
"We're getting inundated with requests," Short Path co-founder Jackson Hewlett said. "So we're trying to triage and see how much we can make, and how we can get it to the most amount of people and supply the people who really need it."
Both distilleries have had to juggle their hand sanitizer production efforts with the volatile threats that are now facing their businesses.
"We have had a very major slowdown [in spirits production]," Hewlett said. "We've lost half of our accounts because restaurants and bars have shut down. Customers have been coming in to buy bottles to-go…but there's also a lot of unknowns."
While Bully Boy has also scaled down its production, Willis said that making hand sanitizer has kept their employees busy and, well, employed.
"We won't cut back until we really have to," he said, noting that he's seen a lot of "Armageddon liquor buying" taking place right now. "I do think we're going to see a drop off next week — there was a lot of upfront bulk buying that took place last week. On premise, bars and restaurants are 30 percent of our business; obviously that's just gone away. We want to keep a sense of normalcy as long as we can."
He said that despite losing money on the hand sanitizer project, the distilleries that have all been working on this want to do as much for their communities as they can.
"A situation like this is a fascinating social experiment," Willis said. "In difficult times, people either do good things or they do bad things. It's a litmus test for who you are as a person. When you think about pandemics, it's like you're either a 'glass is half empty' person and you assume that its going to be chaos in the streets and people are going to be looting and doing bad things, or you're a 'glass is half full' person and you assume that people band together and are hopeful and helpful and do what they can. So far, at least, it seems like a glass is half full scenario, where people are helping each other out."
---
Get Boston.com's e-mail alerts:
Sign up and receive coronavirus news and breaking updates, from our newsroom to your inbox.