Food News
Dave Andelman resigns as CEO of Phantom Gourmet
He has also resigned from the Mendon Twin Drive-In.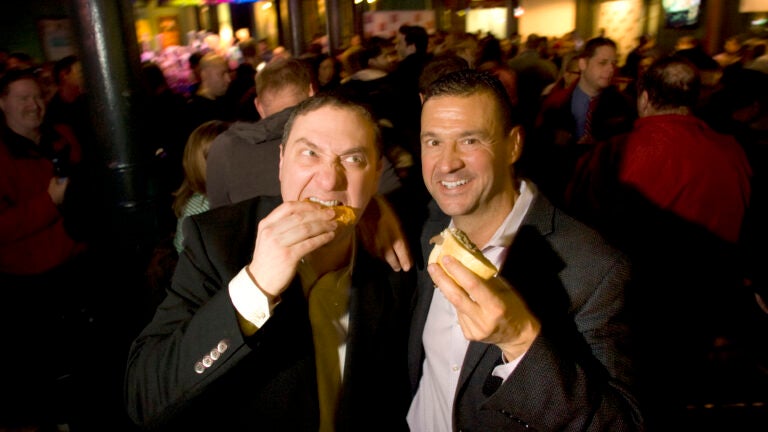 After receiving backlash for a series of Facebook posts that mocked the recent protests against racial injustice and police brutality, Dave Andelman has stepped down as the CEO of Phantom Gourmet. He has also resigned from the Mendon Twin Drive-In, a drive-in movie theater that he owns with his brothers, Dan and Michael.
The news was announced Tuesday afternoon in a post on Phantom Gourmet's Facebook page. Dan Andelman, host of the television show, will be taking over as the company's CEO.
"I'm proud of the company my brother Dave helped build and for all our show has done on behalf of local restaurants and employees in the foodservice industry, especially during this challenging time," Dan Andelman wrote. "But, Dave's recent social media statements made it clear that he cannot stay in a leadership role or any role with this company. We are passionate about food and restaurants, but we also vow to dedicate ourselves to advancing the causes of diversity, social justice, and equality. We plan to listen, learn, and act, while we also continue to entertain and inform our loyal food and fun loving fans.
Phantom Gourmet fans are the lifeblood of our company and we deeply apologize that so many have been hurt. This is NOT what Phantom Gourmet is about and we are very sorry. Our hard-working employees and loyal fans deserve better. So, we are taking swift and decisive action today and we want to make it clear that these types of divisive comments are not consistent with our core values."
Dave Andelman did not immediately respond to Boston.com's request for comment.
The company said it would engage in a number of steps to support equality and diversity within the business, including:
Prioritize finding and promoting local Black-owned restaurants and foodservice companies owned and operated by minorities and people of color;
Provide diversity and inclusion training for all employees of Phantom Gourmet, Inc.;
Further educate all employees on Black Lives Matter and systemic racism;
Complete a "stem to stern" review of company policies and corporate culture to make sure controls are in place so nothing like this ever happens again.
"At our core, Phantom Gourmet is about bringing people together to share good meals and great times," Dan Andelman wrote. "We look forward to using our platform for positive change."
Responses to the resignation included both praise and dismay.
"Good for the Phantom Gourmet for taking this swift and decisive action," Lisa Simmons wrote. "Thank you very much for recognizing this problem and fixing it."
Chris Russell disagreed, writing "Without Dave's involvement, I will no longer be watching."
The resignation comes just days after WBZ-TV placed Phantom Gourmet on hiatus as a response to Dave Andelman's posts, which spanned across 10 days and included comments such as "defund potatoes, not police" and "We don't take a knee here. This is America, not Game of Thrones. Your desperate need for approval, from those who hate cops and country regardless, is pathetic. Have a great day!"
The comments, which were made on his personal Facebook page that has since been made private, also included posts suggesting Back Bay restaurants offer "touchless, curbside looting, and gyms could call workouts 'protests against obesity.'"
On Saturday, Dave Andelman issued an apology on Phantom Gourmet's Facebook page.
"I, too, desire racial and social justice," he wrote. "My record of philanthropy and business reflects this. I made a mistake. I apologize. I feel terrible. We all make mistakes. And I ask for your forgiveness."