Have you experienced long lines at grocery stores lately? We want to hear from you.
The new 25 percent capacity restrictions may have affected shoppers' experiences at grocery stores.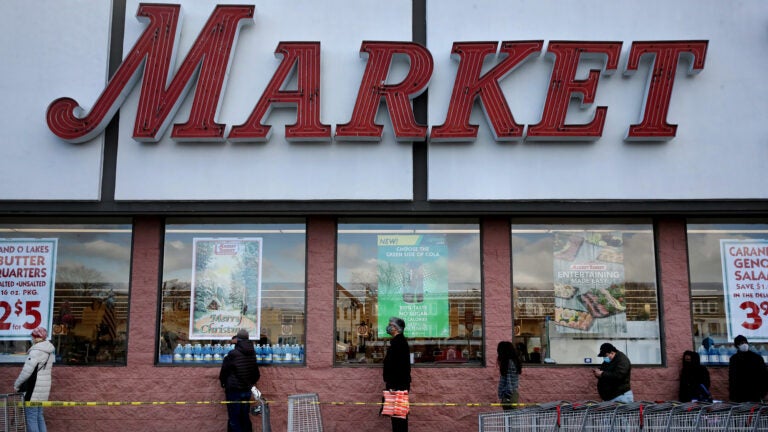 For some grocery shoppers, the last week or so may have carried an eerie resemblance to the beginning of the pandemic and its notoriously long grocery store lines.
When Gov. Baker announced new restrictions that went into effect on Dec. 26, grocery stores were directly affected. Capacity is now limited to 25 percent, the lowest maximum occupancy restriction that businesses have had to follow since the state reopened. These new restrictions were put in place for at least two weeks, though COVID-19 hospitalizations are still on the rise and Baker has not indicated whether the latest restrictions will end on Jan. 9.
A number of grocery stores previously shared with Boston.com how they had prepared for the capacity restrictions.
"We have a capacity counter stationed at the entrance to every store to ensure we are not exceeding the limit," Jen Brogan, a spokeswoman for Quincy-based Stop and Shop, said. "In the event we are approaching the maximum allowable customers, our associate will begin to queue customers outdoors and six feet apart. The likelihood of lines will be dependent on store size and the time of day that customers visit."
Whether shopping at Stop and Shop, Market Basket, Trader Joe's, or elsewhere, we want to get a sense of what Boston.com readers have experienced while grocery shopping since the 25 percent capacity limit went into effect. Have lines been longer? Has it affected your ability to buy groceries? Let us know in the survey below or e-mail us at [email protected].
Get Boston.com's browser alerts:
Enable breaking news notifications straight to your internet browser.