COVID
School lunches are changing due to COVID-19 this fall. Here's how.
"Our mission is that every child gets everything they need to learn," said Laura Benevidez, executive director of food and nutrition services at Boston Public Schools.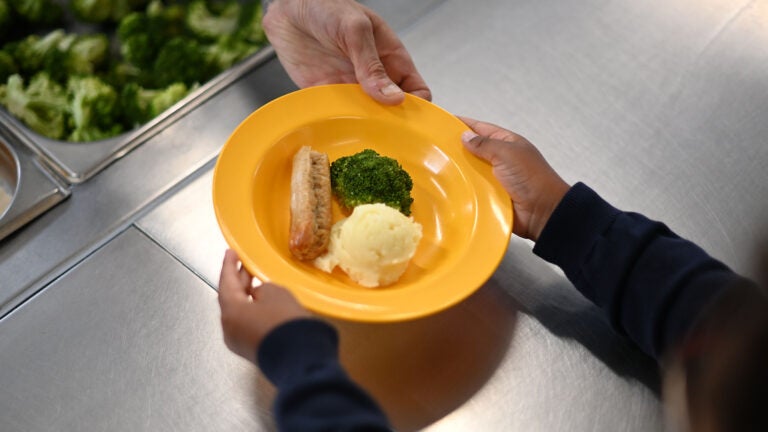 As schools across Massachusetts reopen for remote, hybrid, or in-person learning this fall, school cafeterias look markedly different than last year. Groups of students aren't huddled around a table, swapping lunches. Crowded lines aren't forming to pick up the day's meal. Instead, students are picking up breakfast and lunch curbside, getting meals delivered, or bringing lunch back to their desks. 
On August 31, the USDA extended a federal waiver that allows schools to offer free grab-and-go meals to all school-age children, stating that the program would now be allowed to continue through December 31. For many local districts, this extension means that the free breakfast and lunch meals they had offered over the summer could now continue throughout 2020 — regardless of whether the school was following a remote, hybrid, or in-person model. With a pandemic dictating how breakfast and lunch are served, it also means that schools are having to find creative ways to feed their student population.
Here are how some districts are changing their meal programs, both for remote and in-person learners, and the necessary safety precautions they've put in place. 
'It's all new to us'
Since launching its free meals program on March 17, Boston Public Schools has served over two million meals at various pickup sites, providing breakfast and lunch throughout the summer when kids were out of school. Now that school is back in session — operating remotely, with plans to segue into a hybrid model in mid-October — Laura Benavidez, executive director of BPS food and nutrition services, said that the challenge is providing food access to families in a variety of circumstances.
"Our mission is that every child gets everything they need to learn," Benavidez said. "So the things we focused on and looked at were: When are they coming in, who's going to be there, how do they get access, and what is the feedback we're getting."
Remote learners at BPS can currently pick up a five-day meal pack stocked with five breakfasts and five lunches at 21 different sites across the city. The sites are open Tuesday and Wednesday from 10 a.m. to 6 p.m. — a time frame, Benavidez said, that she hopes is conducive to a working parent's schedule. When the school eventually converts to a hybrid model, with students attending in A/B groups, they'll be able to pick up three-day meal packs on the last day of the week that they attend school in person: Tuesdays for Group A and Fridays for Group B.
"We're making sure that we're thinking about the meals we're offering so that they'll have a combination of fresh items and shelf-stable items," Benavidez said. "We're giving them eating instructions, we're creating variety, so that children are still experiencing the great food and the experience of eating well at home, too."
Waltham Public Schools started the school year on September 16 with a remote learning model, though some students — those with Individual Education Plans; Level 1 and Level 2 English language learners; Special Education students; and Pre-K, Kindergarten, and first-grade students — are operating on a hybrid or in-person model. April Liles, food service director at WPS, said that coming up with alternative models for school breakfast and lunch was incredibly challenging. 
"We [normally] feed kids fresh food in school and then children sit down and eat it," Liles said. "So we're not necessarily in the business of production, curbside pickup, delivery. It's just not something that we're set up to do."
For remote learners, Liles' team designed family meal kits available through curbside pickup on Thursdays between 4 p.m. and 6 p.m. at Kennedy Middle School, McDevitt Middle School, and Whittemore Elementary School. Each kit contains five breakfasts and five lunch meals, and kits can be picked up at a walk-in station or via drive-through.
"We wanted to recreate that lunch experience for kids at home," Liles said. "So we said, let's do a variety of different foods, let's just not do all prepackaged Lunchables. That's heavily processed and actually quite expensive and kids get sick of that."
Instead, the meal kit offers a mix of reheatable dishes, like a fiesta rice bowl; grab-and-go items, like sandwiches; power packs, which Liles compares to a bento box; and build-your-own items, like pizza. As of Monday, more than 1,200 families had signed up for the meal kit.
Production doesn't always run smoothly — Liles said that last week, some products for the kit didn't arrive and they had to make do with what they had — but that they're doing the best they can.
"It's all new to us, and if we make mistakes that's just proof that we tried, and we're going to keep trying to do better and better each week," she said.
Classrooms are now cafeterias
For students attending school in-person, whether in a hybrid or full-time model, school meals are accompanied by a number of new protocols. 
Lincoln Public Schools, which started in-person learning on September 16, now asks parents to pre-order a grab-and-go lunch one day prior through a Google Form; lunches are then served in the classroom. BPS developed three models for students studying in-person, which varies depending on the school: Grab-and-go from the cafeteria, grab-and-go from another area of the school, or delivery of meals to classrooms. 
"We're trying to limit access to big congregations in cafeterias, but we recognize that there will be an influx of students coming back to school, so we want to make sure we make those adjustments," Benavidez said. "We're also working with administrators to create safe spaces to serve kids, like outside or safely distanced in the cafeteria."
Waltham is also offering grab-and-go meals for in-person learners.
"Some of our [students] are coming through the cafeteria line socially distanced to grab their food and eat back in the classrooms or at a designated area," Liles explained. "Or we have some schools that have requested delivery, so we're actually delivering some food to classrooms as well."
Liles said that while most vendors have been keeping up with the demand in feeding so many families, paper and plastic products have been hard to come by. 
"If you think about it, every school district in the country is having to offer some sort of grab-and-go, remote, or curbside model," she said. "So every bag, container, box, anything you put something in, is out of stock. It's been really hard to get product. We're used to putting food on a tray and then kids eat it off the tray, and now we're having to put it on a cup or a bag and then a container."
'It's sad not seeing the kids'
In addition to the increase in paper products, school food service programs have also been stocking up on PPE and developing protocols that ensure the safety of staff and students while serving meals. 
Cambridge Public Schools, which is currently operating remotely but will transition into a hybrid model in October, offers breakfast and lunch for pickup every weekday from noon to 1 p.m. at various school locations. Once in-person learning starts, students will be able to pick up breakfast on their way to the classroom; at lunch, a staff member separate from the kitchen staff will bring meals into the classroom.
"We were offering meals in the spring [during the pandemic], so we had that opportunity to really establish policies and protocols that insulated our staff and kept them safe," said Mellissa Honeywood, director of food and nutrition services at Cambridge Public Schools.
Honeywood said that when they are receiving deliveries from their food vendors, the vendors are asked to stay outside of the building and don't have any contact with the food service staff. 
"We're very fortunate to say that we started serving remote meals on March 16, and not a single food service person has tested positive with COVID-19 or had to leave for health reasons," Honeywood shared. "We feel very fortunate that our safety protocols have insulated us in that way."
Colleen Chartier, who has worked in food services for the Waltham school district for six years and now helps with the production and distribution of family meal kits at Waltham High School, said they have plenty of PPE.
"We have nice cloth masks, we have one for each of the five days," she said. "And we have plenty of plastic gloves and extra plastic paper masks around, too."
While she once served meals to students in person, Chartier is now spending her days assembling, packing, and freezing meals for kids to pick up — a very different start to the semester than year's past.
"It's sad not seeing the kids, not getting to know them, you know what I mean?" she said. "And missing the ones that you do know. We'll eventually get that back, hopefully."