Local
Boston.com readers share their favorite picks for Halloween candy
Hint: Jolly Ranchers are definitely not No. 1.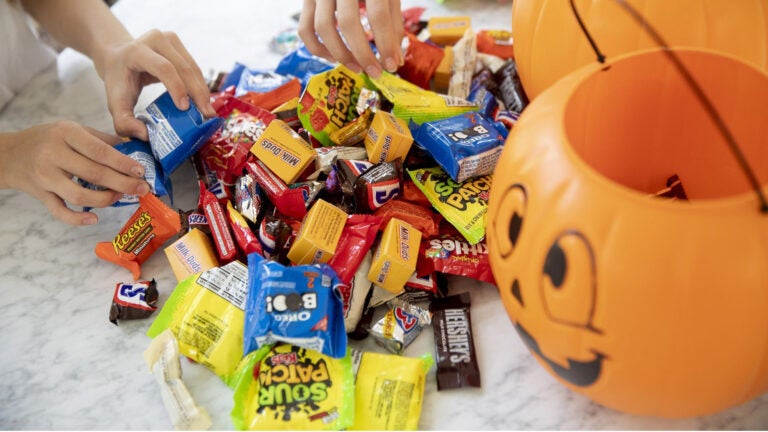 While the world may not feel so normal right now, there are still reminders that Halloween is forging onward, at least in spirit. Pumpkins adorn city stoops, plastic skeletons hang in doorways, and — perhaps more importantly — convenience store aisles are still well-stocked with Halloween candy.
When we asked Boston.com readers last week to vote for their favorite Halloween candy, more than 1,300 readers shared their thoughts, regardless of whether they were planning to partake in socially distanced trick-or-treating or curate a Halloween candy bowl for their own consumption. Here are the candies and chocolate bars that our readers resonated with:
The true standout: Reese's Peanut Butter Cups, which garnered a sizable 31 percent of the votes. Snickers was a close runner-up at 11 percent, followed by Kit Kat, Twix, and Milky Way. Halloween's ubiquitous (and highly divisive) treat, candy corn, only took home three percent of the votes, while Hot Tamales, Tootsie Pops, Airheads, and Jolly Ranchers barely made a dent. Tip: Don't be that house serving Jolly Ranchers.
Roughly seven percent of readers chose "other," naming their own favorite Halloween candy instead. The most popular choice, with 21 percent of the votes, was 100 Grand Bar, a candy bar made with chocolate, caramel and crisped rice. Mounds, Take 5, and Mallow Cup also saw some support, along with Hershey's Milk Chocolate bars, York Peppermint Patties, and PayDays.
One reader shared a simple rule for their own candy preference: "Every candy that does not have nuts in it."
Get Boston.com's browser alerts:
Enable breaking news notifications straight to your internet browser.