Restaurants
A bacon gastropub opens in Worcester today
The Hangover Pub will serve dinner, weekend brunch, craft cocktails, and "all things bacon."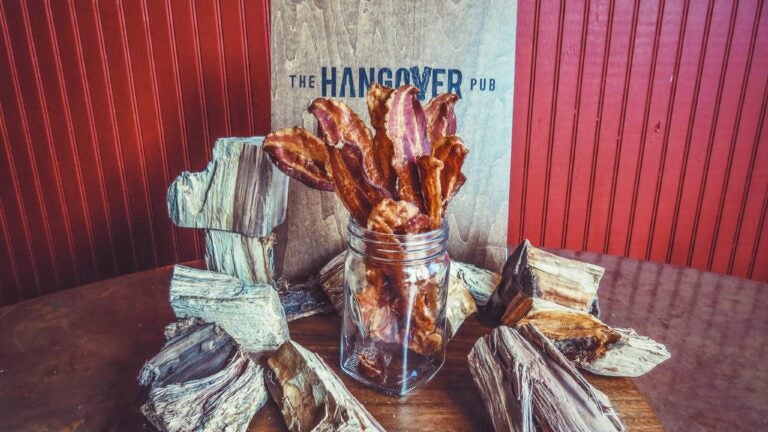 Boston may have a Bacon and Beer Festival, but Worcester is now home to a "bacon gastropub": The Hangover Pub opens at 4 p.m. Monday.
The pub will serve dinner, weekend brunch, craft cocktails, and "all things bacon," their website says.
Each slice of bacon is home-cured, home-smoked, and cut right in their kitchen, financier Jay Grey said. All that work goes into practically every dish on the menu, from the smoked parmesan and house-cured bacon potato chips to the brown sugar and maple glazed thick-cut bacon (dubbed "Man Candy") to the crab and bacon cakes. It's even in the dessert: maple glazed zeppolis topped with bacon crumbles and chocolate stout cupcakes with bacon.
"People love pork and salt-cured meats in general, but they're not going to the extent we are," Chef Michael Arrastia said.
The bacon will be sourced from a few local farms and the curing process will take seven days in total. Even the applewood that the bacon is smoked with is sourced locally, Grey said.
Along with food, The Hangover Pub's head bartender, Matthew Comeau, will make all his drink mixings in-house, from bacon fat-infused spirits (bourbon, vodka, and a few different rum infusions that will change weekly, with combinations including lavender and lemongrass) to fresh-squeezed sour mix.
"Matt is making his own bitters, limoncello. The Bloody Mary mix is made from scratch," Grey said. "Basically anything that could be made in-house that makes sense, we'll be doing. As we continue, the program is just going to get more localized."
One of their signature cocktails will be a "Smoke and Dagger Margarita," with house-smoked sea salt, house-made roasted habanero mezcal, and the house sour mix.
Only Massachusetts-brewed beers will be available on tap, and bottles and cans will only come from New England brands, Grey said.
"We have such a rich [area], everything around us—excellent beer, fantastic farms, great distilleries," Grey said. "There's not really any reason to outsource anything."
Everything on the menu costs between $5 to $15, with no drink priced at more than $11, Grey said. It's important to him that everyone can enjoy what they have to offer.
"Even with all the time and care Matt and Mike put into everything, we're not overcharging," he said. "We don't think people should have to cut [eating out] out of their budget. That's what The Hangover Pub is all about: great quality and great price."
Initially, seats at the gastropub will be available through reservation only due to the high volume of inquiries, but some seats at the bar will be open for foot traffic, Grey said.
"We want to make sure the food tastes great, everything tastes right, and that the first people to come in will really appreciate all that time that went into everything," Arrastia added.
You can make a reservation by calling (508) 556-1266 or emailing [email protected] Check out the menu full of smoked meat here.