Restaurants
This BC student ate 90 habanero peppers and won a year of free burritos
Her dad took second place in the chili pepper eating contest.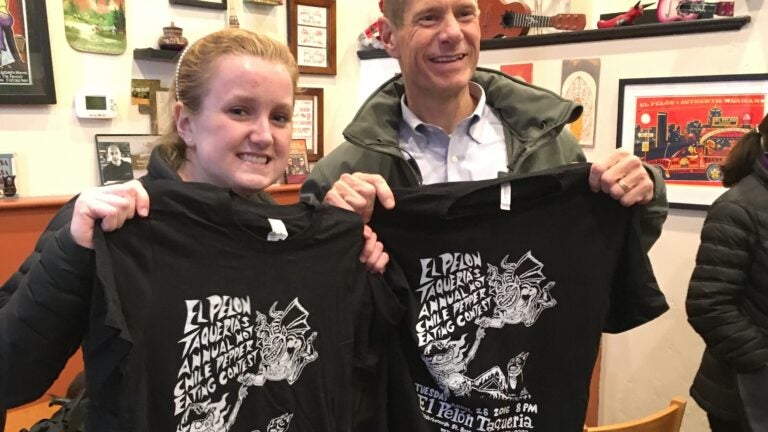 Boston College student Alison Hiatt and her father, Jeff, have always shared a love of spicy food.
So when the 21-year-old sent her father a link to El Pelon Taqueria's Chile Eating Contest, he quickly signed the two up.
Their goal? To "not be the first ones out."
Instead, they were the last two standing.
Each ate 90 habanero peppers Tuesday night at the annual competition at the taqueria's Fenway location, according to the restaurant's spokesperson, Andrew Voirol.
Alison took first place when her father bowed out and won the coveted grand prize: free burritos for a year.
"It wasn't too bad in the moment," she said. "I mean it was definitely hard—but now my stomach is definitely paying for it."
This year's 22 contestants sat around a table—wearing latex gloves to protect their skin from the peppers—and proceeded to eat chili after chili for a chance to win a free burrito from the restaurant every day for a year. All proceeds from the event, a total of $5,000, benefitted the food rescue nonprofit Lovin Spoonfuls, according to Voirol.
The contestants were given two minutes to eat each pepper, according to the event's page. The rules were simple: "You puke, you're out. You drink, you're out." Those who couldn't move on to the next pepper were eliminated.
Each habanero pepper has a heat level of 350,0000 Scoville units, Voirol said. Last year's winner ate 18— and 64 was the previous contest record.
"It was when the guy who won last year dropped out that I thought maybe we had a shot," Alison said.
The BC junior said she wasn't in it for the burritos.
"I don't really eat a whole lot of burritos," she said. "But when I got out of the competition, I already had like 12 friends text me about getting free burritos so they were really excited."
As for competing next year to defend her title?
"To win? Probably not," she said. "I might do it again for three rounds and call it a day."
Correction: A previous version of this article stated last year's winner ate 64 peppers, which was the previous record.
https://www.facebook.com/elpelontaqueria/videos/1229805200402959/