Restaurants
Where to eat with your kids in Boston, according to chefs who are dads
In time for Father's Day, they told us where they grab grub with their whole families.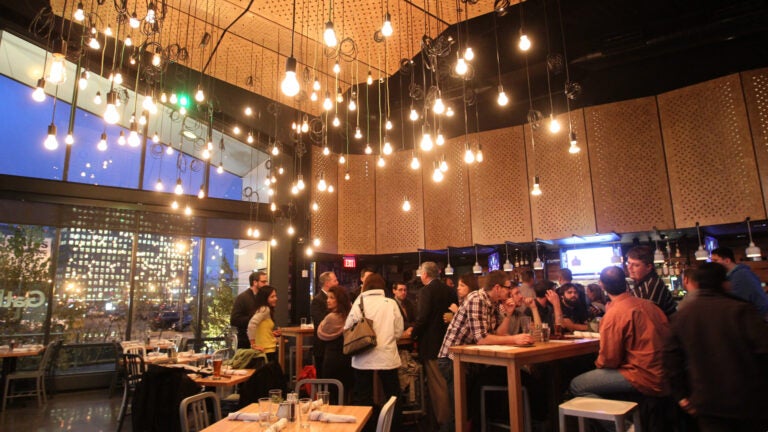 Father's Day is this Sunday, and what better way to celebrate than by gathering the whole family around some food?
Oh, you don't want chicken fingers as your main meal? We talked to four Boston-area chefs who work double-duty as dads about where to take your family this weekend to celebrate, whether for a fancy night out or a more laid-back but still delicious experience.
Bristol Restaurant and Bar at the Four Seasons
"We take the girls to the Bristol Lounge, sit on one of the couches, and can have a great night without disturbing anyone. Our 3-year-old has some wiggle room, and our 11-year-old loves the truffle fries." — Michael Schlow, James Beard Award winning chef and restaurateur behind Doretta Taverna & Raw Bar, Tico Boston, and Alta Strada Wellesley
The Lounge at The Bristol, inside the Four Seasons Hotel on Boylston Street, offers a fine dining settings that's relaxed enough to make your whole family comfortable. As part of the hotel, staff here are used to serving kids and even going the extra length to make them smile. Bristol looks over the Boston Public Garden, so your family will have a great view while you dine on ribeye and extravagant sides like lobster mashed potatoes and truffle fries. They do have a specific kids menu, too, if you want to keep your children's hands off your surf and turf.
Biddy Early's
"OK, not fancy, but if you ask for Sean, he'll do magic tricks for you." — Ian Just, chef and restaurateur of Society on High, Zygomates, and Sorriso
Yes, it's a dive bar, but don't worry, this downtown staple will make your whole family feel at home while offering standard American pub fare. Your kids will be entertained by a bartender who doubles as a magician and cheeseburgers that pay tribute to their favorite superheroes, sports teams, or cartoon characters. Plus, if the kids do get a bit rowdy, they'll probably fit in with the atmosphere.
The Food Trucks along the Rose Kennedy Greenway
"As first-time parents, we are still in discovery mode. We do love going to the Greenway and trying the various food trucks." — Phil Frattaroli, owner of Ducali and Lucia
Every Saturday and alternating Sundays, food trucks line the Rose Kennedy Greenway as part of their Greenway Open Market. Good news, dads: It's open on Father's Day, so if you're looking for a low-key way to fuel your family while enjoying the outdoors, this market is sure to offer something to please every picky eater you've got. The options rotate, but you'll be sure to see big local names such as Chicken and Rice Guys, Bon Me, Roxy's Grilled Cheese, and more.
Gather
"We're not quite at that stage where my son is eating out yet, but he visits me at Gather and loves all the lights and drawings on the walls." — Dennis Wilson, executive chef at Gather
The chef of this restaurant brings his own kid in, and you're in the clear to bring yours to this New American eatery in the Innovation District. The Instagram tag for this spot shows lots of children, even ones so young they're still in strollers. The dazzling decor will keep them occupied as you dig into jambalaya or braised short rib gnocchi. Gather also serves up pizzas plus starters like chicken lollipops and loaded baked potatoes your kids will surely try.