Restaurants
The best places to drink this fall, according to Boston bartenders and mixologists
These drink experts share their favorite places to go and their favorite fall drinks to order.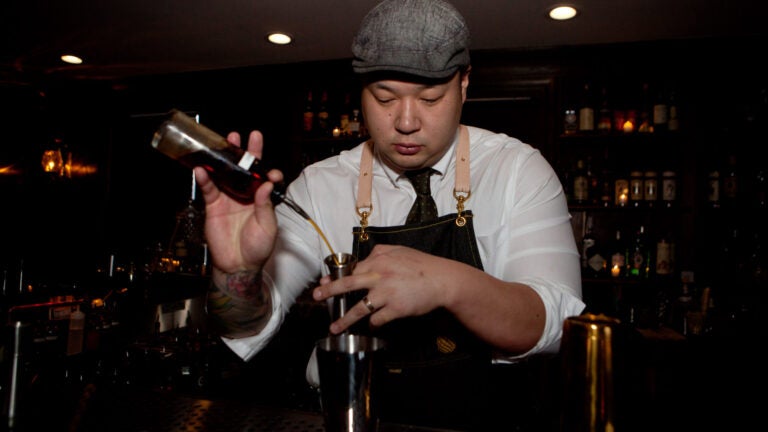 As the weather cools down, a good cocktail is one way to warm up—and who better to know Boston's booze scene than those making your drinks.
We asked bartenders and mixologists from some of Boston's hottest bars and restaurants where their go-to place to grab a drink is, as well as what they are sipping on when they arrive—and one spot in particular got mentioned by almost every cocktail creator we spoke with.
Here are the top-shelf spots that Boston's experts recommend (and their favorite fall drinks to try when you go).
2 Alfred St., Woburn, Massachusetts
"I have to give a shout out to one of my favorite spots, which is run by a past winner of the imaginative bartender competition: The Baldwin Bar. Those boys are so great, I love going up there and showing them some love."— Schuyler Hunton, of Tiger Mama, 2016 North American winner of the U.S. Bartenders Guild and Bombay Sapphire's 10th annual Most Imaginative Bartender Competition. 
Hunton's favorite fall drinks? Manhattan, old fashioned, Oktoberfest brews, daiquiri.
141 Pearl St., Boston, Massachusetts
"This dive bar is my go to because everyone is so hospitable there. If I don't go there, Russell House Tavern in Harvard Square or Branch Line in Watertown both have fantastic food and wine lists."—Ashley Cosentino, of Strega Waterfront. 
Cosentino's favorite fall drinks? Red wine, scotch
635 Cambridge St., Cambridge, Massachusetts
"Lone Star, the one in Cambridge, is one of my favorite places to grab a drink. The vibe and people who work there are always amazing, and the food is great, too. So it's a nice place to get a good drink and sip on something nice."—Ezra Star, general manager of Drink Fort Point.
Star's favorite fall drinks? Stirred cognac cocktails, Manhattan, amaro with cinnamon and lemon
Oak Long Bar + Kitchen, 138 St. James Avenue, Boston, Massachusetts
"For fall and into the winter, I really like to go to the Oak Bar in Copley. I have an old buddy there and the ambiance is just so cozy with big leather barstools and a fireplace behind the bar. I usually sit for a couple Manhattans there."—John Wallace, of Bastille Kitchen. 
Wallace's favorite fall drinks? Manhattan (with a maraschino cherry), anything with whiskey or brown liquor
1 Kendall Square, Cambridge, Massachusetts
"It's new, but it's a good time, and the food is good. There's nothing bad about a good drink with a little comfort food. These guys are just good people and I like to go when I can."—Chris Raakes, of Tresca.
Raakes favorite fall drinks? Anything with a whiskey base or just a whiskey and lime on the rocks, a beer (usually a Miller High Life) 
343 Congress St., Boston, Massachusetts
"Tavern Road is also really great because they have great energetic bartenders who are very knowledgable. It's just a good industry crowd in there too so it's sometimes nice to rub shoulders with them and have a nice conversation about life and work."—Wallace.
"Tavern Road's [Tenzin Samdo] is fantastic, and I'm excited to see what he does. He is a really great dude, also, so it is hard to avoid liking him. You can't deny they are [f——] good cocktails and that he's a really good dude so it's hard to hate."—Hunton.
"I put [Samdo] above everybody. He is just a monster. [He's] now at Tavern Road, but before he was at Trade, and this kid was doing things then and is doing things now that is out of this world. His thought process and how he comes up with stuff is insane. Even the thought he puts into his garnish is just unreal."—Raakes.
3 Beacon St., Somerville, Massachusetts
"I'm a very big fan of Trina's Starlite Lounge. … I think ultimately [in fall drinks] you look for a heavier note, and I think people tend to have a hibernation instinct where people like bigger flavors for a fill up your belly kind of thing, and they do that."—Todd Maul, Cafe ArtScience.
Maul's favorite fall drinks? Agricole rum, brown spirits