Restaurants
This local shop placed a doughnut wager on Saturday's Patriots game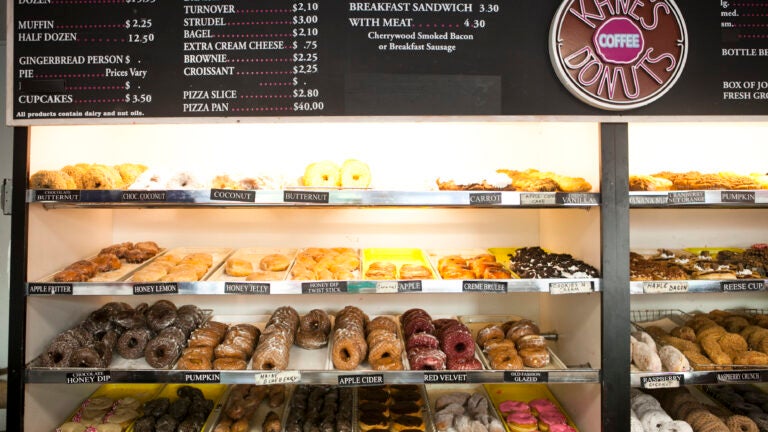 The New England Patriots are gearing up to play the Houston Texans at Gillette Stadium on Saturday, and they now have more on the line than a sweet trip to the AFC Championship. Also at risk: doughnuts.
One doughnut shop from each of the respective cities—Kane's Handcrafted Donuts in Boston and Hugs & Donuts in Houston—are putting their baked goods where their doughnut holes are and placing a friendly wager: The losing city's store has to ship a dozen of its most popular doughnuts to the winning shop, plus face the humiliation of snapping a picture while baking doughnuts and wearing the winning team's jersey.
Reps of opposing cities have long placed friendly food wagers during big games—and they've sometimes gotten a little crazy.
When the Giants ended the Patriots' perfect season during 2008's Super Bowl XLII, Boston Mayor Thomas Menino had to send New York City Mayor Michael Bloomberg 42 (aka, XLII) pounds of Dunkin' Donuts coffee, 12 dozen Boston Cream Pies and 12 dozen Parker House Rolls (in honor of Tom Brady's jersey number), 100 hot dogs and 100 chicken sausages from Kayem, 100 cups of New England clam chowder from Legal Sea Foods, 100 servings of Stonyfield Farm's organic yogurt, 20 pizzas from Sal's Pizza, five cases of Brigham's "Boston You're My Home" ice cream, and five cases of "Cherry on the Top" frozen yogurt bars from Elan.
And the last time the Patriots took a trip to the Super Bowl, when they defeated the Indianapolis Colts in the 2014 AFC Championship, Mass. Gov. Charlie Baker won a bunch of pulled pork from then-Indiana Gov. Mike Pence.
Want to get in on the action? Kane's is selling Patriots-themed doughnuts Friday and Saturday at both its Boston (90 Oliver St.) and Saugus (120 Lincoln Ave.) locations, while they last. They cost $3.25 each, plus tax.