Restaurants
Cambridge's first arcade bar is officially opening Saturday
The owners of Area Four and Roxy's Grilled Cheese are bringing 20 arcade games, shuffleboard, nerd cocktails, sandwiches, and more to Central Square.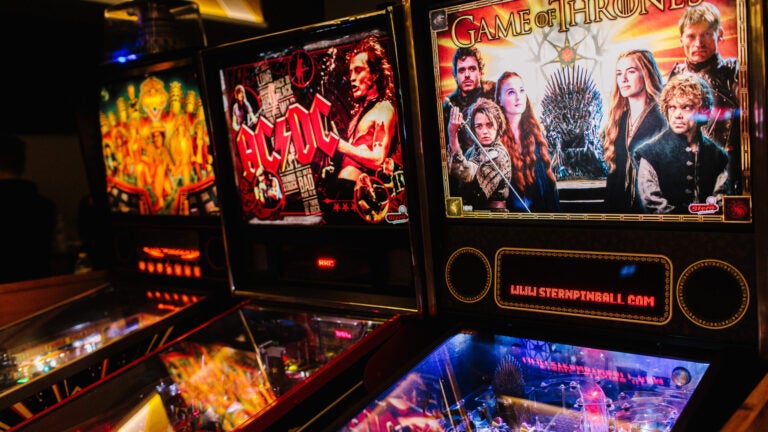 When you first walk into Roxy's Central at 292 Massachusetts Ave., which officially opens its doors on Saturday at 5 p.m., the Cambridge restaurant's hidden mysteries aren't immediately obvious. To the left, a row of stools looks out onto Central Square. To the right, cashiers stand at the front of an open kitchen, ready to take orders for grilled cheeses, veggie burgers, hot dogs, milkshakes, and more.
But head through a set of swinging doors straight in front of you, and you'll encounter what looks like a freezer. In reality, it's a secret speakeasy-style entrance to A4cade by Area Four, the city's first arcade bar.
With 20 arcade games, half a dozen pinball machines, two Skee-Ball machines, a foosball table, a gleaming 18-foot shuffleboard court, a Pop-A-Shot, and two Xboxes, A4cade has a very different vibe than Area Four, known for serving pizza that has quickly entered the conversation for the best slice in the Boston area. But A4cade is the realization of an idea Area Four owner Michael Krupp has been working on for years.
"I love video games, I love pinball, I love beer," Krupp said. "So this is something I've wanted to do for awhile."
Although business is booming at both Area Four's flagship Kendall Square restaurant and newly opened South End location, Krupp wasn't interested in incorporating his pizza into the arcade.
"It didn't really make sense to put in a full Area Four and cannibalize our business that was two blocks away," Krupp said. "We wanted to do this and find the appropriate partner, so I called James."
James DiSabatino, owner of Roxy's Grilled Cheese, has an empire of food trucks, pop-ups, and brick-and-mortar spots that has slowly taken over the Boston area since 2011.
As it turns out, DiSabatino was looking at the exact same space for a Roxy's brick-and-mortar restaurant. Rather than face off, Mortal Kombat style, Krupp and DiSabatino decided to team up, Teenage Mutant Ninja Turtles style.
Mortal Kombat and TMNT are just two of the classic arcade franchises represented at A4cade. Others include The Simpsons, Galaga, Donkey Kong, NBA Jam, and NFL Blitz, all of which can be played with tokens purchased from bartenders and waitstaff. Krupp's personal favorite game is a Doctor Who pinball machine from the 1980s that only features the first seven doctors from the long-running television series.
For portability's sake, most of the bar's 30-plus beers will be served in cans and bottles, though two or three beers will still be on tap. The robust cocktail menu features a number of standards, as well as a few oddities, including "two player" cocktails served in kitschy vessels like a TARDIS from Doctor Who and a lunchbox thermos.
Meanwhile, Roxy's menu includes many of customers' favorite grilled cheeses, but goes well beyond the standard food truck menu. All in all, the menu features nine sandwiches, four burgers (one vegetarian), four hot dogs, fries and tots prepared six ways each, soups, salads, milkshakes, and soft serve ice cream.
Though both Krupp and DiSabatino have many ideas for specialty menu items and themed nights for the future, right now they're concentrating on getting the doors open and ensuring that the whole experience will have customers coming back for more.
"We're just focused on doing things that make the city cooler," DiSabatino said. "Priority number one is making this space extraordinarily cool, and the money can come later."
Take a video tour of Roxy's Central and A4cade: 
https://www.facebook.com/boston/videos/10155001124759365/