Restaurants
The 10 best wine bars in New England
From the Back Bay and Cambridge to Vermont and Maine.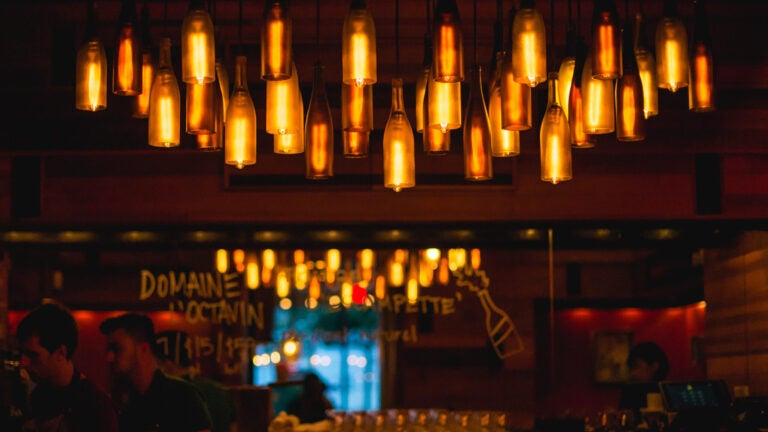 A great wine bar isn't just about an extensive by-the-glass list; it's a hard-to-find combination of good food, smart design, and a carefully curated selection of exceptional, well-priced bottles. Luckily, Boston is home to some of the country's best wine havens, and they all serve up plenty of low-lit romance, along with glasses of everything from natural Loire Valley bubbles to fine Bordeaux. Just beyond the city, several worthy stops on the day trip circuit are also guaranteed to provide out-of-town charm, unique lists, and delicious fare.
Greater Boston
Boasting warm lighting and Italian tile, this Kendall Square spot modeled after European enotecas brings the romance of Italy to Cambridge. After suffering a fire in the summer of 2015, the hip destination from Blue Room restaurateurs Liz Vilardi and Nick Zappia reopened in August of 2016 with a new culinary team and a revitalized wine cellar. Go for Vilardi's creative by-the-glass themes like "#hellachenin" and "Talking Heads," or find a hidden gem among the bottles for sale in their public cellar. The kitchen serves up charcuterie and Italian-inspired small plates, but don't forget to peruse their extensive cart of artisan cheeses. (1 Kendall Square, Cambridge)
Creative, Southern-inspired small plates from Chef Alex Saenz find balance with a wine list focused on vibrant, small-production French and German wines at this cozy-but-cool Inman Square sister to Somerville's sophisticated Bergamot Restaurant. Order something special from their list of vin jaune, sherry, and madeira by the glass, or indulge in Champagne from an extensive list of grower producers. Tip: Get an extra dose of aphrodisiac with dollar oysters Sunday through Thursday. (1071 Cambridge St., Cambridge)
Tinned fish gets its delicious due at this pint-sized Downtown Crossing newcomer from Sportello alum Haley Henry. The snug harbor for all things aquatic opened in August 2016, and it gets extra credit for its innovative "half bottle" program; commit to two glasses of any wine on the bottle list, and they'll open whatever you fancy, from the rustic Umbrian Suore Cistercensi 'Coenobium' to a vibrant Southwestern French grenache blend from Didier Mouton. Don't miss cans of delicate smoked eel served with toast and accoutrements. (45 Province St., Boston)
Straight Law Bar at Taberna de Haro
This moody space adjacent to Deborah Hansen's Spanish standby masquerades as a gin and tonic bar, but don't be fooled: With a vintage back bar, an extensive list of rare sherries by the glass, and pages of esoteric Iberian bottles, it's the perfect spot for evoking sultry Spanish nights over traditional tapas. (999 Beacon St., Brookline)
The L'Espalier lounge got a second life in fall 2016 with the debut of L'E Bar, a sanctuary of casual, sophisticated design featuring floor-to-ceiling windows above the bustle of Boylston Street. No reservations needed here — swing by to see what hard-to-find Burgundy and Bordeaux treasures Wine Director Lauren Daddona has open and indulge in local delights from the carefully curated cheese cart. (774 Boylston St., Boston)
You don't need a $195 or so dinner ticket to Somerville's Tasting Counter to experience the quirky ticketed restaurant's dynamic natural wine program, but you will need to stay up past your bedtime. Late Nite is a buzzy, after-hours pop-up wine bar hosted by Wine Director Eileen Elliot every Thursday, Friday, and Saturday from 10:30 p.m. to 12:30 p.m. It features of-the-moment natural wines by the glass and small bites from Chef Peter Ungar. Plus, adjacency to Aeronaut Brewing means you can settle up and move on to suds without leaving the building. (14 Tyler St., Somerville)
The rest of New England
This brand-new, petite natural wine bar opened in January of this year. In addition to a small but thoughtful list of wines by the glass, Fortnight features rustic brick walls and a forward-thinking attempt at solving the problem of sustainable restaurant economics; the restaurant was established on a worker cooperative model. Well-priced and pleasantly esoteric wines like a sparkling cabernet franc and cru Beaujolais are chosen to accompany the concise menu of bistro fare — chicken liver pâté, mushroom Bourguignon — sourced from local ingredients. (79 Dorrance St., Providence, Rhode Island)
This charming spot from the husband-and-wife team behind popular (and adjacent) wine shop Maine & Loire serves up natural wines on the outskirts of downtown Portland. It features a small, ever-changing menu of seasonal fare, like radishes with whipped lardo and anchovy, and monkfish with black trumpet mushroom and whelk butter, and its list of hard-to-find, Old World natural wines is just right for adventurous palates and seasoned wine lovers alike. (63 Washington Ave., Portland, Maine)
Cork Waterbury in Waterbury, Vermont, was already a mainstay on the Vermont wine circuit, featuring uncommon, easy-to-love bottles and updated takes on comfort food. Now, it has a sister location in the heart of ski country. The new Cork Stowe is a swank but comfortable version of the homey Waterbury original, and both have menus focused on fresh Vermont specialties, like duck poutine with Maplebrook cheddar curds and chicken liver mousse with Elmore Mountain bread. Had a glass of something you like? Pick up a bottle on your way out — both locations have adjoining wine shops. (40 Foundry St., Waterbury, Vermont; 45 School St., Stowe, Vermont)
The newest project from Burlington's Dedalus wine shop is slated to open by Feb.19; check their website for updates and plan a last-minute getaway to be first in line. Boston wine lovers will recognize Kai Gagnon of Bisq, Bergamot, and Craigie On Main lineage as one of the faces behind the newest iteration of Jason Zuliani's beloved bottle shop. Expect hard-to-find wines like a coveted Corsican vermentino from Arena by the glass along with chic digs and a serious cheese and charcuterie program. (388 Pine St., Burlington, Vermont)
Lauren Friel is a retired sommelier and freelance writer living in Boston. You can follow her eating and drinking adventures around the world at @vin_drop.