Restaurants
Eat vegan lobster rolls and clam chowder at this new Seaport restaurant
By Chloe opens its first Massachusetts location on Thursday.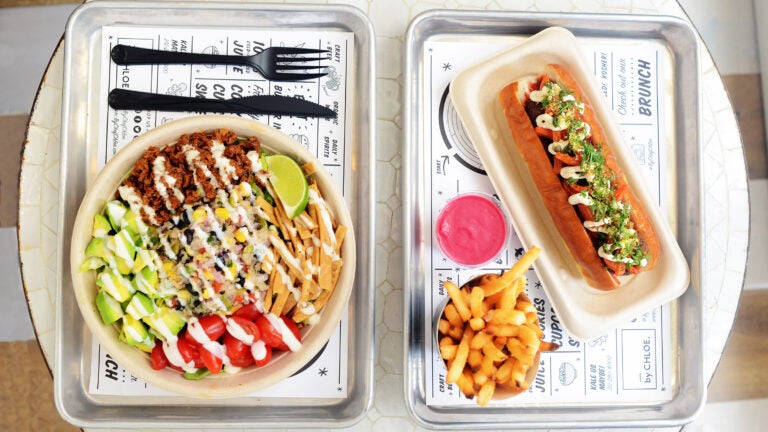 A new Seaport restaurant, opening Thursday, is putting a vegan twist on traditional New England foods. At By Chloe (stylized as "by CHLOE"), diners will be able to chow down on lobster rolls made of hearts of palm, celery, smoked paprika, and dill, and spoon clam chowder made of cauliflower cream, shiitake mushroom, corn, potato, and parsley.
The all-vegan fast-casual restaurant chain, which is opening its first Massachusetts location on Seaport Boulevard, will dish out four items exclusive to Boston—the chowder and lobster roll, a Boston cream pie ice cream, and a Boston cream whoopie pie— alongside the plant-based, Instagrammable meals that have gained the eatery a cult-like following since its New York City debut three years ago.
The 2,400-square-foot Seaport space will seat 43 people, feature the restaurant's signature hanging swing chairs in the window, and offer an outside patio for dining. It will also pay homage to the neighborhood via black and white, seaweed-patterned wallpaper leading to the bathroom.
"It's our nod to the Seaport area without feeling too cliche," said Samantha Wasser, By Chloe's co-founder, president, and creative director.
Wasser and Chloe Coscarelli, winner of the Food Network's Cupcake Wars in 2010, have opened five locations in the past three years in New York City and Los Angeles. The team will open five more locations in 2017, two in New York and three in New England: the Seaport one, a Fenway spot slated to open this spring, and a Providence, Rhode Island, location set to open later this year.
Wasser said she's thrilled to bring By Chloe to Boston and thinks the Seaport area, which she calls "a little city within a city," is a perfect fit.
The restaurant's menu is 100-percent plant-based and includes no meat, dairy, egg products, saturated animal fat, added preservatives, or artificial flavors. The restaurant has worked hard to shatter misconceptions about vegan food, Wasser said.
"Vegan food can be delicious and flavorful and also filling," Wasser said. "We make everything from scratch."
Wasser said vegan eaters make up less than 10 percent of By Chloe's customers because the food appeals to everyone. The menu includes salads, soup, sandwiches, burgers, fries, pasta, juice, smoothies, dairy-free ice cream, fresh-baked sweets, and more. The restaurant also serves beer and wine, and even treats for dogs (also vegan).
The food is also aesthetically appealing, which has helped the restaurant gain a healthy following on social media, Wasser said.
"The dishes are so beautiful and have so many different colors," Wasser said. "When we were putting together the menu, we really kept in mind how the food is photographed. Social media is so important. People want to document what they're eating."
For example, the restaurant's popular quinoa taco salad is layered in a very specific way to make sure it's photogenic, she said.
The Fenway location that's set to open this spring—date yet to be determined—will become the chain's largest, Wasser said. The 2,948-square-foot space will have six hanging chairs.
"I think that location is going to be very beautiful," she said.
The Seaport restaurant will serve food from 11 a.m. to 10 p.m. on weekdays and 10 a.m. to 10 p.m. on weekends. Brunch will be served from 10 a.m. to 4 p.m. on weekends.
Here's a look at By Chloe's menu:
https://www.scribd.com/doc/339929483/By-Chloe-Menu-Seaport-District-Boston#fullscreen&from_embed