Restaurants
How 13 Irish bars (and a handful of others) are celebrating St. Patrick's Day
Raise a pint, eat some shepherd's pie, and enjoy Celtic music at these celebratory bars.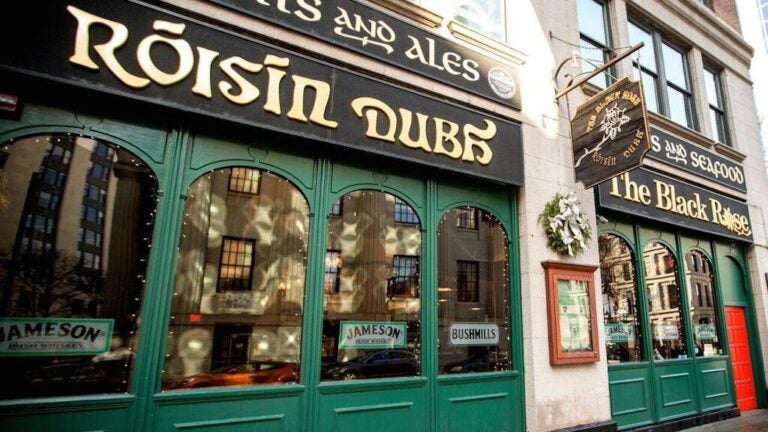 With so many Irish bars scattered throughout the Greater Boston area, it can be hard to decide where to celebrate St. Patrick's Day. Looking for more than a pint of Guinness? Looking for somewhere to celebrate now that the parade is cancelled? Some pubs will broadcast Irish sports, serve traditional Irish fare, and bring in Irish step dancers and musicians.
Here are a handful of Irish pubs — as well as regular ol' Boston bars — worth checking out during St. Patrick's Day weekend.
Irish Bars
The Black Rose
The Black Rose will continue its tradition of serving a full Irish breakfast on Saturday and Sunday, with special St. Patrick's Day T-shirts available throughout the celebratory weekend. Stop in for live music from acts including the Celtic Clan and Terry Brennan. (160 State St., Boston) 
The Burren
The Burren regularly provides traditional Irish pub fare and live music to Davis Square visitors, often played by owners/musicians Tommy McCarthy and Louise Costello. From March 13 to 17, the Somerville bar's back room will offer 13 ticketed sessions of a variety show that will include Irish tunes, stories, and dancing, plus a traditional Irish meal featuring corned beef and cabbage or Guinness beef stew with soda bread (a vegetarian option is also available). (247 Elm St., Somerville)
Corrib Pub & Restaurant
Open since 1969, the Corrib Pub is named for Lough Corrib, a large Irish lake not far from where pub founder Hughie Bligh grew up. The Brighton bar will feature live music on March 13 (Mick Carr) and March 17 (Eddie Scheer), and Guinness will be onsite on March 14 for glass etchings. Find menu specials like corned beef and cabbage available throughout St. Patrick's Day weekend. (396 Market St., Brighton)
Grafton Street Pub & Grill
Grab an Irish coffee or an Irish old-fashioned on St. Patrick's Day at this Harvard Square spot, along with chef Joe Henderek's St. Patrick's Day specialty menu items. The menu will feature highlights like an Irish stout and cheddar fondue, shepherd's pie, Guinness beef stew, and the classic corned beef and cabbage. (1230 Massachusetts Ave., Cambridge)
The Harp
Just steps from TD Garden, The Harp will kick off its St. Patrick's Day festivities on March 13, with Irish specials — corned beef flatbread, Guinness-Jameson-Baileys bread pudding, and more — taking over the menu until March 17. The Harp will also take part in the Blarney Blowout Bar Crawl on March 14, and guests will be able to catch Celtic rock band Brave the Sea performing at the bar on March 16 and 17. (85 Causeway St., Boston)
J.J. Foley's Cafe
The Downtown location of this iconic Boston bar is worth checking out, but it's the original South End location, founded in 1909, that takes the cake — or in this case, the Irish brown bread. The South End restaurant will serve a special St. Patrick's Day menu of bangers and mash, traditional Irish bacon and cabbage, homemade shepherd's pie, and beer-battered fish and chips. (117 East Berkeley St., Boston; 21 Kingston St., Boston)
McGann's Irish Pub
St. Patrick's Day doesn't have to involve excessive drinking and bells and whistles. McGann's Irish Pub is keeping it low key by offering a corned beef and cabbage special the entire week leading up to March 17 — because sometimes that's all you need. (197 Portland St., Boston)
McGreevy's
McGreevy's has been celebrating St. Patrick's Day with giveaways and prizes since March 1, along with food and drink specials, live entertainment, and beer and cider tastings. The Boylston Street bar, owned by Dropkick Murphys frontman Ken Casey, is the band's "official headquarters" — stop by when they're in town performing (six times through St. Patrick's Day!) and you might spot a couple members. Or come in on March 14, 15, and 17, when McGreevy's will open early for a special St. Patrick's Day brunch from 10 a.m. to 3 p.m. (911 Boylston St., Boston)
M.J. O'Connor's Irish Pub
Pay a visit to M.J. O'Connor's Back Bay and Seaport locations between March 12 and 17, and you'll be able to enjoy their version of a corned beef and cabbage dinner. On March 13, the Back Bay pub will give away a free trip to Ireland (see details here), and on March 17 it will offer traditional Irish dishes such as a full Irish breakfast to shepherd's pie. Bonus: There will be live music from the Martin Macatee Band from 4 to 9 p.m. (27 Columbus Ave., Boston; 425 Summer St., Boston)
Mr. Dooley's Boston
In addition to serving a traditional Irish boiled dinner all month long, this Financial District pub will host a St. Patrick's Day celebration featuring live music from Colm O'Brien, Tommy Courtney and Friends, and Sláinte on March 14. Don't worry, the bartenders know how to pour a perfect Guinness. (77 Broad St., Downtown)
Ned Devine's
Traditionalists might scoff at this Irish pub-turned-weekend-nightclub, but if you want to go where the people go, Ned Devine's is the spot. From March 13 to 17, expect music from Cherry Orchard and Never in Vegas, lots of Irish food, and plenty of Guinness. The bar is also taking part in the Blarney Blowout Crawl, a block party-style pub crawl on March 14. (1 Faneuil Hall Marketplace, Boston)
Olde Magoun's Saloon
This Somerville pub isn't strictly Irish, but it's embracing part of its Irish pub vibe by celebrating St. Patrick's Day all weekend long with traditional Irish food, live music every night from March 13 to 17 (no cover!), and plenty of Irish whiskey and Guinness. Come through on March 14 at 4 p.m. to watch Ireland take on France in the Six Nations Rugby Championship, or indulge in a full Irish breakfast on the weekend starting at 10 a.m. (518 Medford St., Somerville)
Phoenix Landing
Sports fans often gather at this Central Square spot, which bills itself as "the alternative Irish bar," to watch international rugby and soccer games, and serves as the Boston home for Liverpool Football Club. This year, The Blarney Boys will be in from New York City to play some tunes to accompany the Guinness, corned beef, and traditional Irish stew over St. Patrick's Day weekend, with a DJ spinning later at night. (512 Massachusetts Ave., Cambridge) 
Non-Irish Bars
Anthem Kitchen & Bar
For stick-to-your-bones fare, head over to Anthem near Faneuil Hall to take advantage of Irish specials running from March 14 to 17. In addition to homemade Irish brown bread, you'll find shepherd's pie, corned beef and cabbage, and Guinness beef and barley soup. Stick around after dinner on March 14 to listen to the Black Rose Band at 9:30 p.m. (101 S. Market St., Boston)
Beat Brew Hall
Stop by the Cambridge beer hall on March 12 for a St. Patrick's celebration in collaboration with Harpoon Brewery and Tullamore Dew Irish Whiskey. From 5 p.m. to 1 a.m., partygoers can dine on Irish-inspired dishes, drink, and dance to the Old Fox Band. (13A Brattle St., Cambridge)
The Beehive
Need some sustenance amid your St. Paddy's Day celebrations? On March 13 and 14, The Beehive is adding an Irish breakfast to its brunch menu, as well as an Irish lamb stew for dinner. (541 Tremont St, Boston)
Coppersmith
This South Boston bar is taking St. Patrick's Day so seriously that it's opening on a Monday — March 16 at 4 p.m. — when it usually takes the day off. From March 13 to 17, Coppersmith will serve twists on Irish classics (corned beef sliders, corned beef quesadillas, Irish pizza with Irish bacon and sausage) alongside Irish slammers, Guinness, and Irish coffee with Jameson. Catch step dancers and bagpipers bringing a bit of Irish spirit, in addition to live music from Nightside, a Boston-based band that plays traditional Irish music. (40 W 3rd St., Boston)
Loco Taqueria & Oyster Bar
Frozen Jameson cocktails. Irish-themed tacos. Even though the parade is off, you'll still find plenty of celebratory food and drink at Loco on March 15. Keep an eye on Loco's Instagram account five days before the event, when it will feature a giveaway that allows you and a friend to skip the line and slide right into a reserved table. (412 W Broadway, Boston)
Lucky's Lounge
From 11:30 a.m. to 2 p.m. on March 14, Lucky's Lounge will throw an all-day party, complete with an Irish trivia brunch from 1 p.m. to 3 p.m., food and drink specials, and live music throughout the day. (355 Congress St., Boston)
Tavern of Tales
The interactive board game bar is embracing the St. Patrick's Day spirit with an analog arcade celebration on March 14 from noon to 1 a.m. Amidst piles of games, visitors can try a "Taste the Rainbow" shot flight, limited Guinness Stew, and a specialty pie. Stick around for raffles, Tavern of Tales merchandise, and free game sessions. (1478 Tremont St., Boston)
Waterfront at Encore Boston Harbor
Care for a bit of whiskey? Encore's Waterfront is throwing a special St. Patrick's Day Irish Whiskey Fair on March 12 from 7 p.m. to 9 p.m., showcasing whiskeys produced by Jameson, Bushmills, The Quiet Man, and more. Sample a few different varieties while enjoying bites from Waterfront. Tickets can be purchased by calling 857-770-7070. (1 Broadway, Everett)