Restaurants
These 6 restaurants are celebrating opening day with Fenway Franks, Green Monstah cocktails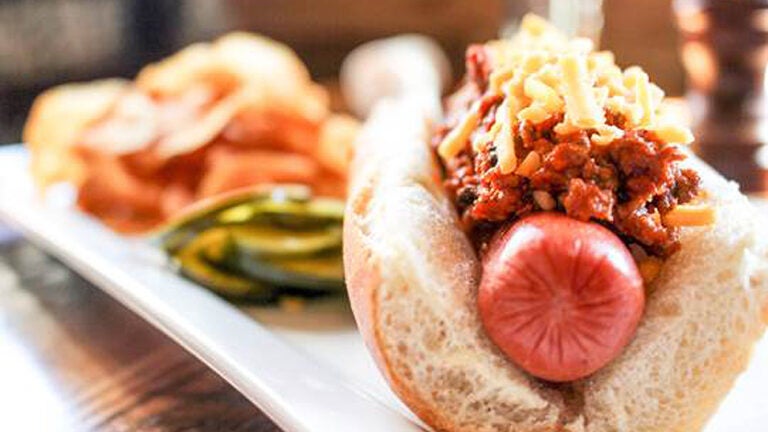 Can't make it to Monday's opening day at Fenway Park, when the Red Sox will take on the Pittsburgh Pirates? Several Boston restaurants are hosting parties and serving Fenway-themed specials, from Green Monstah cocktails to, of course, Fenway Franks. Here's how six Boston restaurants are celebrating the 2:05 p.m. game.
Fenway Frank specials
If you don't have tickets to the game, you can still eat like you do. A bunch of restaurants are doling out the same Kayem Fenway Franks served inside the park.
City Tap House will serve Fenway Franks all day long, starting when their doors open at 11:30 a.m. Hot dog and beer special includes a loaded chili cheese Fenway Frank and a Narragansett Tall Boy beer for $8. Eat while you watch the game, which will screen on all 11 of the restaurant's 11 HDTVs. (10 Boston Wharf Rd., Boston)
This spot will offer a game day special of two Fenway Franks and chips for $14. Enjoy your dogs while watching the Red Sox play on the bistro's flat-screen TVs. (1 Seaport Lane, Boston)
Eat free Fenway Franks between 11 a.m. and 10 p.m. with the purchase of a single beer. The diner will also play the game on TV and raffle off Red Sox tickets—wear your Red Sox gear and you're automatically entered. (178 Kneeland St., Boston)
OK, so these won't be Fenway Frank dogs, but Coppersmith will offer $2 hot dogs on Monday beginning at 11 a.m. The restaurant will also show the game on two 12-foot projection screens and other TVs around the bar. Additional game-day specials will include "wicked twisted" soft pretzel sticks with roasted jalapeño maple and Cleveland mustard for $8, sweet potato tater tots with gorgonzola cheese, pecans, and maple for $8, and a homemade sausage link for $9. (40 West 3rd St., Boston)
Baseball-inspired cocktails and treats
You can toast your friends with these Fenway Park-inspired drinks and celebrate outside with baseball-themed bites.
Sip baseball-themed cocktails at the Cask 'n Flagon, which will open early, at 8 a.m. You can order a Green Monstah, made of Cruzan citrus rum, fresh lemon juice, Midori, and peach liqueur for $9.95. Bartenders will also dole out liquor-infused ice balls, called Beamed with a Ball, made of orange juice and grenadine, drenched in Jim Beam, and topped with Cointreu, for $11. WEEI Sports Radio Network's Glenn Ordway, Lou Merloni, and Christian Fauria will broadcast live from the Fenway Park-area spot between 10 a.m. and 1 p.m. Representatives from Coors Light will be on hand, giving away swag. Don't worry, you definitely won't miss the game itself: It will play on more than 60 HDTVs throughout the bar. (62 Brookline Ave., Boston)
Fenway-area restaurant Tapestry is hosting a Red Sox patio party, complete with live music, beer on tap, and complimentary baseball-inspired appetizers, like pigs in a blanket. The cover band Big Party Orchestra will play from noon to 2 p.m. There's no cover fee to attend. (69 Kilmarnock St., Boston)