Restaurants
Peek inside Eataly Boston's newest restaurant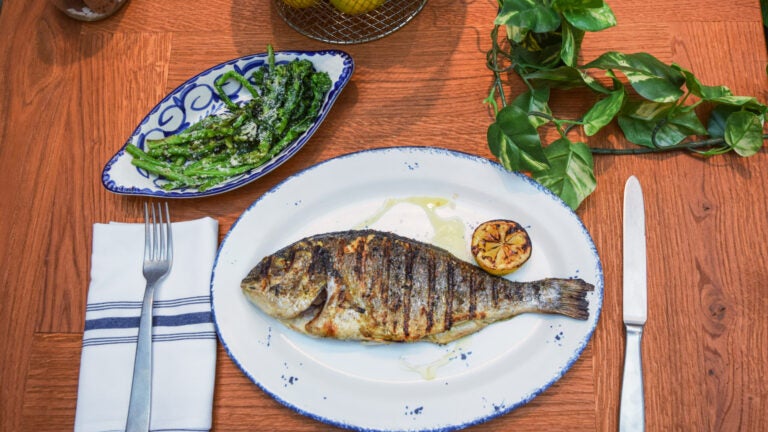 Eataly Boston opened at the Prudential Center in late November. The bustling Italian marketplace boasts 45,000 square feet of meat and cheese counters, sandwich and gelato stands, pasta and wine aisles, and seafood and pizza restaurants.
Apparently all of that wasn't enough.
Terra, a full-service restaurant by the Eataly team, opens Tuesday with one of the most timeless of cooking methods as its showpiece: the wood-fired grill.
In an age in which new culinary techniques—foams, emulsions—dazzle diners, "this is the pendulum swinging the other way," said Eataly partner Lidia Bastianich.
The large grill anchors the scene inside the third-floor restaurant. Guests can watch the cooking process from a counter — "the best seat in the house," said Dan Bazzinotti, Terra's chef de cuisine.
However, the other seats have their own views to offer.
With a glass roof, hanging plants, and rows of neatly labeled greens, the dining room feels like a greenhouse. A rooftop terrace is in the works to round out an oasis-in-the-city effect.
The menu at Terra, which means "earth" in Italian, flaunts what Bazzinotti can do with flames and quality ingredients.
It would be understandable if you wanted to stuff yourself full of small plates and bruschetta.
Though you may want to check out the entree offerings first. They range from skewers of lamb meatballs with rosemary and carrots with prescinsêua cheese and basil to double-cut, cider-brined pork chops with cipolline onions in agrodolce. There's chicken under a brick with black pepper, oil, and chicory and spaghetti al pomodoro, starring smoked tomatoes.
"In the wrong hands or with the wrong ideology, the use of smoke and fire can become overpoweringly smoky and overpoweringly charred," said Eataly partner Mario Batali during a media preview of the restaurant. "When you do it the Italian way, you'll sense the smoke, you'll sense the flavor of the fire, but above all, you'll taste the prima materia — the first material."
And the "product first" approach is no coincidence, according to Batali. After all, below the restaurant, inspired Terra diners can buy those ingredients in Eataly's massive retail space.
Meanwhile, Terra can tap the resources of Eataly's expert staff and products, whether that be the pasta makers, shelves of olive oil, or cases full of handmade mozzarella, Bazzinotti said.
Bazzinotti, a Lawrence native, has a resume that includes Scampo in the Liberty Hotel, Bergamot in Somerville, and BISq (Bergamot Inman Square). He made a name for himself in Boston's charcuterie world at the latter two, a passion sure to make an appearance on Terra's menu.
"I wouldn't be me if we didn't already have some sausage hanging in the work area," Bazzinotti said. "You'll definitely look at the menu and say, 'Oh, I know Dan put that on there!'"
For libations, Terra has the Barrel Room, where more than 300 types of wine and 15 barrels of wood-aged draft beer are stacked from floor to ceiling.
Bazzinotti said the new restaurant will embody Eataly's motto: "It's difficult to be simple."
"Grilling on direct fire — you can't mask much," Bastianich said. "The product has to be prime rate, and you have to know the technique."
The goal, Batali said, is affordable family-style cooking: no prohibitively expensive tasting menus, just fire-focused Italian cuisine.
"We will not win a Michelin star here," Batali said, "and we don't give a s***."
Terra is open daily from 5 p.m. to 11 p.m. and accepts OpenTable reservations. Prices range from $17 to $20 for pasta dishes, $21 to $32 for individual entrees, and $32 to $55 for shared meat features.
800 Boylston St., Boston; eataly.com