Restaurants
Chef Barbara Lynch lays it all on the table in her new memoir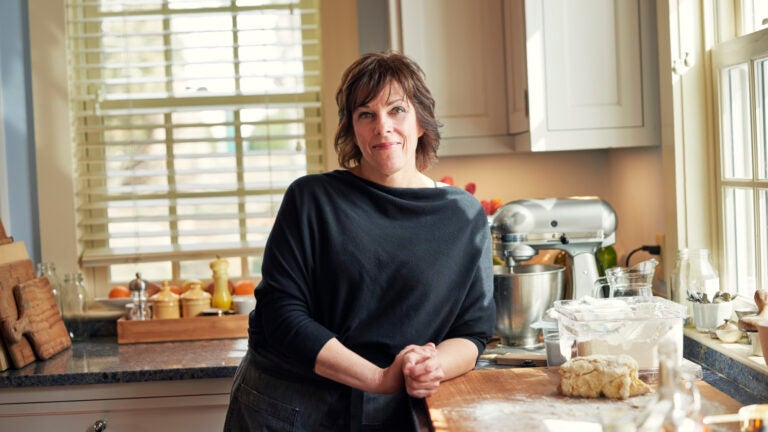 Barbara Lynch is probably out of secrets.
Indeed, it's hard to imagine what the renowned Boston chef could have left out of her memoir, Out of Line: A Life of Playing with Fire, which hits shelves Tuesday.
From describing her rebellious, hard-knocks childhood in Southie to chronicling her rise in the restaurant scene as a young woman without a formal culinary education, Lynch explores her past in a matter-of-fact stream of consciousness, dropping f-bombs almost every other page. Miscreant activities of her youth, blunt stories of drugs and alcohol, candid discussion of her complicated and evolving love life — it's all there.
"The message is, 'If I can do this, you can do this,'" Lynch said. "Anybody can do this."
Lynch, 53, runs an empire of critically acclaimed restaurants in the city, including No. 9 Park, Menton, and B&G Oysters. The Relais & Châteaux Grand Chef has two James Beard Awards, including Outstanding Chef — only the second woman to ever win the title.
She said that when an agent told her a few years ago that she should write about her life story, her first instinct was, "Oh God, I'm too young to write a memoir."
But she said that the writing process, which involved going back through boxes and boxes of journals that she had kept since childhood, was "good therapy."
The book weaves deftly between childhood and adulthood, humor and horror, the Southie projects and professional kitchens. Lynch begins the prologue by recalling how her mother flipped out when she learned that Lynch was going door-to-door to raise money for "band uniforms" — money she actually used for fried clams at Howard Johnson's. The first chapter ends with Lynch talking about how she was raped by strangers when she was 7 years old.
Speaking publicly about the rape was cathartic, Lynch said. She had bottled up the trauma for almost 50 years.
"It's never going to go away, but it's not going to run my life anymore," Lynch said. "I feel freer."
Her memoir is a tale of Southie — Irish culture, fierce neighborhood pride, the busing crisis — but diverges from the movie portrayals of the enclave, which tend to focus on men and the mafia, she said. Lynch's Southie stories are mostly about her female friends and their moms.
"In this book, the women are the heroes," Lynch said. "We were all raised by mothers, not two parents."
The book paints a colorful picture of the neighborhood, where lying, cheating, stealing, fighting, drinking, and using drugs were normalized. Lynch dined and dashed, booked it from cabs without paying, and cheated on tests. She stole everything from an MBTA bus for kicks to pine nuts for pesto. (Years later, she went back, apologized, and paid for the pine nuts.)
Accordingly, the high school teacher who first taught Lynch to cook in a home economics class wasn't trying to jumpstart Lynch's career as a world-class chef. She was just trying to make sure the fearless, authority-rebuffing, do-anything-for-a-dare teenager stayed alive.
But the toughness that Southie instilled in Lynch came in handy when, she said, she was one of the few women in professional kitchens and she sometimes encountered sexist comments from staff and fits of rage from head chefs.
The colonization of the restaurant scene in South Boston's Fort Point is something that gives Lynch great pride. Hometown affection is why she hasn't expanded into other major markets across the nation, she said.
"I love my city," Lynch said. "I need to have roots."
Out of Line: A Life of Playing with Fire is all about those roots.
"I think this [book] is part of letting go of all my little demons, all my little secrets," Lynch said. "To be a healthier, better person — a better leader. To finally be me."
Out of Line: A Life of Playing with Fire by Barbara Lynch; Atria Books; $16.20