Restaurants
Where to go (and what to order) for the best sushi in Greater Boston
Yelp reviewers love Fuji at Ink Block.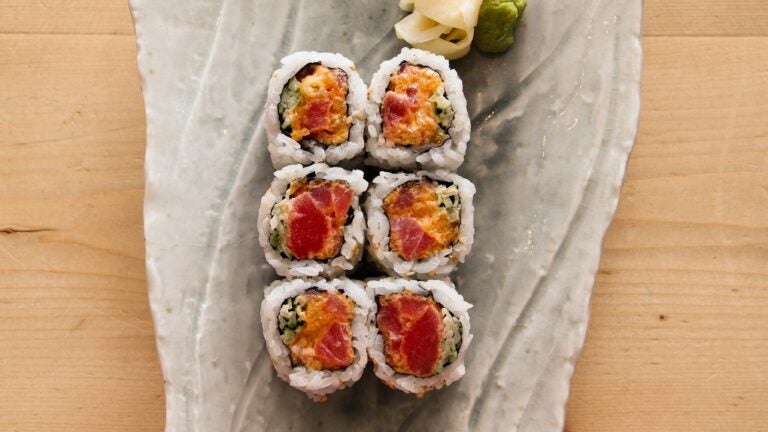 Boston's restaurant scene is flooding with sushi restaurants, but the menus alone can be overwhelming enough to turn a fun dinner out into a night of indecision.
With help from Yelp, we've not only rounded up the places with the best sushi in Greater Boston, but we've also tracked down the inside scoop for what you should try at each spot. The list was compiled using Yelp data since January 2017.
Fuji at Ink Block — 352 Harrison Ave., South End
People thought Fuji's founder head chef Jimmy Liang was crazy when he started using a torch—a tool that was typically only used for creme brûlée—to sear some of his fish, but that innovative style is at the core of the restaurant's sushi menu. While Liang would still classify his overall form and approach to be very traditional, he enjoys experimenting with various techniques behind the counter.
The menu, which is prepared by a staff of home-grown chefs that receive anywhere from 5 to 10 years of training, features rolls that are based off of people who are important to Liang. His personal favorite, "The Queen's Roll," was inspired by his fiancé and consists of spicy tuna, Japanese Wagyu beef, caviar, and gold.
The restaurant's best-seller is hands down the "Spicy Tuna Maki," and another popular order is "The Waldorf." But no matter which roll you end up picking, your dish will be made with locally-sourced ingredients.
PABU Boston — 3 Franklin St., Downtown
When PABU opened last fall, chef and co-owner Ken Tominaga wanted to introduce Boston to the Japanese cuisine that he's been eating for the past 20 years. His favorite roll, which is fittingly called "Ken's Roll," consists of shrimp tempura, avocado, spicy tuna and pine nuts. The tempura provides a crunch, the avocado offers some sweetness, and the spicy tuna gives it a slight kick.
Although he is based in San Francisco, Tominaga tries to visit Boston at least once a month to make little adjustments to the menu. Don't be afraid to share your thoughts on what you would like to see, as he loves taking hints from customers.
RUKA Restobar — 505 Washington St., Downtown
Anticipating that most visitors would likely be confused by Peruvian-Japanese cuisine, culinary director Tom Berry decided that sushi would be an easy way to familiarize customers to the restaurant's concept. Nearly every dish combines flavors from both Latin America and Asia, ensuring that just one bite will be infused with two different cultures.
According to principal sushi chef Bing Liu, the most unique sushi roll on the menu is the "Fuego Wagyu," which is served over fire for a very dramatic presentation. The "Crispy Rock Shrimp," however, has been their best-seller since the restaurant opened. The makimono roll features Florida rock shrimp, Asian pear, and avocado.
As for his personal favorite? The "Hamachi Amarillo" for its beautiful blend of Japanese fish and overt Peruvian ingredients. Liu especially enjoys the roll's charred fresh baby corn because it gives the interior a nice texture and flavor.
Ebi Sushi Bar — 290 Somerville Ave., Somerville
Owner and chef José Garcia has two pieces of advice for those dining at Ebi Sushi. First, sit at the bar. Second, order the Omakase Nigiri: a 10-piece sampler curated by the sushi chef.
Garcia prides himself on serving authentic Japanese dishes, down to the rice and seaweed. His rice is prepared with sugar, orange zest, and traditional vinegar in order to strike a balance between the sweet and savory flavors. This goal holds true for the rest of the menu as well.
Two of the offerings that are on the sweeter side include the "Honey Hotate Pecorino," which Garcia loves for its fried shallots topping, and the "Sweet Egg Tamago," served with a sugary sauce made with Japanese wine.
Cafe Sushi — 1105 Massachusetts Ave.,Cambridge
While the interior of Cafe Sushi hasn't changed much since 1993, the same can't be said for the sushi. Owner and chef Seizi Imura remembers making rolls just with tuna and salmon when he was first starting out, but the menu now spans a much broader spectrum of fish.
One of the more unique rolls on the menu, the "Summer Vegetable," is actually a vegetarian option, but Imura says that pescatarians love it just as much. It's served with avocado, oshinko and marinated eggplant, wasabi oil, grape tomato, and balsamic vinegar. Imura's personal favorite is the "Umeshiso Maki," which is simply plum, shiso, and cucumber.
https://www.instagram.com/p/oWsLMWuKoL/?taken-by=cafe_sushi