Restaurants
How two kids from New England came to open one of Boston's best Italian restaurants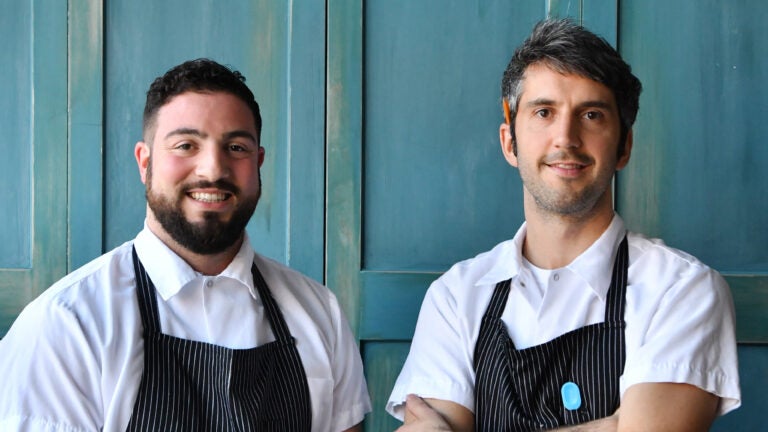 Chefs Michael Lombardi and Kevin O'Donnell grew up 70 miles apart — Lombardi in Wallingford, Conn.; O'Donnell in North Kingstown, R.I. — but they had to travel all the way to a medieval hilltop town in the middle of Italy to meet.
"It was love at first sight," jokes Lombardi, the more gregarious of the two. "But also the fact that you're away from home. You get along because you're out of your element. There's a survival aspect."
It was 2009 and O'Donnell was sous chef at Ristorante Zeppelin, in the Umbrian city of Orvieto, where he had previously been an extern while attending culinary school at Johnson & Wales. Lombardi, a Culinary Institute of America student, was doing an externship. Bonding over a shared commitment to bold flavors, high-quality ingredients, and regional cooking, they soon became fast friends and culinary collaborators.
Eight years later, they are executive chefs and co-owners of SRV in the South End. Opened last year, the restaurant earned critical acclaim, fast becoming a neighborhood favorite. Locals stand three deep at the black marble, brick-backed bar, sipping spritzes and devouring two-bite cicchetti, the Venetian bar snacks that are a house specialty. In February, the James Beard Foundation named SRV a semifinalist for best new restaurant in the country.
Lombardi, 30, and O'Donnell, 33, have serious chops. After Italy, the duo would go on to work together in acclaimed kitchens — in New York at celebrity chef Mario Batali's Del Posto, in Paris at modern bistro L'Office. But SRV would not exist without that formative time in Italy.
Read the complete story at BostonGlobe.com.
Don't have a Globe subscription? Boston.com readers get a 2-week free trial.