Restaurants
For JFK's 100th birthday, a local baker made a massive 540-pound cake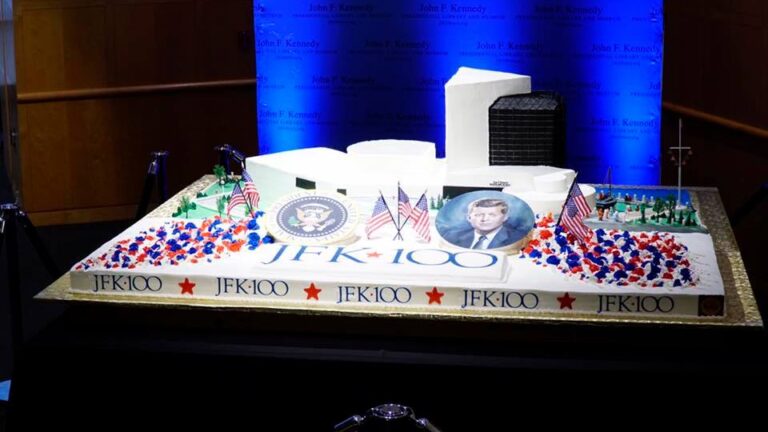 The John F. Kennedy Presidential Library and Museum broke a single-day attendance record Monday, as 5,386 visitors celebrated the centennial anniversary of President Kennedy's birth.
To accommodate such a large birthday party, the museum had to provide a pretty large cake. With that in mind, the institution turned to renowned local bakery Montilio's for one fit to serve more than 1,000 people.
According to The Boston Globe, Ernest Montilio, the father of the bakery's current owner, George Montilio, baked cakes for Kennedy's inauguration in 1961 and his engagement to Jacqueline Kennedy in 1953.
"We have done a lot of work for the Kennedys through the years," George Montilio told the Globe. "I was asked to do the cake and I said, 'That's great!' It's tradition and it's such a great event to celebrate JFK's legacy."
The cake — which featured a replica of the museum and its shoreline on one side and a portrait of JFK on the other —  was 8 feet tall, 7 feet deep, and weighed 440 pounds, with the frosting weighing an additional 100 pounds.
To create the cake, Montillo used 180 pounds of sugar, 120 pounds of flour, 80 pounds of eggs, and 60 pounds of shortening. The frosting, meanwhile, was comprised of 30 pounds of butter, 30 pounds of shortening, and 40 pounds of confectionary sugar.
Rachel Flor, the JFK Library Foundation's vice president of communications and digital media, said that there was a scramble when the cake first came out. She said that Smith Hall, the room in which Monday's ceremonies took place, appeared the busiest she'd ever seen it.
"We got through everyone in less than an hour," Flor said. "I think everyone got a piece that wanted one, but there was barely a crumb left by the time we closed."
Before the cake was cut, Navy sea cadets raised and lowered 100 flags and a Navy Band played songs in tribute to Kennedy, a naval veteran who served in World War II.
https://www.facebook.com/JFKLibrary/videos/10150947560319956/
Flor said that, throughout the day, the energy in the museum was incredible.
"People started flooding in before we opened and didn't let up until we closed," she said. "Despite the crowds, everyone seemed happy to be in each other's company. In many ways, aside from the cake, it felt less like a birthday celebration and more like a pilgrimage."