Restaurants
A vegan restaurant that serves nachos and burgers opens in Boston Thursday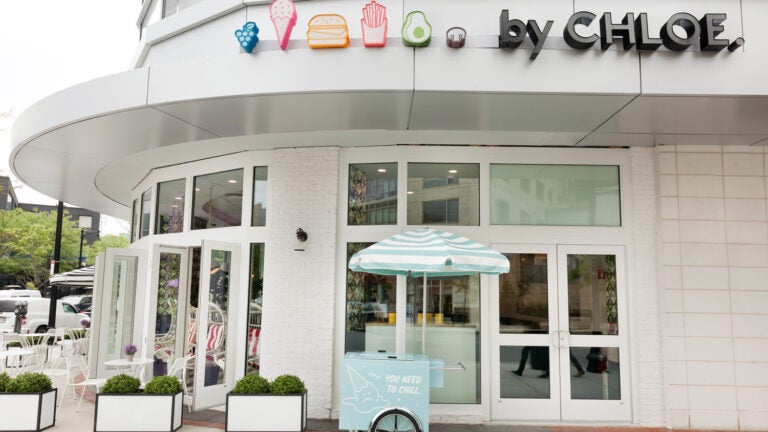 A popular vegan eatery is opening its second Boston location, and it's bringing vegan nachos to the table in the Fenway neighborhood.
By Chloe (stylized as "by CHLOE.") is part of a small chain of vegan restaurants started in New York City in 2015. The company's first Boston location opened in the Seaport in February, offering up vegan lobster rolls and clam chowder. The restaurant's second Boston location, at the corner of Van Ness and Kilmarnock streets, will open on Thursday.
Though the restaurant's menu will have many of the same items as its Seaport sister—including a guac burger, cinnamon roll, and mac and cheese featuring a sweet potato cashew cheese sauce sprinkled with shitake bacon—the new By Chloe will also offer Fenway Nachos, a secret menu item in honor of the restaurant's baseball-playing neighbor that will only be available at this location. The dish is a plant-based take on the popular ballpark fare, and will feature vegan chorizo, black bean salsa, and jalapeños.
Unlike the Seaport location, the Fenway spot will also serve beer and wine.
According to a press release, By Chloe Fenway is the restaurant's largest location yet, at 3,000 square feet. It will seat 75 inside, 26 outside, and its signature swing chairs will be red and white to fit with the colors of the Red Sox.
"We were completely overwhelmed by the warm welcome we received when we opened our first Boston location earlier this year," Co-founder Samantha Wasser said in the release. "Boston has been so good to us and we cannot wait to become part of the vibrant and growing Fenway neighborhood [and] experience our first Red Sox season."
The restaurant made waves in April when it separated from its namesake and co-founder, Chloe Coscarelli, a celebrity chef best known as the first vegan winner of Food Network's Cupcake Wars. According to reports, an independent arbitrator found Coscarelli "grossly negligent," and ruled that she actively failed to work in the self-interest of the restaurant brand bearing her name.