Restaurants
This Cambridge restaurant is serving Polar Seltzer cocktails this summer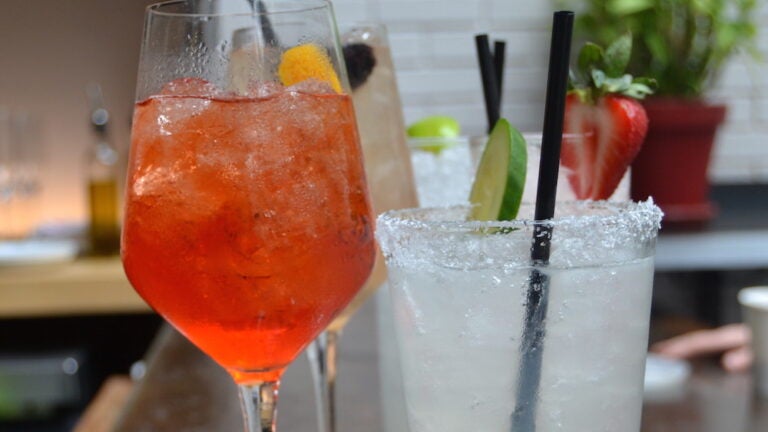 News alert for devoted Polar Seltzer fans: Cambridge's Viale is incorporating Polar's five limited-edition summer flavors into a cocktail series starting Thursday.
Mark Young, co-owner and beverage director at the Italian-inspired Central Square restaurant, said he was in a grocery store when he saw the Polar Seltzer flavors and knew they'd be an ideal fit for Viale's seasonal drink specials.
"[I said], 'Why don't we try to come up with some cocktails and do a cool, summertime twist?" Young told Boston.com. "We're always ones to try and support local [businesses] as much as we can."
Polar Seltzer, which is family-owned and based in Worcester, has a cult following among New Englanders. Fans tweet photos of checkout conveyor belts overflowing with bottles, make social pleas for the extension of limited-edition flavors, and even dress up like Polar Seltzer bottles for Halloween.
The five limited-edition flavors for this summer — pineapple grapefruit, raspberry rosé, strawberry sunrise, mango berry, and watermelon margarita — became available at the beginning of May. The latter two are repeats from last summer.
Viale's Polar Seltzer cocktails ($11 each) will run as a seasonal series, Young said. The restaurant plans to showcase each one for two weeks a time, debuting a new drink every other Thursday. 
Green Hill Collins (June 1)
Young said that this cocktail, made with strawberry sunrise Polar Seltzer, is his "probable" favorite. Its other ingredients are gin, strawberry syrup, and fresh lemon juice, and it's served over crushed ice in a collins glass and garnished with half a strawberry. "The fresh strawberry syrup is really nice and refreshing and delicious — not too sweet, not too tart," he said.
Burncoat Mule (June 15)
The intention was to keep the influence of a particular traditional cocktail in each recipe. "You get a little classic, a little local, a little seasonal," Young said. "It all comes together." For example, this cocktail is not your average mule; it's made with pineapple grapefruit Polar Seltzer, vodka, ginger syrup, and fresh lime juice, served over crushed ice and garnished with a lime wedge.
Salisbury Spritz (June 29)
This mango berry Polar Seltzer cocktail sounds like summer. It incorporates aperol, blueberry-infused Cocchi Rosa, and Prosecco, and it's served over ice in a wine glass and garnished with an orange twist.
Hopeville Margarita (July 13)
Made in Cambridge, but reminiscent of somewhere far warmer, this watermelon margarita Polar Seltzer drink includes tequila, mint syrup, muddled cucumber, and fresh lime juice, and is served over ice in a salted double old-fashioned glass.
Quinsigamond Sangria (July 27)
For this drink, Viale mixes raspberry rosé Polar Seltzer with literal dry rosé wine, plus cognac, apple brandy, and fresh grapefruit and lemon juices, then serves it all over ice in a wine glass and garnishes it with fresh berries.