Restaurants
Dessert oasis: A new generation of pastry chefs emerges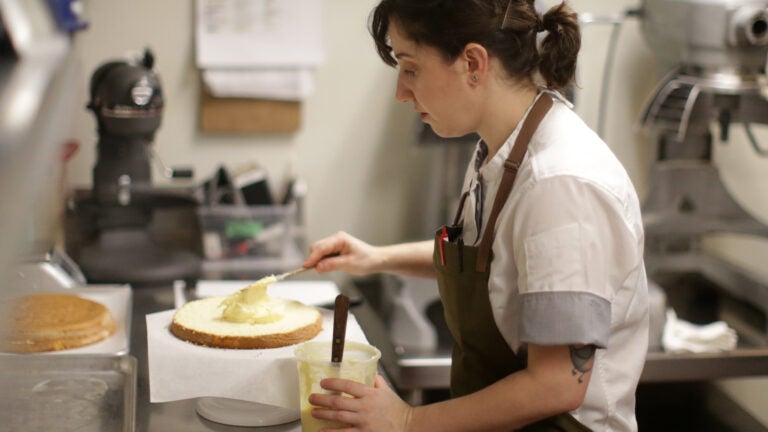 Giselle Miller dreams of herbs.
It is to be expected, after almost a decade working in the restaurant industry and several months orchestrating the creation of desserts at Cambridge's Café ArtScience. While asleep, the pastry chef's mind wanders to a plentiful herb garden, with potential flavor pairings floating about. That Thai basil? It'd pair well with lemon verbena, and perhaps a dollop of tangy sorbet.
"It's weird because I'll wake up and be like, 'Oh my God. I think I know what to do now,' '' said Miller, 28.
A new generation of pastry chefs has emerged in the Boston area, determined to incorporate unusual flavors and experimental techniques into their work. With tweezers and mousse-filled PVC pipes in hand, Miller and her peers have veered away from the ways of their more traditional predecessors. In an industry undergoing a staffing crisis, this innovation makes the young chefs all the more valuable.
"I really want the guests to be pleasantly surprised by everything we do,'' said Shaun Velez, pastry chef at Deuxave in Back Bay. "I want the desserts to be approachable, but I want them to be something they've never had before.''
Velez, 30, works in the same basement kitchen that Miller once inhabited as a pastry sous chef when Deuxave opened back in 2010. He arrives late in the morning, preps for dinner service throughout the afternoon, and departs several hours after the sun goes down. The Birkenstock-clad chef therefore spends most of his time away from the sunlight, but that's par for the course.
"I've spent the majority of my career in basements,'' Velez said, shrugging.
Born and raised in New York City, Velez worked in a number of full, hectic kitchens — Café Boulud and Daniel among them — after attending the French Culinary Institute, now called the International Culinary Center. Following Velez's move to Boston's slower-paced food scene early in 2016, Deuxave chef-owner Chris Coombs gave his new pastry chef free rein over the dessert menu. Velez works independently, aside from an assistant who often helps with bread.
His workspace, tucked into the back corner of the kitchen, reflects his disciplined style. Each ingredient fills a clear container that matches its neighbors, neatly labeled in black marker. Ratios for caramel, made with a seaweed-based stabilizer called agar, are outlined in a chart. Velez recognizes the precise science behind his work.
"I'm a perfectionist,'' he said, carefully peeling a colored sheet of sugar off a silicone mat. "You have to be.''
The fragile sheets are then rolled into tubes, designed to hold a delicate mint and yuzu mousse. While working on the last of the sugar, Velez murmured, "This one's going to crack — you can just tell.'' It didn't. Instead, the filled sugar found its way to the finished plate, accompanied by pistachio dacquoise and pralines.
Velez always knew he'd end up in this field, though he initially pursued the savory track. After an FCI instructor told Velez to place his hands over fire during a lesson on grilling and testing meat, he quickly declined to do so and instead signed up for a one-week pastry program.
"The irony of the story is that when you do pastry, for when they teach you how to do soft ball and hard ball for your sugar, you have to stick your hand in a hot pot of sugar,'' Velez said. "I did that one, though. Not the open flames.''
After a career of whipping up Urfa-spiced chocolate and plating vacherin on a spinning record player, Velez hopes to someday return to a more traditional setting by opening up an old-school French candy store.
"I want to have jars of different confit fruits, tarts that I can just cut to order, candy bars, anything,'' he said.
Miller, who left Deuxave mid-2014 for Liquid Art House, then helmed by Rachel Klein, also aims to set out on her own one day, but with an ice cream store. This passion is evidenced by her menu at Café ArtScience, an airy Kendall Square restaurant where she started working late last year. A majority of desserts feature ice cream or sorbet, but there's no chocolate or French vanilla in sight. We're talking green apple fennel sorbet, pistachio ice cream, and the like.
"Even traditional French desserts, with ingredients like chestnut or vanilla, you can still make them cool without sounding or looking boring,'' Miller said. "I feel like that's something that I enjoy. I'm a little bit of a weirdo.''
Channeling the latter half of the restaurant's name, much of Miller's inspiration derives from her love of science fiction. Her interest influences all stages of production and plays off innovative cocktails. The inclusion of freeze-dried yogurt in an orange "cream soda'' dish comes to mind.
"We're all trying to be our own, independent selves now. We're not afraid of it,'' Miller said, carefully plating compressed apple slices with tweezers. The dish, assembled with surgical precision, features tres leches cake; hazelnut sablé, glued onto the plate with an apple fennel gel; and the aforementioned apple fennel sorbet.
Miller's desserts are complex, but their numerous elements carefully complement one another. She picks three main flavors based on seasonal ingredients — in this case, apple, hazelnut, and fennel — and then selects additional components with their texture in mind.
"And then also the mouthfeel of everything,'' she said.
At 28, Miller moved up the culinary ladder rather quickly. The Bridgeport, Conn., native and former Haverhill resident has stuck around New England for her entire career, beginning at a New Hampshire branch of Le Cordon Bleu and working her way through the now-shuttered restaurants Sel De La Terre and Radius.
Throughout that time, Miller noticed a diminishing number of fresh-eyed graduates entering the pastry field. Students look for jobs that pay the most, she said, instead of working with chefs that'll push them to learn everything from bread to candy making. It's difficult to sustain a serious pastry program with such low numbers, and Miller currently works with just one full-time pastry assistant.
"It hurts, and it's the worst thing ever,'' She said. "I feel like a restaurant with a pastry department — and even a bread department — is a really great thing. It's very noticeable and a lot of the customers notice the difference.''
Renae Connolly, pastry chef at Benedetto in Harvard Square, takes her job seriously for this very reason. The industry-wide staffing shortage has led young cooks to take on a transient quality, she said, and most won't stick around at one restaurant if there's a higher-ranking position available elsewhere.
"I have a very strong pastry staff, and I do what I can to make sure I keep things challenging for them, that they're constantly learning, and that it's exciting for them,'' said Connolly, 31. "As much as I need them, I want to make sure that they need me, too.''
The Fresno, Calif. native, once head pastry chef at Café ArtScience, is familiar with the desire to drift.
"It's our personality type — quick reward from our tasks,'' she said. "We want to see the finished product. You don't always think about the long-term effects and where your career's going to go.''
After graduating from the California Culinary Academy, Connolly took on a 4 a.m. baker's shift — "That'll flip your life on its head'' — and worked in the Bay Area until moving to Boston in 2006. She snagged a position as an assistant pastry chef at Ken Oringer's Clio early the next year, eventually moving up to head the department for three more years. But at a certain point, she knew it was time to go.
"These are the techniques that I know, and I've refined them to the best of my ability right now,'' Connolly recalled thinking. "But without stepping out of this environment and seeing another way and having someone else to look over my shoulder and correct me, I'm not going to progress at the rate that I want to at this point.''
After spending three years in New York, Connolly tried her hand at bartending in Boston for a year before returning to her pastry roots. Todd Maul, whom Connolly knew from their time at Clio, decided to open up Café ArtScience in 2014, and she signed on as pastry chef. She worked there for around two years until leaving to open Benedetto with owner Michael Pagliarini late last year, when Miller took her place.
Connolly has mastered her routine at Benedetto. The kitchen's elongated shape means she constantly runs back and forth to grab frozen chocolate pudding for one dessert and thick lemon curd for another. She sprays chocolate onto the frozen pudding with an industrial spray gun, only to put it away and spread the curd onto rounds of lemon chiffon cake minutes later. Connolly beams while multitasking, this time also musing on the depiction of her profession on television.
" 'The Great British Bake Off' is the greatest cooking show there is on TV,'' she said, quickly and skillfully spreading the curd.
The cake is the simplest yet most popular option on Benedetto's dessert menu, a sign of Connolly having to scale her experimental desserts back in order to appeal to the 200-seat restaurant's diverse set of visitors. But she still makes sure to incorporate unconventional elements — with the cake, a vibrant prickly pear sorbetto. Rose-frosted almonds and diced cucumbers in ginger syrup top off the dish.
"I think what makes pastry really special,'' Connolly said, "is that once you understand all these very specific rules, you can learn where to bend them and where to break them.''