Restaurants
A buttery, spicy, messy seafood joint is expanding across Greater Boston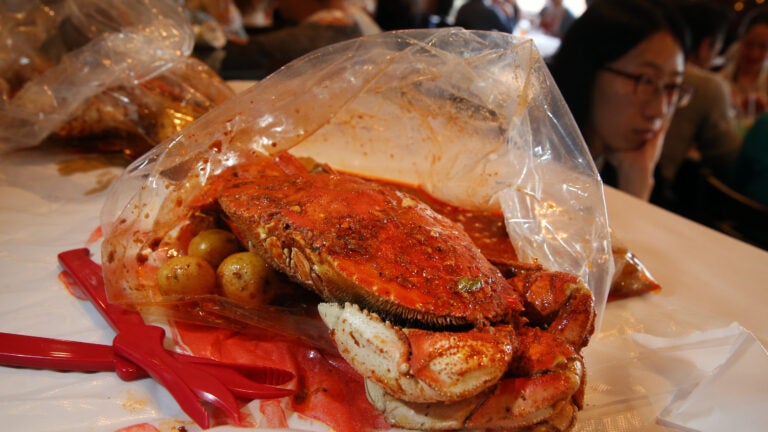 The unapologetically messy Cajun seafood boil is spreading across Greater Boston.
Shaking Crab is celebrating the grand opening of its second Massachusetts location this week, with a venture on Cottage Avenue in downtown Quincy that's about twice the size of the original Newton joint. The chain also has two restaurants in New York City: one on the Upper West Side in Manhattan, and another in the Flushing area of Queens.
Just like the other iterations, Shaking Crab in Quincy forgoes not just white tablecloths, but plates, too. Armed with a plethora of tools to crack shells and scrape meat, diners don bibs and plastic gloves to attack bags of fragrant, fiery shellfish cooked in spices and smothered in sauces.
Shaking Crab debuted in Massachusetts in a quiet residential neighborhood in Newton in 2015, drawing an immediate following — and often long wait times — to the small space.
It was "like something that [people had] been missing…for years," said executive chef Julious Angeles.
The Quincy location has been open and serving up its Louisiana cuisine since April, but was waiting to get a liquor license before celebrating the official grand opening.
The grand opening celebration runs from Thursday through Sunday. During that time, diners will be given raffle tickets for Shaking Crab gift certificates and T-shirts. Winners will be drawn the following weekend on Saturday, June 17, according to the Facebook event.
Speaking of the Facebook event: Anyone who RSVPs to it will receive a 10 percent discount on their bill, the Shaking Crab team wrote in the event description.
Like the other locations, the main menu for Shaking Crab's Quincy spot includes four crab varieties: Dungeness crab, Alaskan king crab legs, snow crab legs, and blue crab, all at market prices typically around $48, $34, $18, and $12, respectively. A whole lobster is available (also market price), as well as a lobster tail ($14). Other shellfish offerings include crawfish (market price), Argentinian shrimp ($12), littleneck clams ($10), and mussels ($10).
Available add-ons include corn, small potatoes, and quail eggs, all $2, and sausage at $3. White rice, offered as a $1 side, is a staple added to most orders.
Every meal also comes with a sauce and a spice level—and it's important to choose carefully.
All four sauces build from a buttery, garlicky base: "Shakin'" is the restaurant's signature sauce, a house Cajun; "Seoul" is a sweeter chili-miso; "Gulf" is rich and tangy; "Envie," Angeles' personal favorite, is a less spicy version driven by cilantro and lime. As for spice level, the mild is mild, the medium is hot, the hot is searing, and the "shakin' hot" is for the very brave.
In a world of omnipresent smartphones, Angeles said Shaking Crab is an ideal date-night spot because the inherent messiness pushes you to do away with pretension — and your digital devices.
"Your hands are dirty," Angeles said. "You can't touch your cell phone. Now you guys have to actually talk to each other."
Shaking Crab in Quincy is open Mondays-Fridays from 5 p.m.-11 p.m., Saturdays from 12 p.m.-11 p.m., and Sundays from 12 p.m.-10 p.m.
18 Cottage Ave., Quincy; shakingcrabquincy.com