Restaurants
A Cambridge wine bar and its pioneering sister restaurant are closing in July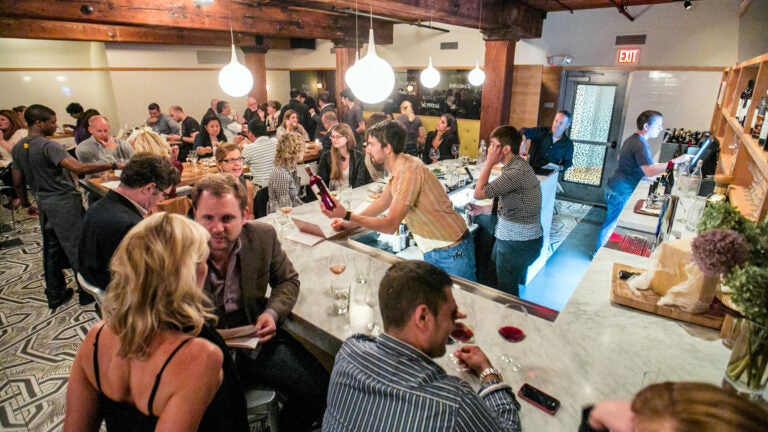 The Blue Room restaurant and Belly Wine Bar will host a New Orleans-style funeral on July 1 in honor of their last day in service. The Kendall Square sister restaurants are closing, according to owners Liz Vilardi and Nick Zappia.
The decision to close permanently was bittersweet but not sudden, Vilardi and Zappia said in a joint interview. After suffering a fire in August 2015, the restaurants were forced to shut down for a year, reopening in September 2016 with a new 10-year lease and remodeled interiors.
"We were poised to keep [them] running for a long time," Zappia said.
But the couple wasn't able to develop the momentum they needed to stabilize after a year of lost business. The insurance they received to rebuild the One Kendall Square establishments wasn't enough, they said, and the recent increase in the rate of restaurant openings in Boston meant more competition than ever. Additionally, the ongoing shift in the neighborhood demographic — away from the Baby Boomer academic set the Blue Room historically relied on to a primarily millennial population — was more apparent after the reopen.
"Grandkids come, and people start spending their weekends on the Cape. A lot of those diners found other places to go while we were closed, too," Vilardi said. "Loyalty is a funny thing."
The Blue Room opened 26 years ago, and Belly Wine Bar would have turned 5 in September.
In 1996, after working as a Blue Room general manager, Zappia and then-chef Steve Johnson purchased the restaurant from its original owner, Cambridge restaurateur Chris Schlesinger. Zappia bought Johnson out and became sole owner in 2003. Vilardi joined the team in 2000 as a manager after leaving a career in finance. She became general manager in 2004, and the couple was married in 2006.
The Blue Room is known as a harbinger of farm-to-table cuisine in Boston, and its dining room has hosted professors and leadership from MIT and surrounding tech firms for decades. Belly, by contrast, is a younger-leaning, buzzy date spot characterized by Vilardi's creative wine lists. The restaurants share an outdoor patio featuring a wood-burning grill that's popular on summer nights.
Vilardi's wine programs have nabbed multiple local and national awards, including a Wine Enthusiast 100 Best Wine Restaurants nod for The Blue Room in 2014 and Boston magazine's Best Wine Program award for Belly, also in 2014. Steve Johnson earned a James Beard Award nomination for Best Chef Northeast in 2001 as the chef at the Blue Room. Boston magazine named him Best Chef in 1998. Both restaurants are known for contributing to the growth of the Cambridge dining scene.
According to Vilardi and Zappia, Julia Child frequented The Blue Room's bar, always thanking the kitchen staff on her way out.
"She said, 'I love The Blue Room because it smells like a restaurant,'" Vilardi recalled. "It's a good story to have."
The sale of the restaurants is in the works, according to Vilardi and Zappia, though they were unable to discuss the details for legal reasons. Zappia did divulge that the potential buyers would be utilizing The Blue Room's wood-fired grill as part of their restaurant concept.
"It's an important part of who they are," he said.
The couple also own wine shop Central Bottle Wine + Provisions in Central Square, which will remain open. At this juncture, they have no concrete plans for the future beyond spending time with their 8-year-old son, Lucian, this summer.
Guests can attend two events at the restaurants before the closings.
On the afternoon of Sunday, June 25, a communal dining table on the restaurants' shared patio will host One Long Table, an event in the style of early Blue Room farm dinners at Bay End Farm. Diners will enjoy wine and classic farm-to-table fare from 4-8 p.m. Tickets are $75 and can be purchased via the event's Eventbrite listing.
Both restaurants' New Orleans-style funeral party on Saturday, July 1 will be open to the public. Tickets will be $45, and details will be released via the restaurants' social media accounts. The event will include a procession through the courtyard, food and drinks, and a potential appearance by the Soggy Po' Boys jazz band. It will take place the last night the restaurants are open.
"Someone will have to come by and clean on July 2," Vilardi said. "Maybe there will be leftovers."