Restaurants
A legendary NYC bakery is teaming up with a Washington, D.C. pizza chain for a local venture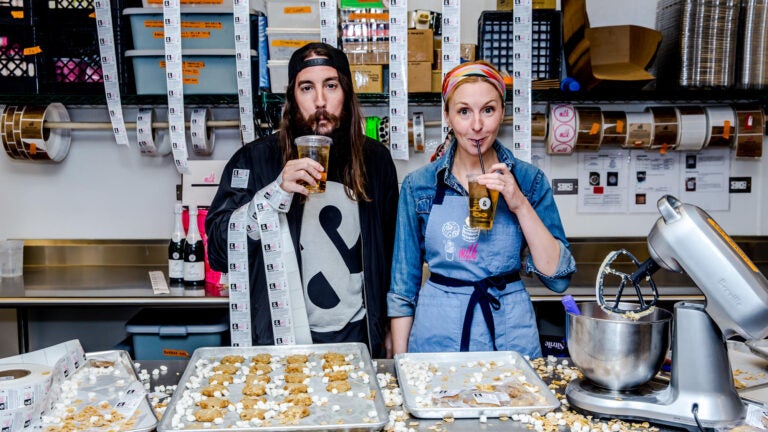 Pizza and ice cream go together like … pizza and ice cream. And two chains specializing in next-level iterations of the comfort foods are partnering up, with plans to debut in the Boston-area food scene.
&pizza (stylized as such) and Milk Bar announced last week in a joint statement that "Milk &pizza" hope to open in Harvard Square, to much fanfare from the culinary community.
Milk Bar, the acclaimed dessert arm of David Chang's Momofuku NYC-based empire with 12 storefronts since it opened in 2008, is known for blurring the line between sweet and savory in its wide range of baked cookies, ice creams, and other sugary delights. (See: compost cookies, crack pie, and cereal-milk ice cream.)
&pizza is billed as an "anti-establishment" pizza brand, known for its much-awarded thin-crust customizable takes on one of the world's favorite dishes. The fast-casual chain started in the Washington, D.C. area in 2012, and has already peppered the mid-Atlantic region with 22 locations, each one designed to reflect its respective neighborhood.
Milk &pizza would be the first venture into Massachusetts for both brands. The pizza brand had previously tried to open a store on its own in Harvard Square, but was shot down by the Cambridge Zoning Board of Appeals because the neighborhood already has plenty of pizza venues, according to The Harvard Crimson.
"We've listened to the community and heard loud and clear that they're looking for more than just another pizza shop," said Michael Lastoria, &pizza co-founder and CEO, in a statement. "They want a neighborhood partner. &pizza stands for connection, inclusion and unity, and joining forces with Milk Bar is a perfect example of how we will bring those values directly to Cambridge."
"The restaurants and cafes in Harvard Square help fuel some of the most brilliant and innovative minds in the world, and I'm so excited for Milk Bar to be part of this community," Milk Bar founder and CEO Christina Tosi said in the same statement.
Renderings—which have not yet been approved by the zoning board—show that the restaurant plans to take over 1394 Massachusetts Ave., the location of the shuttered Tory Row restaurant, as well as the Crimson Corner newsstand, which has moved to Brattle Street.
"Our mission at Milk Bar is to make life a little sweeter," Tosi said in the statement. "That includes making study breaks fun, too! Plus we can finally tell our folks we made it into Harvard!"
Of course, the two-time James Beard Award winner, cookbook author, and MasterChef judge is already more or less in at Harvard; she is a regular guest lecturer for the university's famed Science and Cooking course, where she teaches about foams and emulsions.
The restaurant plans to release additional details later this summer.