Restaurants
A critically acclaimed Massachusetts brewery just opened a new taproom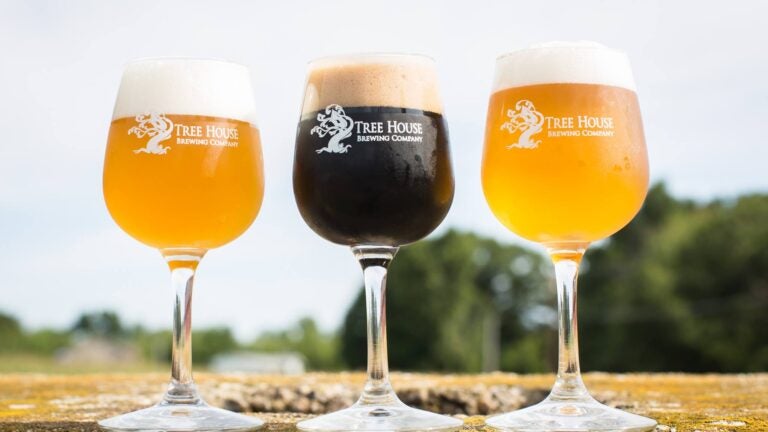 One of the top-rated breweries in Massachusetts officially opened its first taproom last weekend.
Tree House Brewing — which brews three of the five best beers in America, according to beer reviewing site BeerAdvocate — opened the doors to a brand-new facility on Route 20 in Charlton on Saturday.
Excited fans tweeted out photos from the new taproom and lawn, located on a 70-acre parcel of land.
What an amazing new facility @TreeHouseBrewCo – Thanks for having us all over today! ?? pic.twitter.com/7G2ZymYNSO

— Jeremy Pollack (@jeremypollack) July 16, 2017
@TreeHouseBrewCo thank you for opening today, this made my birthday exactly what I wanted pic.twitter.com/9WYzbQL9fK

— James (@TheMedge) July 15, 2017
Time for a post-ride beer@TreeHouseBrewCo #fanboy pic.twitter.com/YPrAcwxzs2

— Michael Swanson (@michaeldswanson) July 15, 2017
The taproom debuted with live music, food trucks, and plenty of green space for both children and dogs, leading to a family-friendly atmosphere.
Everybody's happy at the new @TreeHouseBrewCo brewery. pic.twitter.com/Ro6dka89J0

— Lou Corsino (@buggdog) July 16, 2017
A trend has started pic.twitter.com/YOgA89pRms

— Andrew (@Smith1982J) July 15, 2017
Tree House only sells its beer on location, and has no immediate plans to use a distributor.
The Charlton location is approximately 17 miles east of Tree House's current facility in Monson, which is good news for Bostonians. Drive time from the city to the Charlton facility is 60 to 70 minutes—about 25 to 30 minutes closer than the Monson location, which is currently closed as staff get the Charlton facility up and running.
According to Boston magazine, the new facility also has a much larger capacity than the Monson location, with 50,000 barrels of cellar space leading to a "theoretical" capacity of 125,000 barrels per year, up from their current yearly capacity of 7,000. Tree House is optimistic that fans will no longer experience the heartache of waiting in line for hours at the brewery only to leave empty-handed.
"People should always expect that certain beers can run out," a brewery representative wrote on Twitter. "Running out of beer completely will hopefully be a thing of the past."