Restaurants
The story behind a Cambridge spot's jet-black lobster roll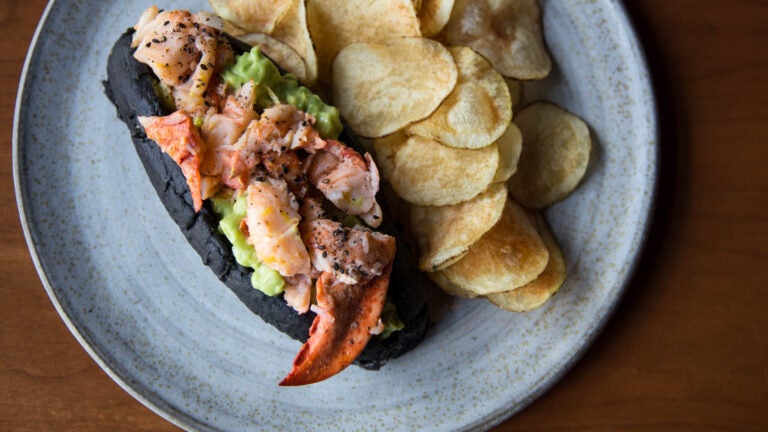 Whether you prefer your lobster roll hot and buttered or cold with mayo, most New Englanders would agree that the mark of a good lobster roll is simple, quality ingredients: fresh lobster, a hearty bread, and not much else.

But for those brave enough to venture outside the norm, a Cambridge chef is making lobster rolls that look and taste like nothing you've encountered before.

Tracy Chang is the owner and chef at Pagu, a Japanese tapas restaurant that opened in Cambridge's Central Square in January. Her unique take on the lobster roll catches your eye immediately — its soft, pillowy roll is jet black, infused with squid ink and sake. Instead of lettuce, there's sweet Asian pear. Rather than mayo or butter, the roll has soy alioli and avocado. Only the lobster, fresh and in-season from Boston, remains unchanged from the traditional version of the dish.

Chang was driven to try something different with her lobster roll in part because she wasn't always the biggest fan of lobster rolls — or lobster, for that matter.

"I never liked lobster growing up," Chang said. "I'm still not super fond of lobster; it's not my favorite ingredient. But I'm a chef. I work in the restaurant industry, and every day I'm trying to change people's minds and perceptions, their preconceived notions about food. So I try to have that open mind, and I continue to try ingredients and flavors that I'm not super fond of."

Chang said she frequently relies on prior culinary experiences when conceiving a dish. While mulling over how to make a lobster roll she might enjoy, she thought back to a lobster roll her cousin made when they were younger, which substituted green apple for lettuce.

"What I loved about it wasn't the lobster, not the mayo you put in it, but the crunchy green apples," Chang said. "When I was creating the lobster rolls here at Pagu, I focused on creating something I wanted to eat. I love avocado, so I replaced any kind of butter with that."

As is the case for most tapas restaurants' portions, Chang's lobster roll is smaller than one from your average seafood shack. That, in tandem with the soy alioli and avocado in place of butter or mayo, ensures that diners won't feel full for a week, she said.

"Our approach is to take into account how you feel before you eat, during your meal, and afterward," Chang said. "After you eat, we want you to feel good, not like you're about to slip into a food coma."

Pagu is open Mondays-Wednesdays from 11:30 a.m.-10 p.m. and Thursdays-Saturdays from 11:30 a.m.-11 p.m.