Restaurants
The 10 best seafood restaurants in Greater Boston, according to Yelp data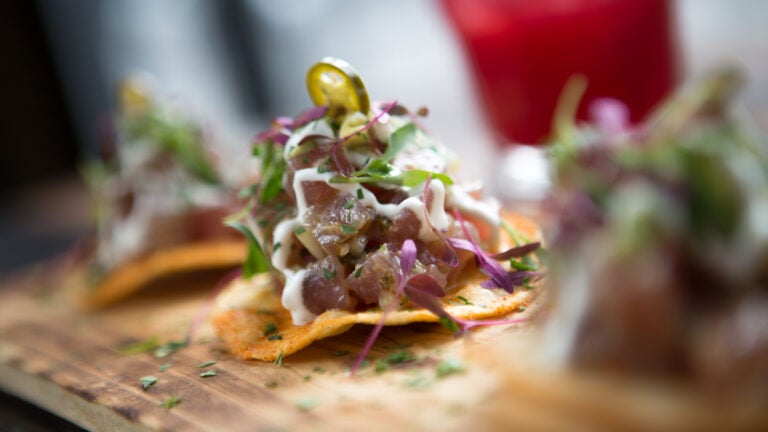 As a city located by the water, it's no secret that Boston is hot spot for seafood lovers.
With help from Yelp, we've rounded up the top 10 seafood restaurants across Greater Boston. The list was compiled using Yelp data from March through June 2017.
1. Neptune Oyster
63 Salem St., North End
According to owner Jeff Nace, the ingredients at Neptune Oyster are three things: local, sustainable, and seasonal.
The restaurant's most popular order in the summer is undoubtedly the lobster rolls, Nace said. The meat is prepared either hot with butter or cold with mayo, with the former out-selling the latter 5:1.
Nace said his favorite dish on the menu is the striped bass. The fish is caught right in the Massachusetts Bay and served with a seasonal soy bean that provides a crunch and chorizo that adds some spice. He said he also loves the whole Rockport mackerel 'Veracruz' that is served with roasted fingerling potatoes, tomato-olive brodetto, chimichurri, and an orange-fennel salad.
"The mackerel is local and super fresh. The flavor right off the bone is the best," Nace said. "You have olives and capers representing the Old World and peppers from the New World. It's like where Europe meets Latin America."
2. Manoa Poke Shop
300 Beacon St., Somerville
When Josiah and Sam Bonsey moved to Boston from Hawaii, they noticed that something was missing from the city's cuisine.
"Despite being such an amazing place for local seafood, the Boston area didn't have a place that served fish the same way as it is done in Hawaii," Josiah said.
The brothers decided to open a counter-service shop that served poke, which is the Hawaiian word for "slice." The menu's main dishes are bowls of bite-sized pieces of fish—from Falmouth bluefish to yellowtail amberjack from a Maine aquaculture—marinated in different ingredients.
"As much as we possibly can, we try to feature locally caught fish and fish sourced around the Northeast," Josiah said. "One of our main goals is to create the shortest distance possible from fisherman to customer. We want very few stops on the supply chain."
3. Aqua Pazza
135 Richmond St., North End
Aqua Pazza owner Mike Paquette said he wanted to put a contemporary spin on the type of food typically served in the historic North End.
The Southern Italian seafood menu is in line with the current food trends happening in Italy, according to Paquette, including raw fish preparations and tapas, such as the restaurant's best-selling jumbo lump crab cakes.
Paquette recommended the orata, pan-seared seabream served over seared, marinated artichokes and a tangy, bright grapefruit sauce. He said the fish is "really easy going in terms of texture" and "lean in terms of flavor."
4. Saltie Girl
281 Dartmouth St., Back Bay
Owner Kathy Sidell said Saltie Girl's exquisite interior will transport you, whether it's to the South of France, Positano, Italy, or Nantucket.
The modern-concept menu spans a wide scope of seafood, covering everything from the traditional lobster roll, served both hot and cold, to a New England twist on a Southern classic: waffles topped with a deep-fried lobster, sweet corn butter, and spicy maple syrup.
In addition to the elaborate menu of plated dishes, the Back Bay spot is especially known for its extensive tinned menu. Sidell recommended starting with a mackerel because it's "surprisingly benign and mild" but "fatty enough that it will melt in your mouth." For those with a more adventurous palate, she said to try the baby eels.
5. Row 34
383 Congress St., South Boston
There are two types of bars at Row 34: one for beer and one for oysters. With 24 draft brews and 11 types of shellfish, respectively, both are well-stocked.
According to co-owner and chef Jeremy Sewall, the most popular item on the menu is by far the lobster roll, which can be prepared either cold or hot. Sewall said 4,000 were ordered in June alone.
As for his personal favorite dish, Sewall said he prefers the tuna crudo with avocado and black garlic aïoli.
6. Pauli's 
65 Salem St., North End
This casual North End spot is one of four restaurants that new Celtics center Aron Baynes visited for a lobster roll within his first week on the team.
And when it comes to lobster rolls, Pauli's means business: It serves up a standard 7-ounce roll, a 14-ounce version, and a 25-ounce one called the U.S.S. Lobstitution.
Owner Paul Barker said it's important for a lobster roll to have big chunks of meat, no fillers, and a very light amount of mayo.
"When we decided to put a lobster roll on the menu, I went and ate hundreds of lobster rolls," he said. "I knew exactly the type of roll we were going to make, and that was one that was basic where you can taste the meat."
Also on the menu: lobster grilled cheese.
7. Luke's Lobster
75 Exeter St., Back Bay
If picking one type of seafood is just too challenging a task, ordering the Luke's Trio may be the perfect solution. The sampler comes with half a lobster roll, half a crab roll, and half a shrimp roll.
The fast-casual restaurant, which has multiple locations across the United States, also serves those rolls individually, plus clam chowder and lobster bisque, and a rotating seasonal salad. It's currently the wild blue salad, served with chilled lobster tail, arugula, Maine blueberries, red cabbage, and white beans.
Additional Boston locations: 290 Washington St., Downtown Crossing
8. Loco Taqueria & Oyster Bar
412 W. Broadway, South Boston
As its name indicates, this South Boston restaurant specializes in two things: tacos and shellfish.
The spot's rotating menu currently features five different ceviches, which Chef Matt Drummond said is the restaurant's "go-to, wow dish." The tuna crudo tostada has been a menu staple since day one and is a great place to start, he said. There's also the seasonal tuna ceviche with mango, lemon, and chili. For those who like oysters, Drummond recommended the oyster ceviche.
The restaurant also offers a series of weekly deals, including $1 oysters on Mondays and Taco Tuesdays, during which customers can order smaller portions of Baja fried fish tacos, fried oyster tacos, and other varieties individually.
9. Alive & Kicking Lobsters
269 Putnam Ave., Cambridge
Operating primarily as a fish market, Alive & Kicking has been supplying Bostonians with freshly caught seafood for more than two decades. The small Cambridge shop's case is always full of fish fillets, lobsters, and steamers thanks to its 100 fishing boats. 
When it comes to the prepared seafood, one of the classic summer specials is two small-to-medium-sized lobsters, a side of a mussels and clams, and corn on the cob. Customers often dip the steamed lobster, which is imported from the gulf of Maine, in melted butter, according to owner Louis Mastrangelo.
Mastrangelo also recommended the lobster sandwich, which he insisted is better than a lobster roll. The meat is prepared with just salt, pepper, and a little mayo before getting sandwiched between two slices of scali bread.
10. il Molo
326 Commercial St., North End
Il Molo is another seafood restaurant amongst the North End's traditional "red-sauce Italian" menus, as manager Donato Frattaroli refers to the neighbors' offerings.
Frattaroli said the two best-selling dinner appetizers are the lobster crab cakes, which put a New England spin on the mid-Atlantic Maryland delicacy, and the grilled Spanish octopus.
He said the hands-down crowd favorite entree is the pan-seared scallops served with lobster crema and saffron risotto, which he recommended pairing with the Rum with Benefits cocktail.