Restaurants
This subscription-based dining hall is designed to feel like home, minus the cooking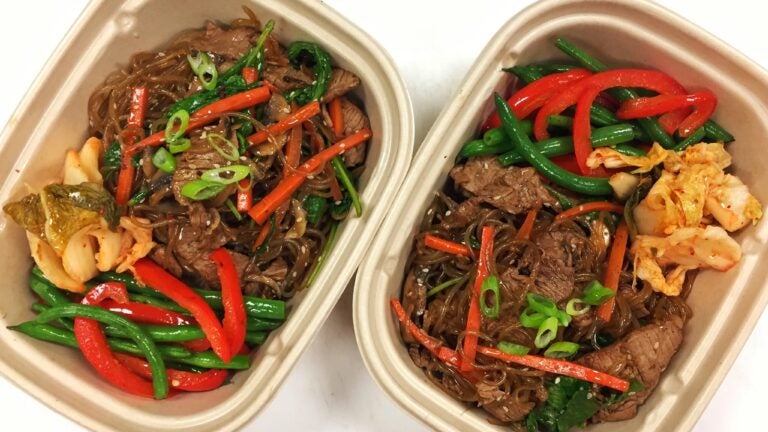 Hall in the Back Bay isn't like other most places where you can get a meal. You can eat there, or eat somewhere else, or not eat at all. You can bump into a friend, or bring a friend, or make a new one. You can arrive at 5 p.m. after working all day, or you can work there all day and leave at 5 p.m.
The subscription-based eat-play-work venue opened this week with the goal of offering a communal space that feels like your own, whether you're spreading out papers on a table to plan your side gig or catching up with an old friend.
"Those, to us, are the moments that are important and that we want to cultivate at Hall," said CEO and founder Albert Nichols. "The food that we make is the most important component we can use to make those moments happen."
The Gloucester Street brownstone is open seven days a week from 6 a.m. to midnight. Subscribers opt for six-, three-, or one-month commitments, starting at $69 per week. Two meal choices are offered Sunday through Thursday nights after 5 p.m., while the venue hosts private events on Friday and Saturday nights. During the daytime, Hall provides healthy snacks.
The interior of the well-lit Wi-Fi-outfitted space has the sense of an enormous living room, complete with numerous couches, coffee tables, regular tables, stools, potted plants, and even a built-in mudroom-esque bench.
"When 7 o'clock rolls around and you're still at work, and you're trying to figure out, 'What should I do for dinner tonight? I want to eat healthy, but ugh, who wants to do [X cuisine] again?' … You know you can just go to Hall," Nichols said. "You know it's going to be something that's fresh, it's a little bit more social, and it's an environment that allows you to relax for a second, instead of people staring you down, waiting for your table at Sweetgreen because you stayed for more than five minutes."
If that description sounds a little long-winded, it might be because Nichols created Hall to fill not so much a niche in the market as a gaping chasm.
Nichols, who attended boarding school at the Fay School and Deerfield Academy before studying computer engineering at Tufts University, found himself in a corporate job after graduation — better off financially than during college, but missing the communal experience of school dining halls.
"I had more money to spend on good healthy food and seeing my friends," he said. "But for some reason, I found it more difficult than ever to actually get healthy food, or just hang out with my friends like I used to when I was in college."
So Nichols, now 26, interviewed more than a hundred people about their dining habits, desires, and problems — sometimes just striking up conversations with strangers in grocery stores, he said. And he found that a majority of the interviewees felt the same way he did: I want a home-cooked meal, with my friends, in a place that feels like home, but I want someone else to make it for me.
The thing was, he said, "There was nowhere to get that. So the question was, 'How do you build a place that feels like home?'"
On a Monday evening in November 2015, Nichols invited five friends to his apartment for dinner. He cooked in the kitchen but didn't play host.
"They could take it in a to-go box, eat it there, they could stay for five minutes, they could stay for an hour — I did not curate it," he said. "I literally stayed in the kitchen, and when someone arrived, I would make their food and hand it to them."
His goal was to recreate the experience of the Fay School's dining hall — the "forced socialization" with the flexibility and comfort to use the space as you wanted: no assigned tables, no awkwardness about pulling out your laptop, no push to move on when you're done with your food.
Nichols ran that early iteration of Hall out of his apartment every Monday until earlier this year, when he quit his job at IBM to move Hall into a full-time venture with its own space.
Now there's a team to cook the food, but the goal still is to provide a "home-cooked" meal. That means, first, the food has to be something normal people (see: not gourmet chefs) make and eat in their homes, and second, you have to know the person making the food and serving it to you — a relationship that Hall's subscription model is better able to cultivate than most restaurants or fast-casual spots, Nichols said.
Hall also strives for all of its food to be "farm-fresh." The team plans its menu about a month out in order to know what local farms and purveyors will have available.
From there, Hall offers one non-meat, gluten-free "light" option and one protein-centered "hearty" option each night. Light options include roasted sprout salad with tomatoes and mozzarella, a kale-mushroom tempeh bowl, and heirloom tomatoes with roasted sweet corn succotash. On the heavier side, Hall's offerings include short rib enchiladas, chicken tikka masala, and Korean beef japchae with stir-fried glass noodles and veggies.
Hall's motto is, "be healthy, be productive, be social," Nichols said. "We want to make it as easy and thoughtless as possible."
44 Gloucester St., Boston; hallboston.com