Restaurants
The best of Portland's food scene has finally come to Boston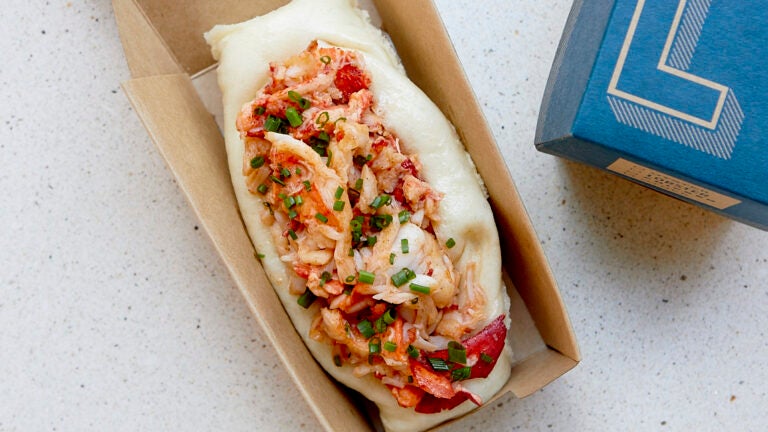 Boston has one big, seafood-fueled crush on Portland, Maine's culinary scene. Exhibit A: A few months back, a handful of acclaimed Boston chefs individually told Boston.com that Portland is one of their favorite New England food cities.
As it turns out, the Boston-Portland love fest is reciprocal, said Andrew Taylor, chef and co-owner, along with Mike Wiley, of Portland's famous Eventide Oyster Co. The duo won the 2017 James Beard Award for Best Chef — Northeast after being nominated in 2016 for the same award, along with Best New Restaurant for the Honey Paw, another of their Portland restaurants.
"The population of Boston has been some of our biggest supporters up there in Maine for the past five years," Taylor said. "We've had many, many people say, 'When are you going to open a restaurant in Boston?' We're happy to oblige them."
Yes, the "note-perfect lobster rolls" and "oyster bar of everyone's dreams" have arrived in Boston. Eventide opened its second-ever location in the Fenway neighborhood earlier this month, on Oct. 7.
"Both populations are very fond of each other. It's getting a little incestuous with Island Creek moving up [to Portland] and us moving down [to Boston]," said Taylor, laughing, "but it's all good. We count the folks at Island Creek as good friends of ours as well."
Taylor, a Newton native, said that bringing Eventide to the area was "a bit of a homecoming" for him.
Boston is more "the counter-service version of Eventide," Taylor said, with "virtually all of the same menu staples."
Of course, that includes the lobster roll — but not a Maine version, with its chilled, mayonnaise-dressed lobster. Eventide serves its iteration of the New England classic warm, with a dreamy brown-butter sauce atop a steamed bun, garnished with chopped chives. And Eventide Fenway serves it 33 percent bigger than in Portland.
In Boston, "we wanted the lunch crowd to be able to come in and feel like if they order a lobster roll [with chips], they've had a meal," Taylor said. "In Portland, we count ourselves as a small plates restaurant, and we specifically wanted to make [dishes] small because we wanted to encourage people to taste as many different things as possible."
Taylor's personal favorite item on the menu is the fish sandwich.
"Best-in-show for fish sandwiches, in my humble opinion," he said. "We brine and press hake filet, bread 'em, fry 'em, [add] a little tartar sauce [and] some bread-and-butter pickles, [and put it all] on this incredible bun that we make."
As for libations, Taylor said Eventide Fenway's beverage program was designed with an emphasis on great value. "Affordable but really good" bottles of sparkling rosé and Prosecco are poured; Mystic Brewery Voltage IPA, Oxbow Brewery FPA, and Allagash Tripel are some of the beers on tap.
For non-boozy offerings, Eventide has homemade sodas in rotating flavors — caramel cola and cream soda at the Fenway location last week, according to Taylor — along with locally made, non-alcoholic, on-tap kombucha.
Aesthetically, loyalists will recognize the restaurant's pale aqua walls, gray concrete counters, and "The Rock," a 10,000-pound hunk of granite that serves as the room's focal point of the room, displaying the oysters on a bed of ice atop the stone, he said. The Fenway space, too, is evocative of the Portland original.