Restaurants
A popular bagel pop-up has opened its first shop in Boston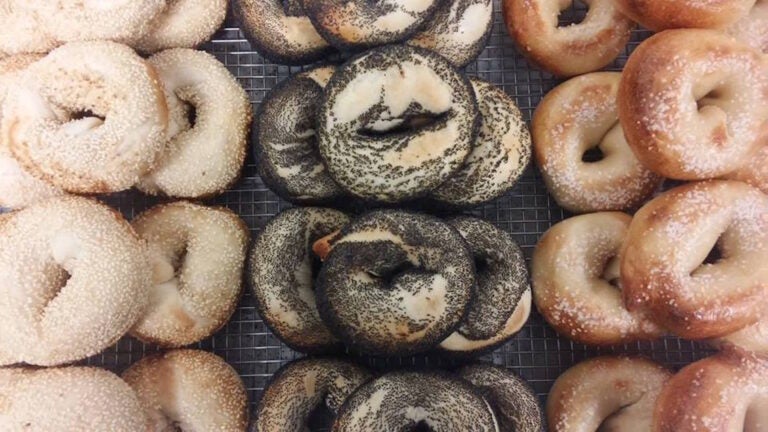 The first brick-and-mortar location of a popular bagel pop-up is finally open.
Somerville residents Sam Harden and James Grimes started Better Bagels in January 2014 and slowly amassed a fan base. The duo had originally planned to open their own storefront in the Seaport in the fall of 2016, but after some delays, debuted their hand-rolled, New York-style bagels at 83 Seaport Blvd., Suite A earlier this week.
"Seaport has always been one of my favorite parts of Boston," Grimes said in a press release. "The Harpoon Brewery and the tastings in its original taproom drew me in, but the recent influx of residents and new businesses has been amazing to witness firsthand – it made us want to be part of the excitement."
Better Bagels has built its reputation by partnering with various local businesses, both through pop-ups and by selling their bagels to cafes and restaurants that offer Better Bagels on their breakfast and brunch menus. After the success of initial pop-ups in the winter of 2014 at spots like Somerville Brewing Company and Cuisine en Locale, Harden and Grimes added regular pop-ups at Night Shift Brewing in Everett and the South End's Coppa Enoteca, featuring spreads from Coppa owners Jamie Bissonette and Ken Oringer.
During the Seaport location's soft opening on Sunday, the bagels sold out before noon. Yet according to a Facebook post from the company, you could still find Better Bagels at at least 10 different businesses that day, including coffee shops like 1369 Coffeehouse and Nine Bar Espresso and restaurants like Grafton Street, Daddy Jones Bar, and the Tip Tap Room.
Better Bagels's menu features a variety of breakfast and lunch sandwiches, served on bagels or challah rolls. According to the press release, Grimes's personal favorite is the salt bagel with cajun cream cheese and lox, while Harden's is the "Deluxe sandwich," a bacon, egg, and cheese with hash browns and chipotle mayo served on an everything bagel.
Better Bagels's first full day of service was Tuesday, and going forward it will be open seven days a week from 5 a.m. to 5 p.m.
83 Seaport Blvd., Suite A, Seaport; betterbagelsboston.com