Restaurants
A high-end music venue and winery is finally open in Boston
After numerous delays, City Winery has opened its doors.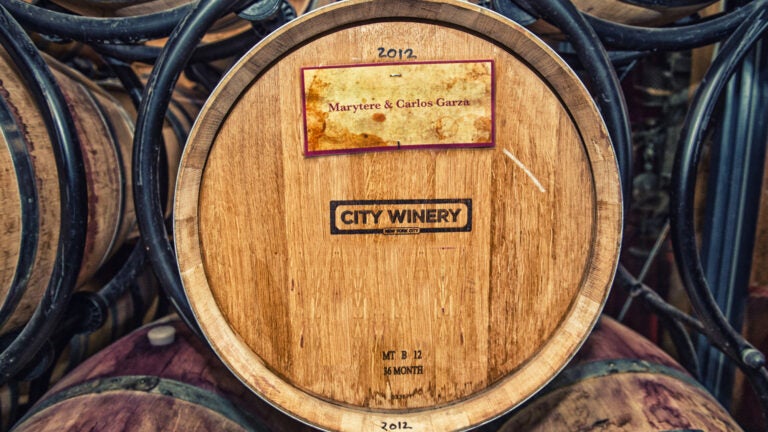 After an endless stream of delays, a music venue in the heart of Boston has finally opened its doors.
City Winery, an upscale, 300-seat music venue and winery, debuted last Tuesday, Nov. 21 on Canal Street, sitting between the North End, TD Garden, and the Haymarket MBTA stop.
As City Winery CEO Michael Dorf put it, "If you typed 'Boston' into Google Maps and didn't put in an address, it would land right on top of our building."
Even without the performance space, City Winery could stake its reputation on its award-winning wine list, which features more than 400 unique producers from around the world, in addition to the more than 20 wines produced in-house and sourced from vineyards in California, Oregon, Washington, Argentina, and Chile. The food menu borrows from Mediterranean cultures, but Dorf concedes that it's merely a tasting menu that is mostly there "to supplement more wine drinking."
Of course, wine is only half of City Winery's business. Its other focus is music and providing audiences with an intimate concert experience in its 300-seat space. The hope is that older audiences who don't mind paying a little extra for a comfortable concert atmosphere and top-shelf wine will appreciate the distinctive qualities of the venue, where artists such as Los Lobos, Talib Kweli, Marc Roberge (of O.A.R), and Tom Cochrane are set to appear 25 to 30 nights a month.
"There is no 300-seat, sit-down room in Boston, period," Dorf said. "We're not a standing room like the Sinclair or the Middle East. We're not a theater. There's nothing like it in the area in terms of physical layout."
Dorf has been in the music venue business for more than three decades, opening the Knitting Factory in New York City's East Village in 1986 when he was only 23. He opened his first City Winery in New York City in 2008, and since then has launched additional locations in Chicago, Washington D.C., Atlanta, and Nashville. During that time, he said he's built relationships with many artists who enjoy City Winery's atmosphere and make a point to perform at one of its locations when they can.
Suzanne Vega (of "Tom's Diner" fame) told WBUR she'd played City Winery "too many times to count" and expected its Boston location to be a success. Vega is slated to play the Boston location on Dec. 13 and 14, with tickets ranging from $30 for a barstool ticket to $48 for a VIP one.
"People like to drink wine and listen to music," Vega told WBUR. "It's a no-brainer, really. The rooms are very woody and have a nice, friendly feel. They go out of their way to make me feel welcome."
Opening City Winery's Boston location wasn't easy for Dorf, however. In June, the venue released its inaugural lineup of musicians, with Sept. 17 marked as its opening night. By the end of the summer, that date had been pushed back to October 16. A Nov. 2 Boston Globe article reported that the new opening date would be Nov. 10. On Nov. 8, a representative for the restaurant told Boston.com that the new date would be either Nov. 14 or Nov. 15. The venue finally opened on Nov. 21.
Dorf said that because of the delays, which he said were caused by being "misled by our contractors on a level we've never experienced," City Winery faced an additional $1 million in costs due to construction, refunding and rebooking tickets, and working out agreements with artists whose performances were affected by the delays. But he said he's proud of the way staff handled the challenges, and emphasized that the happiness of the dozens of artists and thousands of customers affected was their top priority.
"For some customers, it was as simple as exchanging tickets," Dorf said. "For some, we exchanged tickets and bought them a beer. Some we arranged transportation, we booked them a hotel, we got them tickets for shows in other cities.
"We did everything we could," Dorf continued. "And I think we did a good job of making people realize we care about them, and there was a good amount of sympathy of what we went through."
Though Dorf emphasized that City Winery isn't a part of a multibillion-dollar entertainment company like "a Live Nation or a Bowery Presents," he was confident the company would bounce back from its losses and succeed in Boston. He said that ticket sales have been robust, and the support he's received from the Mayor's office has been beyond anything he's ever received from another city.
"To me, it really shows a true belief in the importance of culture in a city," Dorf said. "We're not just another business. A place that puts on shows every night is an important part of a community, and the city of Boston has shown that culture is a top priority."
City Winery is open daily from 11 a.m. to 11 p.m. For information on upcoming shows, visit City Winery's website.