Restaurants
The team behind Loco Taqueria just opened a restaurant called Fat Baby
Southie welcomes Southeast Asian cuisine.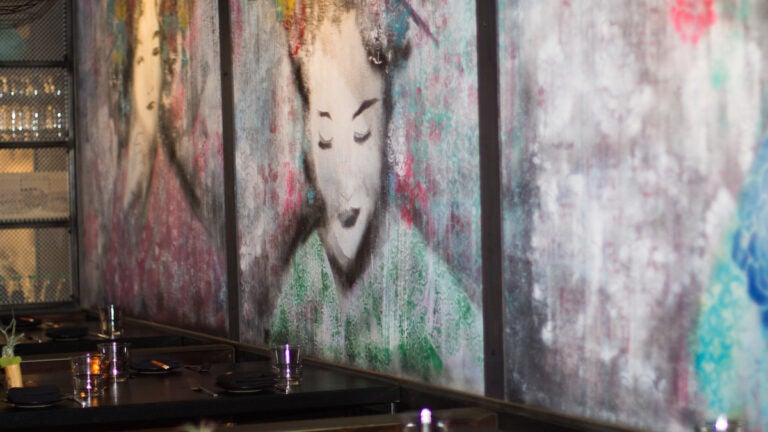 Back in May, Loco Taqueria & Oyster Bar owner Mike Shaw and his business partners leased a uniquely shaped spot on Dorchester Street to bring waistline- and wallet-friendly chicken banh mi bao, sushi, and ramen to Southie.
"We didn't realize how far back the space went — it looked really wide and fat," the restaurateur said of his venture with Michael Conlon and Eric Aulenback, who also own Lincoln Tavern and Capo. "We started calling it our fat baby."
The name stuck, and their bundle of joy was "born" on Saturday night.
The new Asian spot in the former Salsa's space has been designed with massive murals, rustic wood, and exposed brick thanks to C&J Katz Studio in South Boston. Tables were custom-crafted by a former Loco server who now owns his own furniture making business. Baby pictures on the powder room walls feature servers, neighbors, and Loco regulars, and a massive copper bar provides 30 of Fat Baby's 100 seats.
Shaw's inspiration for jumping from Baja to Bangkok came from Loco's regulars, who would ask for an Asian restaurant in the neighborhood, and from Shaw's own travels to Hong Kong; Thailand; and Ho Chi Minh City, Vietnam.
"It's incredible to see such an amazing food culture — it's got so much tradition but they're also approaching cosmopolitan trends," Shaw said. "One of the coolest things about being there was the food was so incredibly fresh and you can go out for a night and still feel really great and healthy after, like you haven't overindulged."
Fat Baby's menu includes zuke maguro sashimi — one of Shaw's favorites — with soy-marinated tuna with miso gazpacho, kaffir lime oil, candied apricots, dried cherries, and mint ($14). There's also a crunchy, sweet, and savory surprise in the form of a shaved Brussels sprout salad with charred broccoli, almonds, and citrus-ginger dressing ($11).
"I'm such a carnivore, but I'm super obsessed with these — they're two super unique things that open your eyes to different flavors," Shaw said.
As a former bartender, Shaw knows how to anchor a neighborhood hangout and watering hole, but the former Whiskey Priest and Lincoln keep said he's leaving the saké menu to Josh Rahlston, who formerly whipped up cocktails at Legal Seafoods. Rahlston has curated a list of eight saké varieties, including a saké sangria.
Fat Baby opens at 5 p.m. daily. The bar is open until 1 a.m. nightly, the kitchen until 11 p.m. Thursdays through Saturdays and until 10 p.m. Sundays through Wednesdays.
118 Dorchester St., Boston; fatbabysouthboston.com