Restaurants
Clover is now selling a meatless sausage breakfast sandwich
Remember the Impossible Meat meatball? Meet Impossible Meat sausage.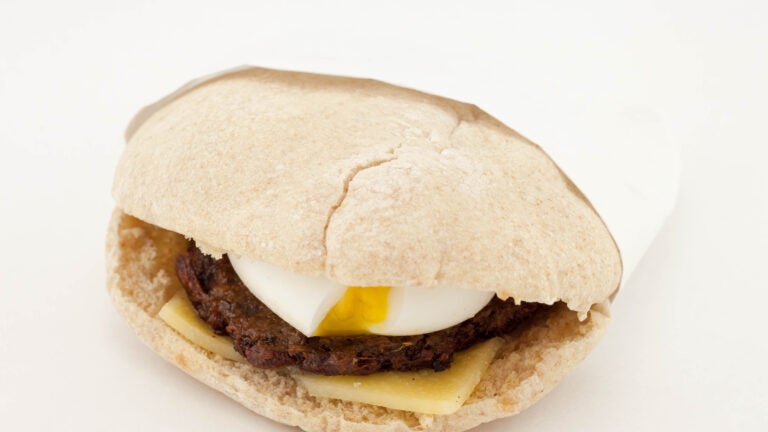 In September, Clover Food Lab began serving a meatless meatball sandwich that "bleeds" and reportedly tastes just like meat. On Tuesday, the fast-casual restaurant will begin serving a meatless egg and cheese sandwich that founder Ayr Muir says tastes just like it's filled with sausage.
Both menu items are made with "Impossible Meat" and are part of Clover's collaboration with Silicon Valley startup Impossible Foods, creator of the plant-based Impossible Burger. Clover was the first in New England to debut the product, which is made from wheat, coconut oil, potatoes, and the iron-containing molecule soy leghemoglobin, also known as "heme." There are now several New England spots serving the Impossible Burger, including Jamie Bissonnette and Ken Oringer's Little Donkey in Cambridge and Barbara Lynch's The Butcher Shop in Boston.
Muir said his team has been tweaking the breakfast sandwich's recipe for the past four weeks. The final product's "sausage" is made using Impossible Meat mixed with thyme, sage, fennel seeds, and black pepper. Clover serves the "meat," young cheddar cheese from Vermont, and an egg cooked so that the white part is firm and the yolk is "custardy" on pita bread.
The $8.41 sandwich will appear on the menu at Clover's Central Square location on Tuesday at 7 a.m. If it's received well, Muir said it will roll out at all Clover locations in January.
"This is for somebody who really loves sausage, egg, and cheese and would prefer a version made from plants that satisfies them," Muir said.
He said he hopes customers enjoy the breakfast sandwich as much as they've liked the meatball sandwich, which he said has been "going gangbusters" and "selling really well," while noting that "we've also gotten negative responses about it."
The restaurant collects customer feedback about the meatless meat at its locations, Muir said, and some customers are against genetically modified food.
"This is a totally new thing. There's no real precedent for it," Muir said. "We want to keep our ears open and listen. And we want to know what people think."
Clover has also developed a recipe for Impossible kofta, the Middle Eastern spiced meat, Muir said.
"That one may find it's way onto the menu at some point soon," he said, "which would be really fun."