Restaurants
Here are the now-closed restaurants Boston.com readers miss the most
We asked what restaurant you miss the most, and, more than 3,000 comments later, here's what you said.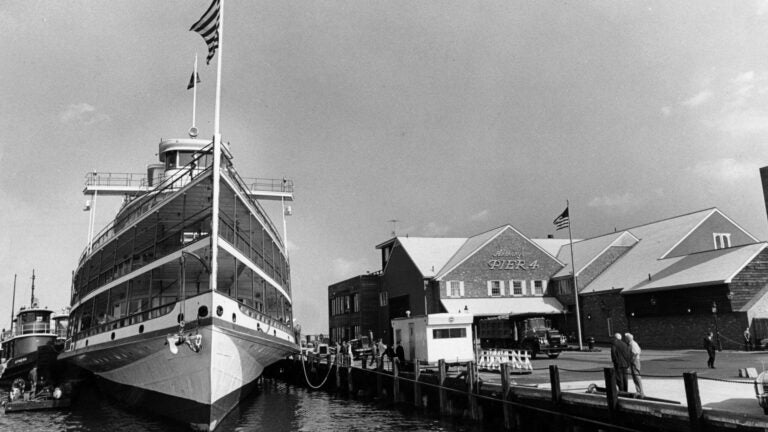 We seem to have struck something of a nostalgic nerve.
We asked you in August—and again last week—which restaurant you miss the most, and what you loved so much about it. And now, more than 3,000 Facebook comments later, we've compiled 13 that stood out the most, based on the number of comments and reactions to those comments.
The omissions are almost criminal: Chadwick's (Lexington), the Ground Round (various locations), the original James's Gate (Jamaica Plain, Boston), Jimmy's Harborside (Boston), Locke-Ober (Boston), Pewter Pot (various locations), The Pillar House (Newton), Vinny Testa's (various locations), the Wursthaus (Cambridge), and York Steak House (various locations).
That being said, you can check out all the responses from August and last week on our Facebook page or embedded at the bottom of this article.
Here are 13 of Boston.com readers' favorite gone-but-not-forgotten restaurants:
Aku-Aku


Cambridge
"The pu pu platter at the Aku-Aku in Cambridge (Fresh Pond). You always had to rub the Buddha's belly in the lobby before and after you ate your meal." – Patti Johnson Georgevich
[bdc-gallery id="6567178″]
"Anthony's Pier 4 in Boston will always hold a special place in my heart. Every year my parents would take me there on my birthday. And even though my birthday is in March and they were hard to find that time of year, my dad presented me with a corsage of fresh violets. I always ordered the same thing for dinner: escargot followed by baked stuffed lobster. And of course that was followed by an Anthony's birthday cake. My heart is filled with sweet memories just thinking about those special dinners." – Sherry Mayes Millington
"As a former employee of Anthony's Pier 4, the popovers were delicious. If you want anything like it, I highly suggest going to Hawthorne By the Sea, which is owned by Anthony's Pier 4, in Swampscott. Same menu, same everything, delicious popovers." – Casey Wilder
Augustine's


Saugus
"Augustine's, Route 1, Saugus. My mom never had much [while] raising me alone, but every so often she'd get a few extra bucks and say, 'Guess where we're going, Al?' And it was like winning the lottery." – Alicen McHugh Savary
"Augustine's. My whole family would meet for dinner there, aunts, uncles, cousins, grandparents. Great memories!" – Melissa Karales
"Bailey's Ice Cream on Boylston Street. Hot fudge dripping over the sundae. Wow." – Susan Buckley Withrow
"Omg, my mom would take me and my brother there when we were little. Loved the silver cups and plates they would put the sundaes in, and, yes, the hot fudge was dripping over the side." – Mary-Ellen Tucker DeRosa
"Brigham's in Arlington Heights. Best sundaes around, amazing lime rickey." – Christopher Pierce
"When in my early teens (eons ago), my mom would give me $1.50, and I would get a Coke, a tuna sandwich, fries, and a sundae (with marshmallow!) for dessert—and still have enough left to tip. Best meal evah!" – Sheila M. Hawes
Bishop's


Lawrence
"Bishop's in Lawrence. Lobster, prime rib, the Arabic platter, the baked Alaska. With characters the likes of which the world will never see again. There's never been any place like like it before or since." – CJ Gangi
"HUGE servings at Bishop's for such cheap prices!" – Sheila M. Hawes
Cafe Luigi


Bedford
"Cafe Luigi in Bedford…fabulous reasonably priced Italian food, great service…a family favorite for decades." – Lisa Schuhmacher
[bdc-gallery id="6565856″]
"Christo's in Brockton. Piano bar, elegant dining. The place brought you back to a different time!" – Susan McHugh
"Christo's in Brockton. I watched it grow from a small bar with bar pizza and delicious Greek salad to a large popular restaurant where we'd wait an hour to get a seat on the weekend. And we'd wait! They still had the great pizza and salad along with many more choices. My husband always loved the Greek lamb." – Jody Price
Dini's Sea Grill


Boston
"Dini's near the State House. When my three best friends and I got our first paying jobs in high school, we would dress up and go on Sundays. We felt so grown up!" – Dorry O'Neill
 "Oh Dini's!!!!! Loved bringing my brother and sister in there when we were young! We would go in town from Brockton to Christmas shop, and I took them there as a big treat after!! Remember seeing Louise Day Hicks eating there!!!!" – Mary Kerr
The European
North End, Boston
"Remember the European in the North End? The pizza was the size of the table." – Kevin Bresnahan
"Loved when my parents took me to the European. Best antipasto!!!" – Elizabeth Hunter Vasco
Fontaine's


West Roxbury
The iconic Fontaine's chicken sign, which was a Boston landmark until 2005, greets visitors to @culinarymuseum! pic.twitter.com/tUl8hAtRCA

— JWU Culinary (@JWUCulinaryNow) March 15, 2016
"Fontaine's in West Roxbury… the fried chicken and grilled, buttered dinner rolls." – Kristina Nikolaides
"Best coleslaw and onion rings evah!!!" – Ricky Buster McHavaham
[bdc-gallery id="6567460″]
"The Hilltop Steak House! Dad would go there traveling from Maine to Boston daily for work, back when it was just a diner. As our family of six grew, I can remember dad saying, 'Ready for the Hilltop?' We'd all scramble in the car for a quick hour drive, usually on a Friday to get there by 3 for the luncheon special! […] We'd get a cooler and go to the butcher shop and load it up with steaks, chicken, and lots of goodies including the famous grapenut custard pudding!" – Bethany Fowler
"The old Joe Tecce's on North Washington Street in Boston—first date with my husband in 1975!" – Jayne Rossi-Elliott
"First date with my husband, 1970." – Susan Finstein Brine
"First date with my husband in 1982." – Julie Kerbel
"Yes, Joe Tecce's! First dinner out with my husband of 31 years!!" – Liz White Welch
Some Facebook comments have been lightly edited for spelling, grammar, and punctuation.